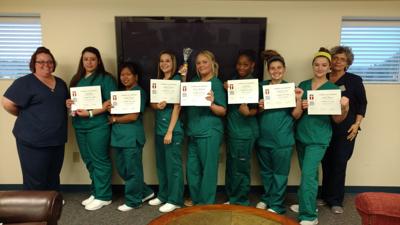 Area residents looking to become a certified nurse aide will have the opportunity with a local course starting soon in Killeen.
Central Texas College is offering a Certified Nurse Aide cohort through the Continuing Education department's career development program. The cohort provides a combination of lecture and hands-on training to provide students the needed skills to land a career with a hospital, home health agency, long-term care facility or other related agencies, according to a news release from CTC.
The course starts Feb. 5.
Prior to admission to the Certified Nurse Aide program, applicants must provide a high school graduation or GED transcript, proof of immunizations, two references, submit to a background check and meet other required registration steps. The program is $995 plus the cost of textbooks and course supplies. Additional expenses include a workbook, scrubs, watch with a secondhand, white water-resistant nursing shoes, state exam fee and the cost of the background check, according to CTC.
The certified nurse aide supports registered nurses and licensed vocational nurses by providing basic care for patients while ensuring their safety and comfort. Students will learn all aspects of patient care including the most common responsibilities such as taking and recording vital signs (heart rate and blood pressure), assisting patients to and from their bed or chair as needed and helping them with feeding and personal hygiene. They often serve as the eyes and ears of the nurse and relay information between many patients and nurses.
The first part of the Certified Nurse Aide program is Nurse Aide for Health Care (NURA 1001) which is offered Tuesday through Thursday, Feb. 5 through April 3 from 6-9 p.m. The course offers essential knowledge, skills and abilities to provide basic care to residents of long-term care facilities. Topics include safety, observation, reporting, residents' rights, communication and assisting residents in maintaining basic comfort. It also includes restorative services, mental health and social services' needs.
The second part of the cohort is the clinical phase which offers a health-related work-based learning experience that enables students to apply specialized occupational theory, skills and concepts under the direct supervision of the clinical professional. Orientation for the clinical is Feb. 16 from 7 a.m. to 3:30 p.m. and clinicals are then each Saturday, Feb. 23 through March 30 from 7 a.m. to 3:30 p.m.
For more information or to submit an application for the program, interested persons can call the CTC Continuing Education department at 254-526-1586 or visit ctcd.edu/ce online.
Larry Mitchell, Texas Realtor
Broker Associate, ABR, CRS, GRI, VLB
Jim Wright Company Real Estate
Voted Best Real Estate Company in Central Texas
LMSells@aol.com
254 681 5115 Cell