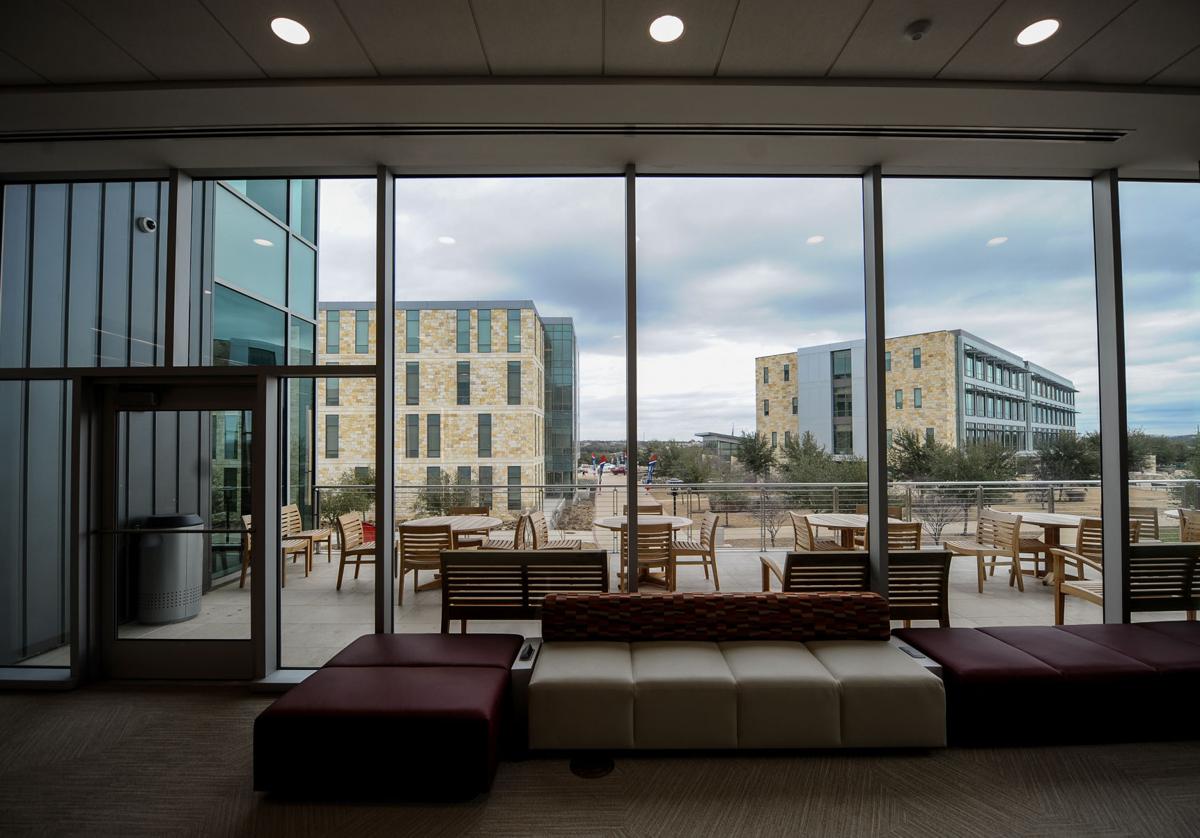 The growing university in south Killeen hit a significant milestone last week, opening its third building, and is approaching another major milestone: Its 10th anniversary.
Texas A&M University-Central Texas, which offers bachelor's and master's degrees at the campus near the Killeen-Fort Hood Regional Airport, was established May 23, 2009, when then-Texas Gov. Rick Perry signed legislation establishing the university. It made A&M-Central Texas the 10th regional university of the The Texas A&M University System.
It's been growing ever since, and there's a plan to continue that growth in the decades to come.
In truth, the effort to bring A&M-Central Texas to where it is today started decades ago.
"We were the product of truly visionary community champions who, in the early 1970's, recognized the importance of access to university-level higher education for the Central Texas region," according A&M-Central Texas officials. "These community leaders worked in unison to give birth to American Technological University which later became the University of Central Texas. Even as these first two universities thrived, it was always their goal that the university should be a part of Texas public higher education."
After a 10-year effort, the final hurdle to bring Tarleton State University-Central Texas to Killeen was cleared in 1998 thanks to much work by then-state Sen. Troy Fraser, the Central Texas University Task Force — spearheaded by retired Lt. Gen. Pete Taylor — and others who longed to improve education and economic opportunities in Killeen.
When Perry signed the bill to provide the area with its first major public university, it was dubbed by officials at the time as the second-largest economic development to occur in the region, only behind the establishment of Fort Hood.
For former state Rep. Jimmie Don Aycock, R-Killeen — one of the leading lawmakers to push the bill through the state Legislature — it was a huge victory. At the time, he told the Herald it was one of the most significant events in the history of Killeen, representing a major shift in how the state views this area.
Over time, A&M-Central Texas acquired land from Fort Hood — more than 600 acres — which had to approved by the U.S. president. And the school built one, two and now three stone-and-glass buildings that shimmer in southwest Killeen under Texas sunsets.
For many, the university represents one of the best things in the city.
"We are very proud of the fact that we are a relatively open-admission institution, believing in human potential rather than exclusive access," said A&M-Central Texas spokeswoman Karen Clos. "If a student has taken more than 30 hours of college level coursework at a community college (or any other university), and maintained an overall GPA of 2.0, they are eligible for admission to the undergraduate program of their choice."
Clos said the university works very closely with a variety of local organizations ranging from local school districts and governments to chambers of commerce and workforce development programs.
"Our Office of Research and Development initiates research initiatives throughout the region that support business and industry, connecting local, state, and federal resources to strengthen the economic fabric of the region," she said.
For area leaders, A&M-Central Texas has made a mark.
"I'm proud that we are a part of (the university's) growth, and we congratulate them on their 10th anniversary," Killeen Mayor Jose Segarra said. "The community is excited to see them continue their expansion, and we look forward to our continuing partnership with them."
Killeen was not the only city to make a statement about A&M-Central Texas. As the university draws students from nearly every Central Texas city, those cities' officials also expressed support of the school.
"Texas A&M Central Texas has provided the entire Central Texas community, to include Harker Heights, with a top notch, local, four year, state institution of learning," Harker Heights City Manager David Mitchell said. "We know that residents of Harker Heights have taken advantage of the educational opportunities that the campus affords to advance themselves in the workforce and provide a better life for themselves. We congratulate Texas A&M Central Texas on 10 years of service to the greater Central Texas area."
Local school districts have also shared their thoughts on having A&M-Central Texas as a decade-old member of the community.
"Central Texas has been an integral partner in providing excellent educational opportunities for Central Texas students and families," KISD Superintendent John Craft said. "We look forward to working together in the future and we appreciate their success immensely."
Copperas Cove Mayor Pro-tem Dan Yancey said Cove is also impacted by A&M-Central Texas.
Over the past 10 years "faculty and staff have worked diligently to provide a first class facility, coupled with a vision for the future that compliments and strengthens the bond of the Central Texas region. The City of Copperas Cove benefits not only from the advanced education for our local student population, but also from the research and development taking place which will spawn growth opportunities for the area," Yancey said.
For students who were at the dedication of A&M-Central Texas's third building last week, they said they've made the right choice with the university.
"I'm really excited that it's expanding. This school has honestly been one of the best. It's one of my favorite chapters of life so far," said Texas A&M Blue Coat Ambassador Kentina Saxon, who studies in the Clinical Mental Health Program and serves on the Alumni Association Board.
Psychology major Joshua Bouse recently arrived from Tarleton State University and looks forward to using the new building — Heritage Hall — during internship programs.
"My advisor was very assuring about this program," he said.
Heritage Hall is home to A&M-Central Texas' College of Arts and Sciences, Military Science Department and ROTC Cadet Learning Center, Student Organization, Exercise Physiology and Human Performances Labs, and historical archives.
"I'll definitely be in the fitness education center. I've had an amazing experience. All of my professors are very uplifting. Each class is a performance, so you're engaged and you want to learn. That's what I love about this campus," said marketing major Christina Hernandez. Hernandez is considering staying with the university for a master's with future ambitions to work in wildlife and sustainability causes.
"I really like it, especially me being ROTC knowing the ROTC club room is (upstairs) and having our own gym, finally," said political science major Brian Avalos, who is in the National Guard with plans to return to active duty as an officer.
Heritage Hall is just one of the 19 facilities outlined in the university's 30-year master plan — which includes more roads and more buildings, including sporting complexes.
A&M-Central Texas officials are planning to mark the 10th anniversary later this year.
Larry Mitchell, Texas Realtor
Broker Associate, ABR, CRS, GRI, VLB
Jim Wright Company Residential Sales
Voted Best Real Estate Sales in Central Texas
LMSells@aol.com
254 681 5115 Cell