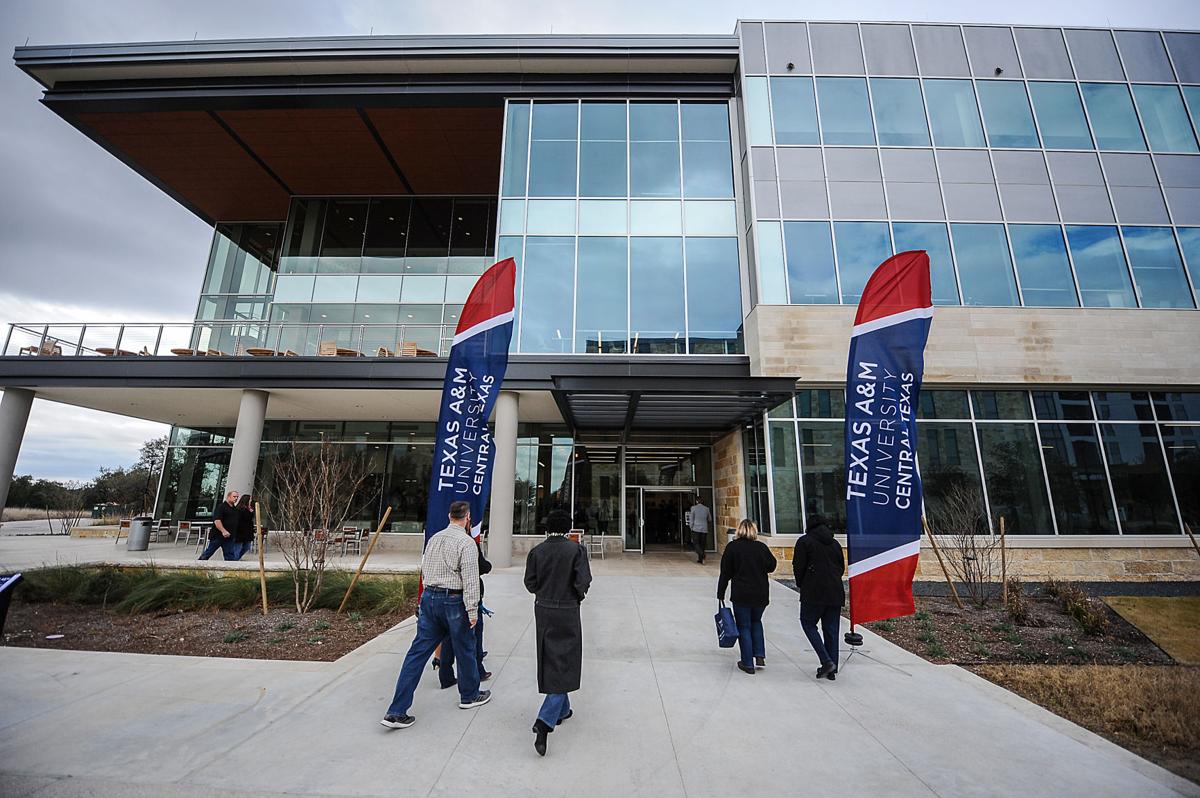 Texas A&M University-Central Texas held a grand opening for its latest campus gem, Heritage Hall, on Friday.
The new building will provide students and faculty with more comfortable and advanced learning spaces. About 200 guests showed up for the dedication Friday morning to watch the ribbon-cutting and explore the new building.
The three-story, $38 million Heritage Hall is 35,000 square feet featuring labs, patio seating, break rooms, fully-equipped gym area and an active learning room. A third-floor landing provides an open seating area and tall glass windows for a birds-eye view of the campus and surrounding landscape.
"I would like to applaud the architects for making something so beautiful but also making it so functional," said Karen Clos, A&M-Central Texas' executive director of Communications and Advancement.
Heritage Hall, A&M-Central Texas' third building since the school was founded in 2009, will house the school's College of Arts and Sciences, Military Science Department and ROTC Cadet Learning Center, Student Organization, Exercise Physiology and Human Performances Labs and historical archives. Representatives from these departments provided short introductory speeches at the grand-opening ceremony and were available after for questions. Texas A&M Chairman Charles W. Schwartz, President Marc Nigliazzo and Chancellor John Sharp were also present to address the guests with messages of the importance of education, praise for its students and staff, Texas A&M history and more.
This new building is going to serve and act as a launching pad for a lot of careers, said Sharp in his address.
"As you walk across this campus, not only toward this building but look inside our other two beautiful buildings, I hope you think about how these facilities, how these spaces, are going to enhance a sense of community for our students now, but also in generations to come," said Dean of Student Affairs Brandon Briggs.
Briggs also discussed the importance of spaces like those in Heritage Hall for facilitating interactions that lead to a sense of community and student retention and graduation.
Heritage Hall is just one of the facilities on the school's 30-year master plan, which is a quest that outlines the construction of 19 buildings.
"Every year we hope to be able to move a little bit closer toward that goal," Clos said.
Larry Mitchell, Texas Realtor
Jim Wright Company, Voted Best Real Estate Firm
Broker Associate, ABR, CRS, GRI, VLB
LMSells@aol.com
254 681 5115 Cell