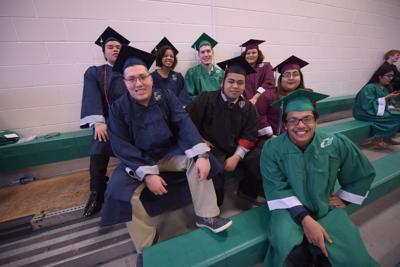 Some finished later than originally scheduled and others finished ahead of their peers, but they all ended up on the same stage at Ellison High School to celebrate graduation from high school.
The annual Killeen ISD mid-year graduation Jan. 17 was likely the largest ever with 72 meeting requirements to finish high school.
Dressed in traditional cap and gown bearing the colors of four different schools, the honored group members walked from Ellison's small gym in the main building across a sidewalk into the auditorium, where a packed crowd of well-wishers cheered and snapped photos.
The Ellison band provided the familiar musical "Processional" and "Recessional," Junior ROTC cadets posted the colors, the Chamber Singers led the National Anthem and Superintendent John Craft accepted the class of new graduates.
Each new graduate, of course, came with their own story.
Emma Capers of Killeen High School took advanced classes in middle school and high school in order to finish early and move on to college where she plans to study behavior psychology.
"I did a lot in middle school and got all my credits done," she said. "I'm ready for the next chapter. I'm glad I added five months to my timeline."
Leaving high school, she said she would remember her time as a student athletic trainer and several teachers she said were especially helpful.
For Ellison graduate Yandel Ramos-Valdes, high school graduation was a relief. "It's been a long time coming," he said.
Though he finished two months ago, the new graduate said he's still waking up thinking he needs to get ready to go to school. That early morning routine will come in handy when he reports to basic training for the U.S. Navy.
"I miss it," he said of finishing high school. "I miss my friends, but life moves on and the world keeps turning."
"It feels surreal," Shoemaker graduate Liz Rosario said as she waited with friends to enter the auditorium for the commencement ceremony. "It seems like it's too good to be true. The hard work paid off."
Pathways Academic Campus Principal Bobbie Reeders charged students to remember a few keys to success.
After praising teachers and parents who contributed to the graduates' successes, she urged the former students to be kind, to remember the Golden Rule and to learn from their mistakes. "Remember, when you help others, you're really helping yourself."
She ended with a statement that her students hear daily during announcements: "Choose to make it a great day."
Larry Mitchell, Texas Realtor
Broker Associate, ABR, CRS, GRI, VLB
LMSells@aol.com
254 681 5115 Cell