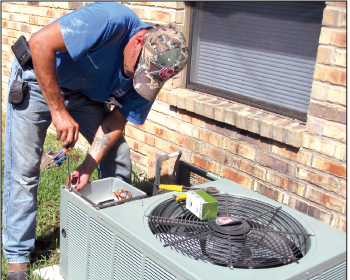 Ellis Air Systems, 3513 Florence Road in Killeen, is doing its part to give back to the community once again this holiday season by gifting a free furnace to a local family in need.
"The giveaway is absolutely free and we look forward to doing this every year so we can warm up the community and help a family that might be stuck in a rut," Chief Financial Officer Mason Ellis said.
This will be the fourth year that the company has given away the warm gift. In fact, families who are looking for a little extra help keeping the cold out this winter may not even have to win in order to receive assistance.
"In the past we have been able to fix over 15 units for folks that were nominated and had units that were broken but could not afford to get them fixed. Although we did not install a new unit, we still got their old unit up and running," Ellis said.
For the last three years, a lucky winner has been chosen from a pool of nominations sent in from the community. Each year, all entries are carefully read through in an effort to narrow down the list to the family that is most in need. From there, home visits are made by the company to the nominees in order to inspect each unit's condition. Afterwards, a selection is made and a new furnace gets a new home.
If you would like to nominate someone, or yourself, please include in your submission the family's name, address, phone number, and a brief summary of why you believe they should win. All nominations are accepted via email mason@ellisair.com. For the social media savvy, the company is also accepting entries via Facebook Messenger on its Facebook page at Ellis Air Conditioning and Refrigeration.
Larry Mitchell, Texas Realtor
Broker Associate, ABR, CRS, GRI, VLB
LMSells@aol.com
254 681 5115 Cell