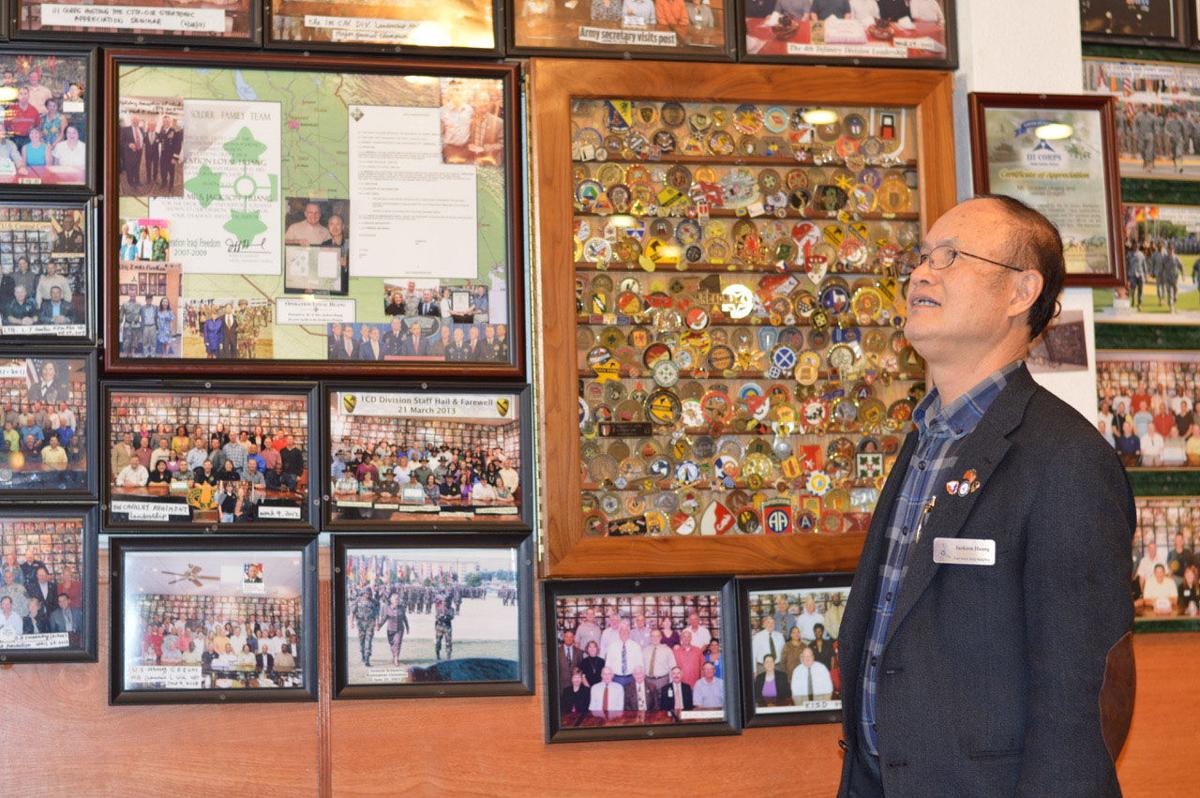 From the outside, Taiwan Dragon in Killeen looks like most other Chinese restaurants. But its inside makes the eatery one-of-a-kind.
Owner Jackson Huang has been operating his restaurant in the heart of Killeen at 308 E. Avenue G since 1981.
For nearly 40 years, and despite a fire at the restaurant, he has made it his mission to collect photos of soldiers, generals and other VIPs who periodically visit the restaurant, and document their future careers on his restaurant's walls.
That doesn't just give his eatery a museum-like look but also leaves little room left on its walls.
Huang is from Taiwan, a province in China. He said he named his restaurant Taiwan Dragon because he wanted to bring a piece of his home with him.
Taiwan Dragon is a real family business. Huang's two brothers are in charge of the kitchen and the Chinese delicacies, while he is the face of the business.
"My two brothers are doing the kitchen really well," Huang said. "They have it in their hearts."
Similar to his brothers, Huang loves his part of the business and has been following his passion for the last few decades.
While he said he wants to take a step back from his business to focus more on his two granddaughters, he will never be able to completely walk away from his restaurant.
His main goal is to keep the restaurant in his family and its staff and menu the same. Whenever a costumer asked to see him, he will be on call to stop by if necessary.
"I won't work full time but I could never leave here," he said. "People want to see me … and I want to greet them."
But his passion for socializing doesn't stop within the walls of his restaurant. His pictures have made Huang a little celebrity of his own.
As a Fort Hood Good Neighbor — a special award from the post dished out annually — he isn't only invited to important award ceremonies at Fort Hood but has even received his own VIP pass to get the best view.
Besides following his favorite visitors on the news, he never showed much interest in travelling somewhere else for their ceremonies.
"My job is here, in this area," he said. "I don't need to go anywhere else."
When asked why he started making the pictures, he simply said he respects people in uniform.
"I respect them; I don't bother them," he said. "They come and go but they usually always come back."
It's an equal honor to Huang to take the picture than it is for the soldiers to be hanging on Huang's restaurant walls.
Thanks to his community efforts and his passion for the military family, Huang was recently welcomed him into the Fort Hood Good Neighbor family.
Residents, who improved the quality of life for Fort Hood soldiers in a unique way, can be honored by the Fort hood leadership for their personal effort.
With a friendly smile on his face and a red laser-pointer in his hand, Huang is happy to tell anyone who wants to listen and learn, the story behind each of his photographs.
And stories he has to tell.
About the rise of former Army Chief of Staff Gen. Raymond Odierno and many more former and current generals.
Larry Mitchell, Texas Realtor
Broker Associate, ABR, CRS, GRI, VLB
LMSells@aol.com
254 681 5115 Cell