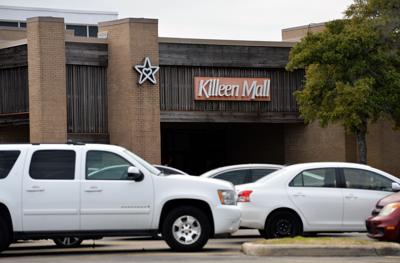 Shoppers strolled around while others gathered in the food court Friday afternoon.
Despite recent news that the Killeen Mall property hit the market, it was business as usual.
The mall has been in foreclosure for more than six months, according to John Crutchfield, president and CEO of the Killeen EDC and the Greater Killeen Chamber of Commerce, yet residents continue to come shop.
"The Killeen Mall is open for business as usual," said Denise Dasse, general manager. "And we do not anticipate changes to operation in the near future."
Businesses may still be running as normal, but Crutchfield said there are no changes in interest for purchase of the mall since last week.
"Not that I'm aware of," Crutchfield said Friday.
The mall has 90 stores and encompasses 451,000 square feet with national and regional retailers, as well as a food court.
Among those retailers are four department stores: Burlington, Dillard's, JCPenney and Sears.
Sears, which opened the same year the mall did in 1981, recently announced it will close in March.
Charles Watts, president of the Killeen Economic Development Corporation's board of directors, told the Killeen City Council earlier this month that the property has multiple owners.
"Owners of the boxes that house Dillard's and JCPenney, for example, do not own the balance of the mall," Watts said.
The Herald conducted a poll on Facebook in which 660 people responded that they would shop more frequently at the Killeen Mall if their favorite store moved in.
Even if a store of preference was brought into the location, 222 people responded that it would not make a difference in their shopping patterns at the location.
A timeline remains to be seen, but eventually the mall will be purchased and change hands, officials said.
Several investors have expressed interest in investing in the mall, but are still doing due diligence to study the community and whether Killeen is the best fit for their business, Crutchfield said.
The process of courting buyers has been going on since the summer, Crutchfield added.
"I remember representatives of potential buyers from New York coming in and remarking about how hot the weather was," Crutchfield reminisced. "But until they determine a buyer and a contract is signed, the ownership of the mall is kind of hung up."
Herald readers responded to last week's story on Facebook with suggestions for the future of the property.
A majority of local residents responded with the idea of tearing the building down in order to rebuild a more modern mall while creating jobs for the local economy.
While there is an indoor golf attraction, others noted that the mall is lacking recreational attractions to draw young people and families for more than just shopping.
And while many people turn to e-commerce for their shopping needs, other residents would like to see the next ownership invest in updating the mall as they still prefer to try on clothes and shoes before making a purchase.
Larry Mitchell, Texas Realtor
Broker Associate, ABR, CRS, GRI, VLB
www.HarkerHeightsHomes.com
LMSells@aol.com
254 681 5115 Cell