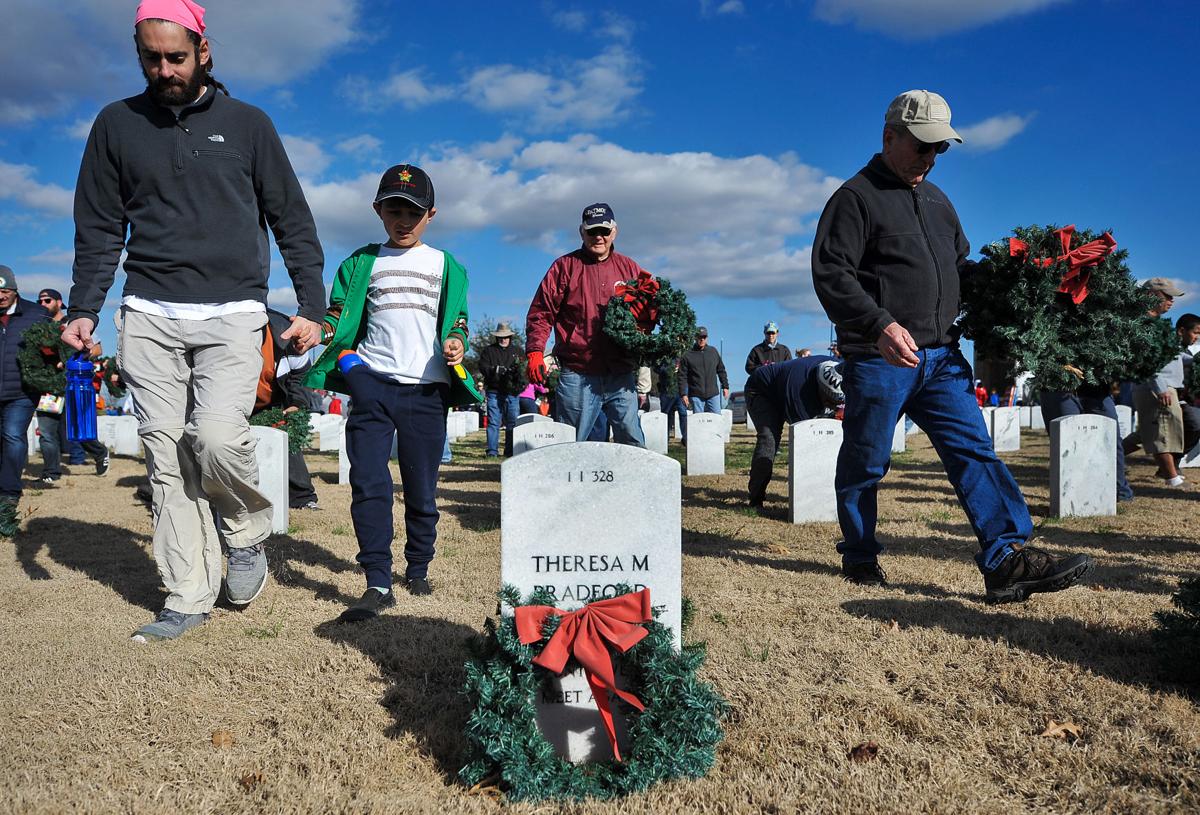 Volunteers gathered late Saturday afternoon to retrieve thousands of wreaths from graves at the Central Texas State Veterans Cemetery in Killeen.
The event was originally set to begin at 10 a.m. but was rescheduled due to weather concerns. The delay did not stop the volunteers from coming out to honor our local veterans.
The Worship Place's Men's Ministry from Sun City in Georgetown decided to make this their first trip for the retrieval. They plan to come back each year.
Ministry leader and Navy veteran Sal Caravello said they gathered for a breakfast Saturday morning before returning later to make the trip to Killeen that afternoon.
Caravello said about 56 men ranging in age from 65 to 87 showed up at 1 o'clock to carpool to the cemetery.
"It's a great program. A great way to respect our brothers and show them we haven't forgotten."
Before the retrieval began, community liaison Hilary Shine greeted the hundreds of volunteers who came to help with the yearly project sponsored by Friends of the Central Texas State Veterans Cemetery.
Shine reminded the volunteers of the many ways to get involved with the program, such as preparing, laying and retrieving the wreaths, as well as helping through donations, as the event is wholly supported by donations and volunteers.
Numerous groups joined the over 300 volunteers that met at the cemetery. One such group was the Combat Veterans Motorcycle Association.
Member Jeff Sepulvado said about 20 of their 100 members were in attendance. The members stayed near the trucks and helped load the more than 8,000 wreaths that volunteers collected from the graves.
This is just one of the many events they participate in for the community throughout the year. They attended the wreath laying in November and also participate in a suicide awareness ride for veterans on the 22nd of every month.
"This is our family. Like any good family we have to show the proper respect," Sepulvado said.
Another motorcycle-based organization in attendance was the Horny Toad Harley Davidson H.O.G. Chapter.
Matt "Gnome" Boyes said this was their first time to participate in the wreath retrieval. They have participated in laying the wreaths a few times.
"Anything that has to do with veterans is very important to us. As Harley riders we appreciate our freedom that they have provided."
This was the last wreath event for this season. The wreaths are gathered and stored until the preparation event in the fall.
For more information about supporting Wreaths for Vets, visit wreathsforvets.org.
Larry Mitchell, Texas Realtor
Broker Associate, ABR, CRS, GRI, VLB
LMSells@aol.com
254 681 5115 Cell