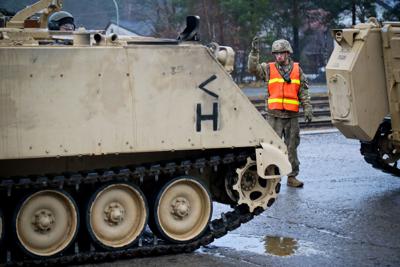 About 3,500 Fort Hood troops deployed to Europe will be arriving home soon.
The soldiers with 1st Cavalry Division's 1st Armored Brigade Combat Team deployed to Poland, Germany and other countries as part of a nine-month rotation.
Some of them will be returning today, and they will continue to return home over the next few weeks, according to the division.
The brigade — nicknamed "Ironhorse" — deployed to Europe in May 2018 in support of Operation Atlantic Resolve.
They will be replaced by 1st Armored Brigade Combat Team, 1st Infantry Division, based at Fort Riley, Kansas.
It was the Ironhorse Brigade's second rotation to Poland.
The first being in 2014 during Operation Atlantic Resolve in Poland, the Balkans and Germany, according to the division.
The brigade participated in several multinational training exercises in Poland and Bulgaria, and took part in various other exercises in Lithuania, Latvia, Estonia, Hungary, Slovakia, Romania and Germany.
"The brigade marched in several parades and attended memorial services commemorating past allied accomplishments.
Many of these events were historic as they "marked the first time there had ever been an American military presence participating," according to a news release from the division.
Prior to going to Europe, the brigade spent about a month at the National Training Center in Fort Irwin, California, preparing for the deployment.
Larry Mitchell, Texas Realtor
Broker Associate, ABR, CRS, GRI, VLB
LMSells@aol.com
254 681 5115 Cell