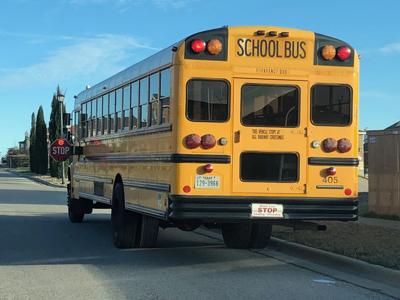 Although they have hired several drivers since November, the Killeen Independent School District is 82 drivers short of the number they would like to have, according to Terry Abbott, the district's chief communications officer Terry Abbott.
Currently, the district employs 229 bus drivers, he said, but needs about 300 drivers. In November, the district said it had 56 vacant bus driver positions.
"We continue to hire new drivers as qualified applications are received," Abbott said. "However, we continue to have resignations for various reasons, as happens every year in school districts throughout Texas."
In order to maximize route coverage during the shortage, KISD currently maintains minimal staffing at each transportation location, Abbott said.
This usually means every staff member must drive a route, with the exception of a two-person maintenance recovery team, the dispatcher and two paraprofessionals, Abbott said.
"Foreseen shortages are covered by assigning buses that have low average ridership to pick up students at stops in the closest vicinity of their assigned bus stops until the buses have reached capacity for a given campus for the morning run," Abbott said. "In some situations, several buses may be assigned in this manner to cover the shortage of a single bus that supports a three-tier route."
The KISD has a tier system that allows schools to start and end at different times, according to Edward Thomas, KISD transportation director.
"A bus route can support as many as three shorter travel times and distances," Thomas said, "or as few as one when there are extremely far travel distances that have longer travel times that precluded them from supporting more than one campus."
Once busses have been redistributed for greater efficiency, if there are still shortages, the dispatcher will request the first buses that arrive to an affected campus drop students and return to pick up additional students for that campus prior to moving on to their next tier, Abbott said.
"Similar processes are repeated in the afternoons," Abbott said. "However, the challenge is often compounded by additional traffic and student campuses returns that occur when chaperons are not available for students who must be received at the bus stop."
The goal is to safely transport students to and from campuses daily. To accomplish this, drivers who primarily would be called in for special outings and field trips must be pulled in for regular daily routes, Abbott said.
KISD bus drivers receive a starting rate of $13.78 per hour.
Once hired, new drivers will receive a $500 bonus after their first solo drive, Abbott said.
Additionally, the district will reimburse the drivers for any commercial drivers license fees after one year of employment, he said.
Drivers will also receive $75 per trip driven plus their salary for the first 50 miles driven, Abbot said.
There are additional perks if a driver is needed on particular holidays.
"That rate increases to $200 plus starting driver pay for the first 50 miles driven on designated holidays," Abbott said.
All potential drivers must have a high school diploma or general education degree (GED) to apply, Abbott said.
They will also need a valid Texas Commercial Driver's License with passenger and air brake endorsements, and a current state school bus driver certification issued by the Texas Department of Public Safety, he said.
"Any fees associated with obtaining a CDL are reimbursed after one year of employment," Abbott said.
The Copperas Cove Independent School District currently employs 68 drivers and 18 aids, according to Wendy Sledd, the CCISD director of communications. Additionally, 15 of their full-time employees are licensed to drive a bus, she said.
"We are currently two (drivers) short," Sledd said. "We hire year-round."
Driving a bus has many advantages, especially for those who don't want to be tied to a desk or may need time during the day to take care of personal needs, said CCISD Director of Transportation Gary Elliott.
"CCISD provides all the training necessary and even pays for the certification and the physical," Elliot said. "The requirements are pretty simple: be at least 18 years old, be able to pass an alcohol and drug test, as well as an annual exam."
Additionally, drivers will be required to complete the required training, be able to use maps and GPS to follow routes, be able to manage student behavior, and have the ability to communicate effectively, he said, adding the starting salary is $13.65 per hour.
Larry Mitchell, Texas Realtor
Broker Associate, ABR, CRS, GRI, VLB
LMSells@aol.com
254 681 5115 Cell