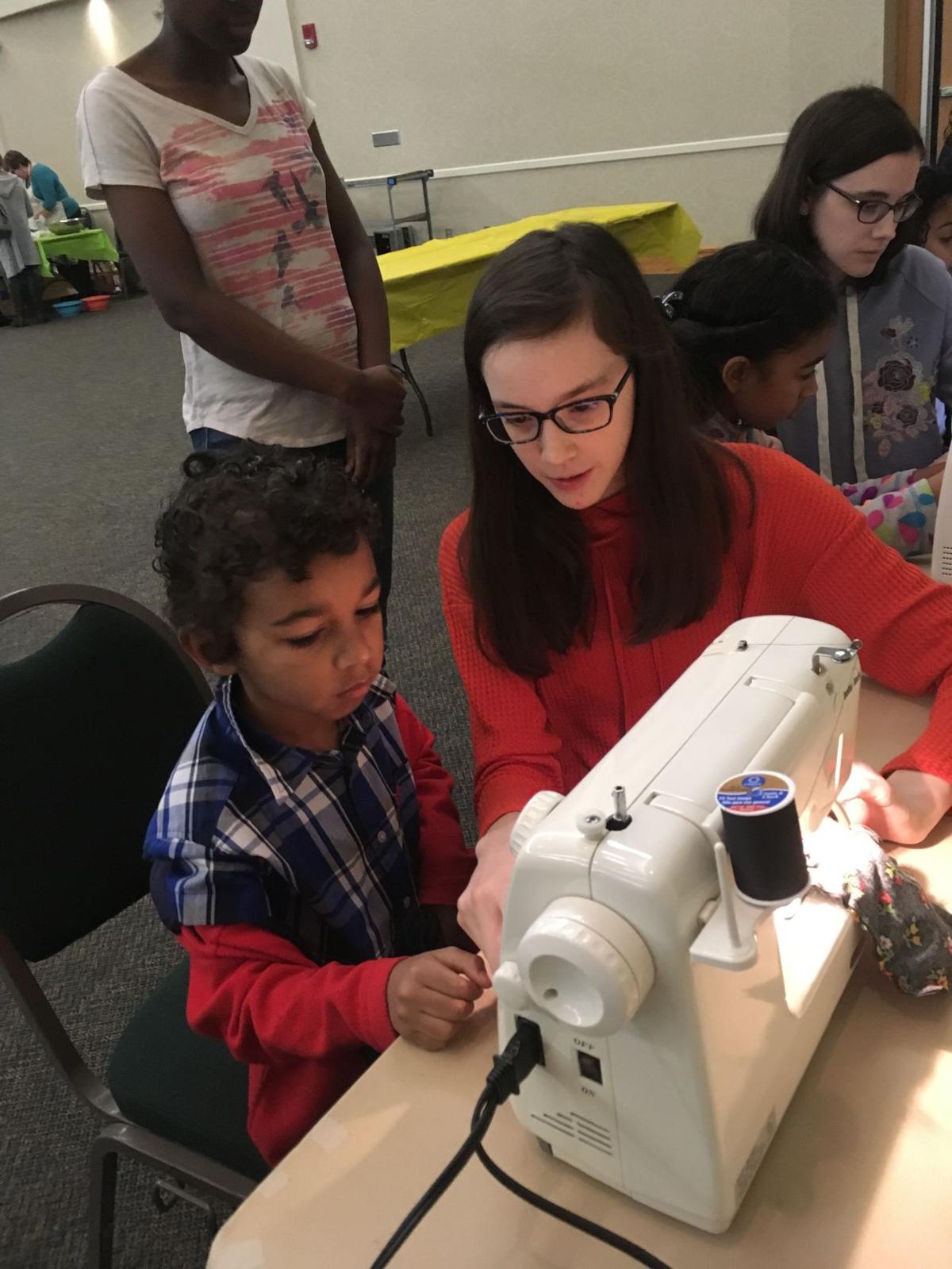 Creativity is for all ages, and Killeen Public Library volunteers helped local residents get their feet wet in the crafting world on Friday.
Hands on activities knitted the community together and broadened the skill sets of youths and adults alike; from 6-year-old David West, learning to navigate a sewing machine to make a pencil case to Sybille Word, of Killeen, learning to crochet at age 50.
The second Maker Day event sponsored by the Killeen Public Library was held at the Killeen Civic and Conference center.
Maker Day was designed to showcase fine arts and do-it-yourself projects and to stimulate creativity and collaboration among budding artists, according to Deana Frazee, Killeen's library director.
"We wanted to give creation and innovation a platform in Killeen," Frazee said.
Ten library employees and 10 volunteers manned different stations to give thorough demonstrations of the different crafts for both adults and children.
The event featured a variety of options including sewing, jewelry making, quilting, exfoliation scrubs, painting, building with LEGOs and creating homemade slime.
Crista Zamora crafted a wire bracelet with colorful beads with her 2-year-old daughter.
"She was immediately drawn to this station first when we got here," said Zamora.
Zamora especially enjoyed making the wire bracelet because it was easy to construct with a toddler, she said.
A few of the crafts, such as colorful re-purposed water bottle spinners, were recycled products that would otherwise have been discarded. Children colored the empty water bottles with sharpies, then cut them in spirals to make decorative spinners.
Harker Heights Public Library and Epically Geeky Expo joined with the Killeen Public Library to provide materials and instruction, and all participants were able to take their creations home — with the exception of the mountain of blue Lego bricks the Texas Lego Users Group loaned for people to tinker with.
Frazee said extra crafting supplies will be used for crafting at the library throughout the year, and for future Maker Day events.
Lisa Youngblood, the director of the Harker Heights public library who was also representing the Epically Geeky Expo, taught two segments on how to make costume armor out of foam.
"We're encouraging the mission of the Epically Geeky Expo to 'make it, do it, live it,'" Youngblood said. "We want people to use their 'geekdom' to improve their creativity."
Youngblood was one of three breakout session leaders, the others featuring giant origami folding, and rag wreath-making for Valentines Day, St. Patrick's Day and Easter.
Because the event is intended to stimulate hands-on activity, outside vendors are kept to a minimum, Frazee said, and are limited to vendors who create their own wares.
Owner of Jen X art Jennifer Walters, 34, of Copperas Cove is passionate about hand-made art because she enjoys both making and purchasing unique one-of-a-kind items.
Walters draws her own designs as well as custom art on demand. Her mother makes the art come alive through sewing stuffed animals.
Billi Capman, 39, of Killeen has been crocheting for more than 25 years. Capman brought some of her crocheted hats to sell for her business Little Shop of Lost Art, but also had a station set up to teach attendees basic crochet stitches.
Maker Day is focused on making the hand-eye connection, Frazee said; both for the creator's own well-being, but also for the sense of community crafting brings.
"We want to give people a chance to sit down and make a craft with the child or with their friend and just really experience the fun," Frazee said.
Larry Mitchell, Texas Realtor
Broker Associate, ABR, CRS, GRI, VLB
LMSells@aol.com
254 681 5115 Cell