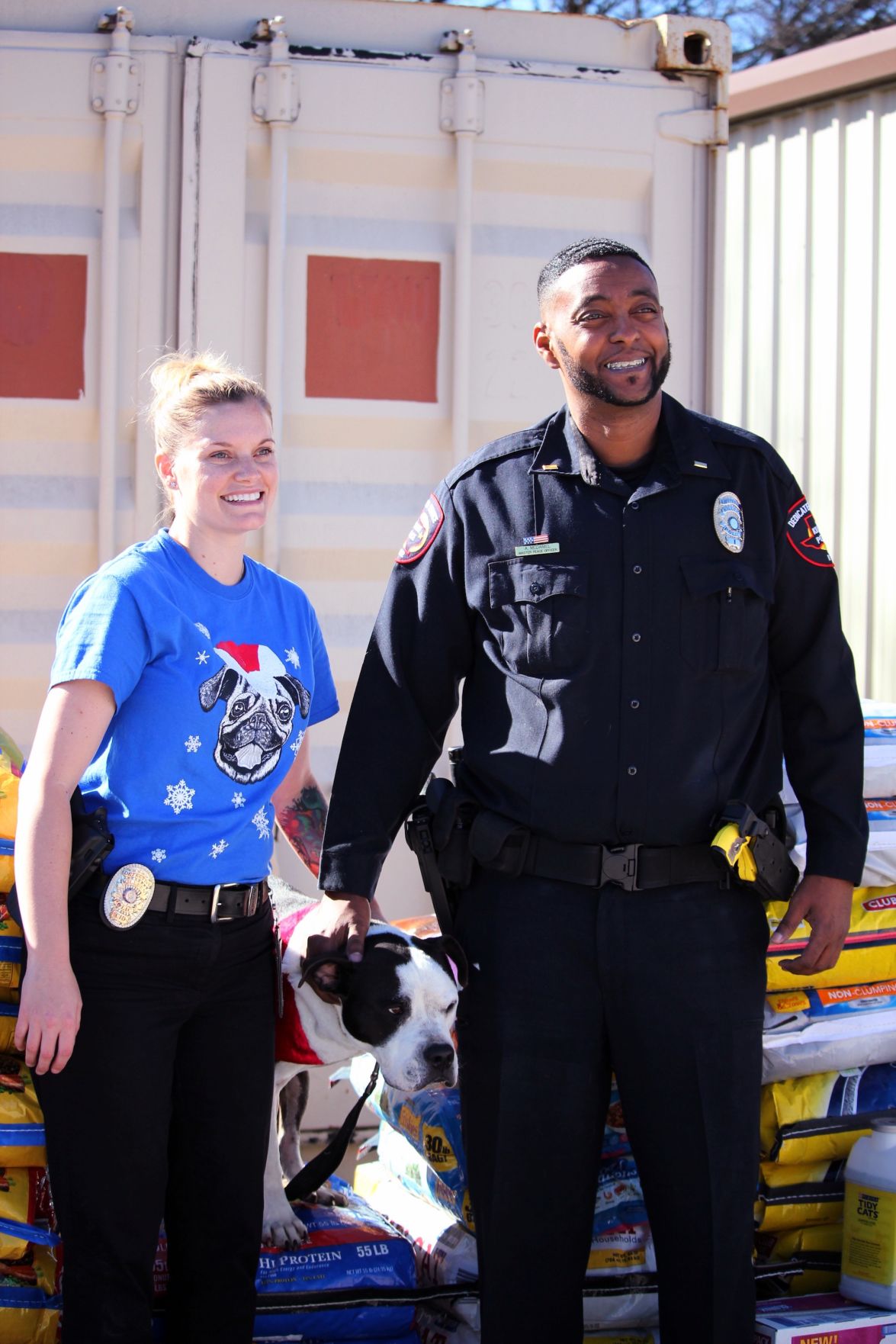 About 2,700 pounds of pet food were donated to the Killeen Animal Shelter and Spark of Life KittenRescue under the direction of Killeen Police Detective Tanya Lawson as part of an annual donation drive.
Lawson saw the opportunity to do good one night six years ago while dropping off a dog she had found while on duty.
During the drop-off at the Killeen Animal Shelter, she noticed the need for additional food supplies and answered the call the very next day by deciding to start a food drive.
Lawson not only looks out for strays, she works with animal shelters to take in homeless animals she finds at crime scenes or from victims that can no longer keep their pets.
"I have continued to donate to the shelter every year since, because animals hold a special place in my heart. The Killeen shelter works so hard to maintain a good shelter with such a low budget, and I just want to help where I can.
"At Christmas, a lot of people donate to children, the homeless and do food drives for humans, but sometimes the homeless animals are forgotten," said Lawson after dropping off the donated food last week.
The food drive's success led to Lawson deciding to also donate to Spark of Life Kitten rescue this year. Spark of Life received 20 bags of food, 10 bags of cat litter, specialty cat food, treats, toys and a $300 donation.
"The community's support is so important because I could never do this without them," Lawson said in gratitude for the support she's received from the community and on the drive's GoFundMe page.
Heather Brown, practice manager at After Hours Veterinary Clinic Practice, and Boulder, a terminally ill dog with osteosarcoma and heart failure, were also on site to assist. Boulder was found by Lawson as a stray and is a prime example of the fruit of Lawson's dedication to animals.
"Detective Lawson helped get him to me somehow, and they decided that he was a good dog for me," Brown said. Brown also commended the Killeen shelter for not giving up on Boulder.
The After Hours Veterinary Clinic matches donations it receives for the drive and gave 711 pounds.
Donate to the 2019 holiday pet food drive by visiting www.gofundme.com/745stq-6th-annual-pet-food-drive. All of the monetary donations go to buying pet food. After Thanksgiving, donation drop-off points will be at the Killeen Police Department and After Hours Veterinary Clinic in Killeen. Follow or donate to Boulder on Facebook at @BouldersStory.
Larry Mitchell, Texas Realtor
Broker Associate, ABR, CRS, GRI,VLB
www.HarkerHeightsHomes.com