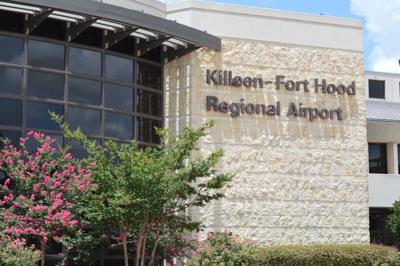 The Killeen City Council unanimously approved Tuesday a first-of-its-kind agreement with Fort Hood to improve pavement markings on the Killeen-Fort Hood Regional Airport's shared runway — bringing around $517,000 per year in revenue to the city.
The arrangement is part of an Intergovernmental Support Agreement through the Army's Office of the Chief of Staff of Installation Management, an initiative to secure partnerships between Army bases and their surrounding communities.
Under the terms of the five-year agreement, the Army will pay the airport $517,000 in the first year of the agreement for markings and minor pavement maintenance at the Robert Gray Army Airfield, which is shared by the post and airport.
The Army will then increase its payments by 2 percent each fiscal year of the agreement. The city estimates its initial expenditures for the agreement at $460,000 — or a $57,000 profit in the first year.
Killeen Director of Aviation Matthew Van Valkenburgh highlighted the agreement as a "win-win" for the airport and Fort Hood as the commercial airport continues to struggle with decreased ridership and revenue.
"This agreement is a milestone cementing the spirit and level of cooperation between Fort Hood and the City of Killeen," Van Valkenburgh said in an email Dec. 11. "It is a win-win for both organizations; the Army will be receiving scheduled preventative maintenance at a savings and the Airport will receive additional revenues. We anticipate great success with this partnership for years to come."
According to the city, the airport received approval for the agreement in October after it was vetted by Fort Hood and forwarded to Installation Management staff.
In other business, the council:
Approved expanding its 500-foot barrier for trucks parking near neighborhoods to 600 feet after residents expressed concern about increased traffic and noise in certain locations in a 6-1 vote. The 500-foot barrier was established as part of a council vote in April to amend the city's code of ordinances to prevent large trucks from parking near homes. The ban does not include travel trailers and light trucks for non-commercial use. Councilman Gregory Johnson voted in dissent. He also voted against the truck parking ordinance.
Approved an interfund loan of more than $701,000 between the general fund and aviation fund to pay for design of a taxiway repair project airport staff hope will be competitive for federal funding. The project design will be paid back through funds already budgeted in the aviation fund, and are completely separate from the possible federal funding. The council approved the loan in a 6-1 vote, which would be due back to the general fund by September 2019. Johnson voted in dissent.
Larry Mitchell, Texas Realtor
Broker Associate, ABR, CRS, GRI, VLB
LMSells@aol.com
254 681 5115 Cell