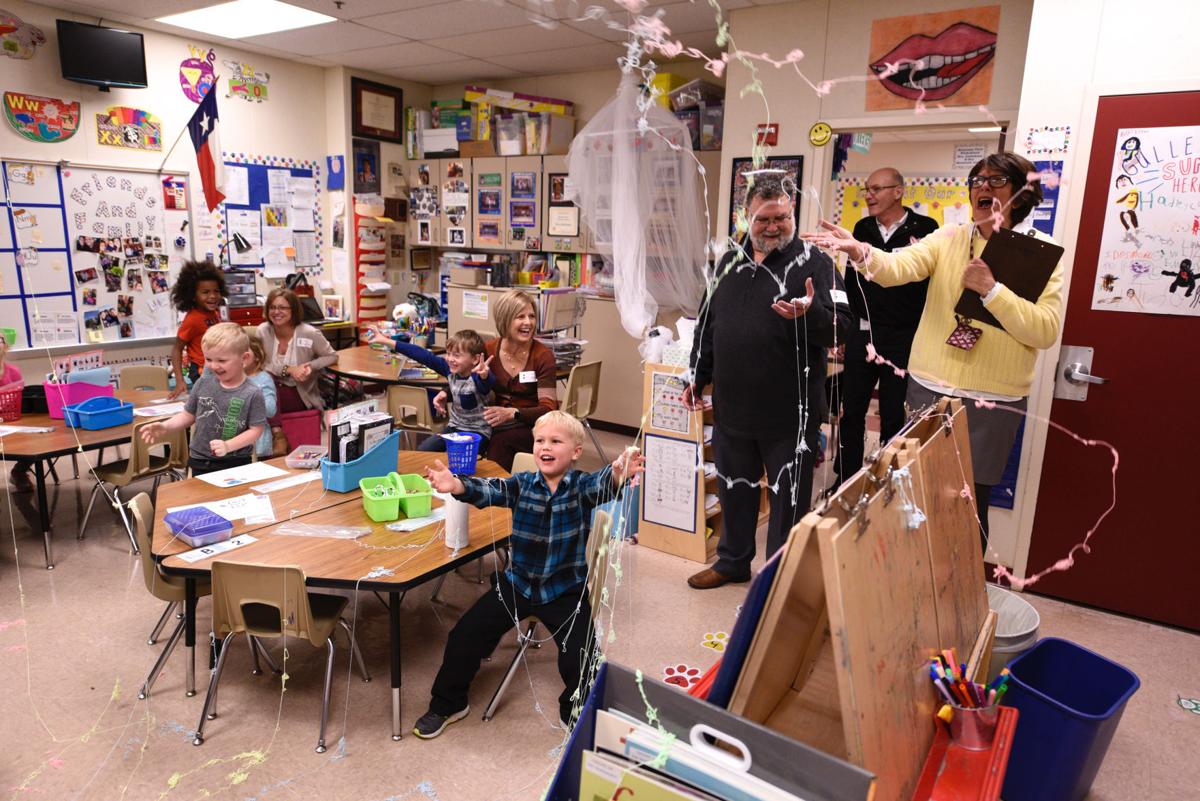 The excited teacher might have been a child on Christmas morning, shaking with joy as she received a surprise gift and finding it brighter and shinier than she ever expected.
Cavazos Elementary School first-grade teacher Affma Martin received a $5,886 grant from the Killeen ISD Education Foundation to bring an interactive reading and writing package to the school for her whole grade level.
The season of giving took a turn toward creative teaching and learning when foundation board members joined school district leaders last week to parcel out oversized checks totaling $73,071 to finance innovative classroom activities.
Two groups of Education Foundation representatives made surprise presentations at 12 Killeen ISD schools in Nolanville, Harker Heights, Killeen and on Fort Hood.
Many teachers indicated their gifts, from a generous community of donors, were just what they asked for this year.
Education Foundation Director Joyce Hodson praised the community, including school district employees for a record-breaking year of giving that led to the avalanche of gifting.
"Holiday surprises are the best," said Hodson, who like most of the grant patrol members was wearing a Santa hat for the day of deliveries. "When you give, we give back."
The foundation's annual employee contribution campaign raised $107,500, an all-time high. The district employee participation total of 2,104 was also a record and easily surpassed the board's goal. Schools will receive another $42,645 through a rebate program.
"This is huge," said Martin, who said she has applied for grants, but never won one until now. "This gives us an extra tool for language arts and reading." The grant to the Cavazos teacher will fund 25 interactive "read-a-loud" books with corresponding mini-lessons.
"We read and write so much," the excited teacher said. "This invigorates students to read and write even more as they engage with good books."
Elsewhere across the school district, Harker Heights Elementary School teacher Theresa Rohaly stepped away from teaching a lesson to celebrate a $1,021 grant called "Learning from the Ground Up," to enhance science learning.
The science teacher and horticulture club sponsor said the grant would expand the scope of the school's two gardens. "It means the whole campus can benefit even more from the garden," she said.
The latest KISD Education Foundation grants awarded include the following:
Reeces Creek Elementary School, A Winning Combination Pairing Literacy with STEAM, $4,777
KISD Middle Schools, Battle of the Books, $7,408
KISD Elementary Schools, Battle of the Books, $7,557
Cedar Valley Elementary School, Enhanced Works of Deeper Reading, $4,075
Early College High School, Flexible Seating for Rigorous Classrooms, $4,950
Audie Murphy Middle School, Focused Learning for Captured Engagement, $1,477
Cavazos Elementary School, Interactive Read Aloud, $5,886
Timber Ridge Elementary School, Get Your Motor Running, $4,899
Patterson Middle School, Inspiring Endless Stories, $1,464
Harker Heights Elementary School, Learning from the Ground Up, $1,021
Brookhaven Elementary School, Light Up Our Learning, $873
Mountain View Elementary School, Mayday, Mayday, Here's How to Have a Great Day! $3,714
Brookhaven Elementary School, Quaver's Marvelous World of Music! $2,485
Brookhaven Elementary School, Reading Rainbow, $502
KISD Elementary Schools, Science Olympiad, $9,998
Willow Springs Elementary School, Taking Kinesiology to New Heights, $4,064
Early College High School, Up and Learning, $4,987
Saegert Elementary School, What in the word problem? $1,649
Brookhaven Elementary School, Rhythm Clocks, Math and Music Working Together, $1,278
Larry Mitchell, Texas Realtor
Broker Associate, ABR, CRS, GRI, VLB
LMSells@aol.com
254 681 5115 Cell