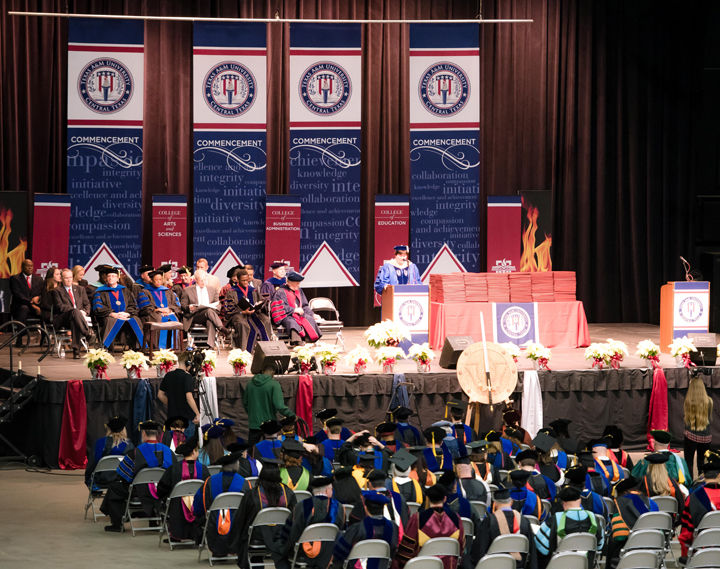 Texas A&M University-Central Texas held its fall graduation ceremony Friday night at the Bell County Expo Center, in which 312 degrees were distributed to 296 graduates.
Of the 296 graduates, many are first-generation college students, according to Karen Clos, executive director of Advancement and Alumni Services.
"Any time a student graduates, it's something to be proud of, but for these first-generation students, it's something that changes the trajectory of the entire family when it comes to education plans," Clos said.
Among the graduates were 25 active-duty service members and 97 veterans.
In total, 239 bachelor's degrees and 73 master's degrees were distributed.
Among the graduates was Scott Schumacher, 26, who graduated from Belton High in 2010.
He earned a bachelor's degree in aviation science and arrived at his graduation in a helicopter.
"It's been a long road," said Schumacher, who is planning to be an Air Force officer.
"I pushed myself to not quit," he said. "Even when I wanted to give up. It took discipline and a lot of sacrifices, but I had great support from the A&M-Central Texas aviation program director, Jim Fullingim. He's been a great friend and an inspiration through every step."
Among the top Texas A&M system dignitaries to attend the ceremony were Mark Stone, chief information officer, and Ervin Bryant, student regent of Texas A&M.
mpayne@kdhnews.com | 254-501-7553
Larry Mitchell, Texas Realtor
Broker Associate, ABR, CRS, GRI, VLB
254 681 5115 Cell
LMSells@aol.com