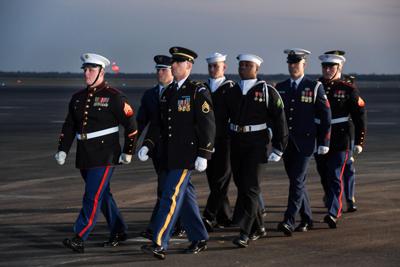 An Ellison High School graduate had the honor of leading the team of armed forces body bearers carrying the casket of the late President George H.W. Bush during the funeral ceremonies from Dec. 3 to 6.
Staff Sgt. Jeremiah Anderson Kaapa, originally from Fort Hood and now stationed with D Company, 1st Battalion, 3rd U.S. Infantry Regiment "The Old Guard" in Fort Myer, Virginia, said in a tribute video for Bush that it was an honor to be a part of such a historic moment.
"Recognizing that the minute I stepped off with the team we would be carrying the 41st president was very awe-striking," he said. "My biggest pride comes from being a part of a fraternity of soldiers who have had the opportunity as casket team leaders to be able to march those same steps that I marched."
According to the 3rd Infantry Regiment's website at www.oldguard.mdw.army.mil/regiment, the unit is responsible for conducting military ceremonies at the White House, the Pentagon and national memorials along with maintaining a 24-hour vigil at the Tomb of the Unknowns and providing military funeral escorts at Arlington National Cemetery. The regiment is also responsible for providing security for Washington, D.C., in times of national emergency or civil disturbance.
Larry Mitchell, Texas Realtor
Broker Associate, ABR, CRS, GRI, VLB
LMSells@aol.com
254 681 5115 Cell