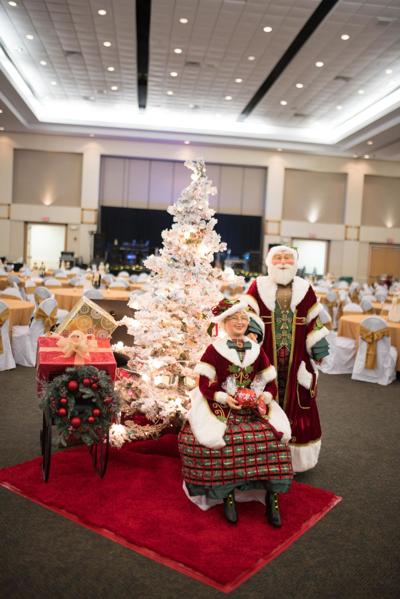 Decorative Christmas trees were on full display Thursday night at the Killeen Civic and Conference Center.
The reason: The 2nd annual Texas A&M University-Central Texas and Central Texas College sponsored Festival of Trees fundraiser. The theme this year was "Sounds of the Season." Over 1,090 guests walked into a true Christmas spectacle of holiday décor that night where they would get the chance to win an entire Christmas tree setting — minus the tree in most cases but always everything on the tree and around it — through a ticket drawing to raise scholarship funds.
Guests circled 10 Christmas trees — fully dressed by theme and beaming with lights — to observe gifts strewn around them as if Santa himself had set them there. TVs of several size; games; a large poker table; a dinner party set worth $250; bikes; toy sets; outdoor holiday décor; a full-size air hockey table; a popcorn machine; books; kitchen appliances; a ukulele; a full patio set; chocolates; an Xbox; a Kindle Fire; a juke box; rocking chairs; a fire place and gift cards were only some of the gifts that were available to win. Event-goers selected which tree setting they wanted and added their ticket to a bin to be drawn from.
"Hopefully this year, we're going raise $100,000 … It's exciting, it's fun. We love to put this on. We enjoy it," said Festival of Trees Event coordinator Cindy Davis.
A live band, refreshments, cash bars, a candy buffet, silent auctions and a do-it-yourself mashed potato bar were also at the fundraiser.
"Fortunately, it had a great tradition behind it," A&M-Central Texas President Marc Nigliazzo said regarding the event's YMCA roots and continued success. Festival of Trees raised money for the local community as a YMCA-organized event for years before being passed on to the university. The first year under A&M-Central Texas, 80 event tables were sold, and this year over 100 tables were sold.
"It's all for a good cause. People come out. The food is good," said Nigliazzo.
The fundraiser benefits education foundations at A&M-Central Texas, CTC and Killeen Independent School District.
"Scholarships and the education foundation provide innovative classroom grants … everything from STEM opportunities to innovative reading and writing programs. It (the education foundation) really is just a great organization," said KISD Superintendent John Craft.
Craft also recognized the benefit of the collaboration between CTC, A&M-Central Texas and KISD and those within these organizations who worked diligently to ensure that the event was successful this year. The school systems all provided volunteer teams and about 40 volunteers were from KISD.
"I think it's awesome. It's been really nice talking to all of the people and seeing their eyes light up," said event volunteer Ellen Falkenstein, who is a developmental math teacher at CTC. Falkenstein also expressed excitement over the possibility of her students getting scholarships.
Scholarship funds are raised through the Festival of Trees with the help of community sponsorships and Festival of Trees event-goers.
The final amount of how much was raised Thursday will tallied up by next week, officials said.
Larry Mitchell, Texas Realtor
Broker Associate, ABR, CRS, GRI, VLB
254 681 5115 Cell
LMSells@aol.com