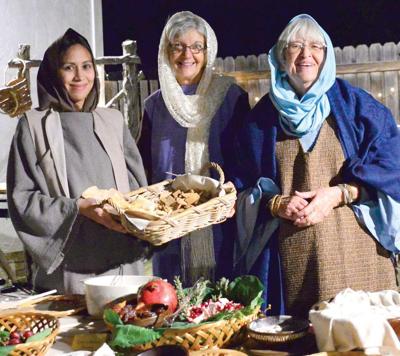 As the holiday season hits its stride, the number of events to mark it will only continue to increase until its passage. This weekend is no different, as one can find a number of holiday performances, parades, festivals and more within this listing.
The 56th annual Killeen Christmas Parade will begin its route at 4:30 p.m. Dec. 8 in downtown Killeen and will feature the theme, "A Texas Christmas." Spectators are encouraged to arrive early to find parking and a good spot along the route.
The fourth annual Xpreesha Outreach Youth Entertainment Showcase will be at 6 p.m. Dec. 7 at the Killeen Arts and Activities Center, 801 N. Fourth St. Children from five to 18 years old will be performing various talents for chances to win prizes, rewards, and a professional recording session. Tickets for adult attendees are $10, children five and under are $5, and can be purchased online at www.xpreeshaoutreachYES.eventbrite.com.
The Harker Heights Frosted Mug Run will be from 8:30 a.m. to noon Dec. 8 at the Harker Heights Community Park, 1501 E. Farm-to-Market 2410. registration is $30 for adults and includes admission to race, a t-shirt, mug, and craft beer at the finish line for those 21 and up. The Kids Fun Run for those 12 and under is free and will start at 8:30 a.m., and the 5K Race for all others will begin at 9 a.m. On-site registration must be completed by 8 a.m., or ahead of time online at www.runsignup.com.
First United Methodist Church of Killeen, 3501 E. Elms Road, is hosting its annual Walk Through Bethlehem from 6 to 6:30 p.m., followed by a performance of "Bethlehem: Hope is Born" from 6:45 to 7:45 p.m. Dec. 8 and 9. Admission is one canned food item or monetary donation per person to benefit the Killeen Food Care Center.
The Killeen Police Department, 3304 Community Blvd., is hosting a career workshop at 10 a.m. Dec. 8 for those interested in learning more about a potential career in law enforcement.
The annual Salado Christmas Stroll will continue from 10 a.m. to 10 p.m. Dec. 7-9 with artist markets, holiday activities, carriage rides, a live nativity scene, food vendors, live music, and more available to strollers.
The Lampasas Christmas on the Creek event will be from 5 to 8 p.m. Dec. 8 at W.M. Brook Park. Opportunities to visit Santa and his village, a food tent, live music, vendors, light displays, and sleigh rides will be available.
The Belton Lake Outdoor Recreation Area annual Trail of Lights is open nightly from 5:30 to 11 p.m. until Jan. 6. The trail, which is at N. Nolan Road and Cottage Road in Belton, features miles of outdoor light displays and an opportunity to visit Santa's Village for shopping and pictures with Santa. Cars, mini-vans, and pick-up trucks are $15 per carload.
The Carlson Christmas Light Show will be from 6 to 10 p.m. nightly from Dec. 1 to Dec. 25 at 428 Winter Sun Drive, Harker Heights. Tune into FM 88.1 to listen to the coordinated holiday music.
The Killeen Public Library is hosting Story Time every Monday from 5:30 to 6:15 p.m. for kids eight and younger, and every Tuesday and Wednesday from 10:15 to 11 a.m. for kids five and younger until Dec. 12 at the Copper Mountain Branch, 3000 S. WS Young Drive. The library also hosts a Crafternoon event for all ages every Thursday from 3:30 to 5:30 at the Killeen Main Library, 205 E. Church Ave.
Every Sunday morning, a free group run is held at various locations. This week, runners of all ages and paces will meet from 6 to 9 a.m. at the Purser Family Park, 100 Mountain Lion Road,Harker Heights. Water and coffee will be provided.
Bronco Youth Center, 6602 Tank Destroyer Blvd., Fort Hood, offers a free Explore Learning and Playgroup from 9:30 to 11 a.m. every Wednesday. Each session is geared toward children younger than 36 months old, but is open to all age groups. The class is hosted by ACS/FAP New Parent Support Program, a group of nurses and social workers that provide parenting education and support to families with children 3 years old and younger. Participants must have a valid military ID. For more information, call 254-287-2286.
The Mayborn Science Theater at Central Texas College features a variety of laser shows, movies, and other events based on astronomy. For show descriptions, a full schedule, and ticket prices go to www.starsatnight.org or call 254-526-1800.
Songsmith Salado chapter meets from 7 to 9 p.m. the second Monday of every month at the Salado Public Library, 1151 N. Main St. Membership is free and meetings consist of a discussion about the craft and business of music, friendly feedback on original songs, as well as guest speakers. Songsmith is a Texas-based nonprofit with the mission to discover, encourage and connect songwriters and musicians in Texas, especially in the Central Texas area. Su Heflin is the meeting coordinator for the Salado chapter. For more information, email songsmithsalado@gmail.com or call 254-947-3427.
Copperas Cove Bass Club meetings are at 7 p.m. the first and third Tuesday of each month at the Lil Tex Restaurant, 502 S. Main St., Copperas Cove. Call 254-661-9274.
The Bell County Writers Guild meets from 6:30 to 8:30 p.m. the first Monday of each month at the Lena Armstrong Public Library, 301 E. First St., Belton. Call 254-231-1843.
The Mystery Book Club meets at 1:30 p.m. the first Tuesday of every month at Barnes & Noble Bookstore, 201 E. Central Texas Expressway, Harker Heights. All mystery book lovers are welcome. For information, contact Marcene Saunders-Martinez at 830-357-8314.
Barrow Brewing Company, 108 Royal St. in Salado, will host live music by Blessed Union of Blues from 7 to 9 p.m. Dec. 7. Various artists will perform from noon to 9 p.m. Dec. 8 to coincide with the Christmas Market hosted outside of the brewery. Denny Cullinan will also perform from 1:30 to 3:30 p.m. Dec. 9.
Blends Wine Bar will host live music by the Jeremy Langthorn Quartet from 8 to 11 p.m. Dec. 7. $5 cover, 21 and up only. Blends also serves brunch from noon to 2 p.m. every first and third Sunday of each month complete with a trivia competition. Brunch is $20, mimosas are $2 each, and drink specials run all day. For more information, call 254-613-4739. Blends Wine Bar is at 208 N. Penelope St., Belton.
Dirty Harry's presents live music at 9 p.m. every Wednesday. No cover for ages 21 and older. Dirty Harry's is at 206 W. Veterans Memorial Blvd., Harker Heights (next to King Pin Tattoos). For more information, call 254-680-6557.
Bo's Barn Dance Hall and Club will host live music by Craig Howell with Somewhere in Texas from 9 p.m. to 1 a.m. Dec. 7. Cover: $10. The Debonaires will perform from 9 p.m. to 1 a.m. Dec. 8. Cover: $10. The dance hall is at 4984 W. Farm-to-Market 93, Temple. Catch karaoke from 8:30 to 11:30 p.m. every Thursday, with a DJ until 1:30 a.m. Happy Hour is from 5 to 10 p.m. every Thursday, and 5 to 8 p.m. every Friday and Saturday. For more information, go to www.bosbarndancehall.com, or call 254-939-7131.
Chupacabra Craft Beer and Salado Lonestar Winery hosts free live music every Friday from 7 to 11 p.m. Chupacabra is at 401 S. Main St., Suite #105, Salado.
All-Year Pioneer Farmers Market will be open every Saturday from 9 a.m. to 2 p.m. in front of Tractor Supply Company at 2002 E. Central Texas Expressway in Killeen, weather permitting. Go to www.facebook.com/pioneerfarmersmarket or call Heike at 254-458-8223 for more information.
Florence Market Days runs from 9 a.m. to 2 p.m. the first Saturday of every month at Florence City Hall, 106 S. Patterson Ave. Farm vendors, artisans, retail sales, cottage and food vendors and nonprofit organizations will be present.
The Chisholm Trail Chorus of Sweet Adelines International will perform their "Jingle Tour" holiday concert at 7 p.m. Dec. 13 at The Beltonian Theatre, 219 E. Central Ave., Belton. Tickets are $15 and can be purchased at www.thebeltoniantheatre.com.
Vive Les Arts Theatre is performing its seasonal show, "Elf Jr.," based on the story of the popular holiday movie of similar name, at 7 p.m. Dec. 7 and 8, and 2 p.m. Dec. 9. The VLA will also be performing its annual Christmas variety show, "The Most Wonderful Show of the Year," at 7:30 p.m. Dec. 14 and 15, and at 2:30 p.m. Dec. 16. Ticket prices vary by show and range from $5 to $15 and can be purchased online at www.vlakilleen.org.
Performances of Charles Dickens' "A Christmas Carol" will be at 7 p.m. Dec. 7 and 8 at TablerockAmpitheatre on Royal Street in Salado. Tickets are $10 for adults, $5 for students, and $3 for kids 12 and under.
The Lampasas County Museum, 303 S. Western Ave., is open from 10 a.m. to 4 p.m. every Friday and Saturday.
The Mayborn Museum Complex, 1300 S. University Parks Drive, Waco, will present a premier exhibition, "Titanic: The Artifact Exhibition," until Jan. 6. The exhibit features more than 150 artifacts recovered from the ocean floor along with room re-creations and personal stories. The exhibit is a chronological journey through the ship's construction, to life on board, to the ill-fated sinking and amazing artifact rescue efforts. Tickets for the exhibit are on sale at baylor.edu/mayborn. The museum will also be hosting performances of a special holiday puppet show, "Santa's Magic Bells," followed by holiday-themed activities throughout the museum from 11 a.m. to 2 p.m. Dec. 18-20. Patrons of the Waco/McLennan County and Hewitt Public Libraries system can also borrow a museum membership at no cost at any time. For more information, call 254-710-1104.
The Bell County Museum, 201 N. Main St., Belton, is open to the public from noon to 5 p.m. Tuesday to Friday, and from 10 a.m. to 5 p.m. Saturday. The museum is hosting Holiday Fest from 11 a.m. to 12:30 p.m. Dec. 8 where visitors will learn about different winter holidays around the world and craft ornaments. A showing of "The Grinch" will immediately follow along with hot cocoa and cookies. Call 254-933-5243 or go to www.bellcountymuseum.org for more information.
The Temple Railroad and Heritage Museum, 315 W. Ave. B, Temple, is open from 10 a.m. to 4 p.m. Tuesday through Saturday and hosts a themed family day on the first Saturday of the month. Go to www.templerrhm.org or call 254-298-5172 for more information.
The Lions Club Park Senior Center hosts a dance for seniors 55 and older from 5:30 to 8:30 p.m. every first, second, and third Tuesday of the month at the Killen Community Center, 2201 E. Veterans Memorial Highway. Admission is free and attendees are asked to bring a food dish to share.
In the Mood Ballroom will be closed this weekend, but hosts dance lessons of various styles throughout the week and is located at 13 and 15 S. Main St., Temple. For more information on future events or classes, call 254-773-7088, email Karen.Keith@inthemoodballroom.com, or go to inthemoodballroom.com.
Club Fuego, 704 Edwards Drive in Harker Heights, features Latin music and dancing every Thursday through Sunday from 9 p.m. to 3 a.m. Ladies are free before 11 p.m. Call 857-294-5604 for more information.
Main Street Tejano Club, 201 S. Main St., Temple, has a DJ/live music from 9 p.m. to 2 a.m. every Friday and Saturday. Call 254-541-8329 or go to www.mainstreettejano.club.
Pan American Club, 575 Pan American Drive, Harker Heights, features Tejano, Norteño and Cumbia music. Call 254-690-2882 for more information.
Longhorn Saloon, 2503 S. General Bruce Drive, Temple, hosts music every Saturday and Sunday. DJ Kaoswill play from 9 p.m. to 2 a.m. Dec. 7. No cover. DJ Ponyboywill perform from 9 p.m. to 2 a.m. Dec. 8. No cover. Call 254-771-1364 for more information.
Have upcoming events to include? Email announcements@kdhnews.com. Items run as space is available.
Larry Mitchell, Texas Realtor
Broker Associate, ABR, CRS, GRI, VLB
LMSells@aol.com
254 681 5115 Cell