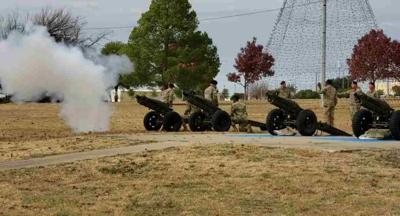 BLOX TITLE: Fort Hood firing cannons in honor of President Bush
Fort Hood fired cannons every half hour on Monday to honor former President George H.W. Bush, who died last weekend.
The cannon salute is part of Army regulations for Army installations on the day after receiving notification that a president has died.
"We will also on (Thursday) fire 21 guns at noon and then 50 guns that evening at 5 p.m., one gun fired every minute for 50 minutes," which is also per Army regulations on the day when a former president is buried, said Fort Hood spokesman Chris Haug.
Many Fort Hood soldiers will get a day off work Wednesday after President Donald Trump ordered federal offices closed for a national day of mourning on Wednesday. All civilian federal employees will also have the day off as well.
While the U.S. Postal Service will not be delivering mail on Wednesday, the Olin E. Teague Veterans Affairs Hospital in Temple will still be seeing patients. No previously-scheduled appointments have been cancelled. Area local government offices, including the city of Killeen, will also be closed.
Bush's casket will be transported by motorcade Thursday to the presidential library in College Station, where he will be buried at the gated family plot near his wife and their daughter Robin, who died of leukemia at age 3. Barbara Bush died on April 17 at their Houston home. The couple was married for 73 years, longer than any other U.S. presidential couple.
A video of one of the cannons firing can be viewed here:
Larry Mitchell, Texas Realtor
Broker Associate, ABR, CRS, GRI VLB
LMSells@aol.com
254 681 5115 Cell