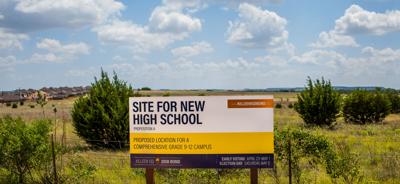 The Killeen Planning and Zoning Commission voted in favor of a rezoning request for the Killeen's school district's sixth high school off Chaparral Road at its regular meeting Monday.
The commission recommended for approval a district request to rezone more than 67 acres of agricultural land to residential, paving the way for the school's construction.
The sixth high school project was part of a $426 million bond package approved by district voters in May.
The new school will feed onto Chaparral Road, a two-lane thoroughfare primarily owned by Bell County that has been the focus of concern by Killeen city officials.
Commissioner Anthony Cooper expressed concern about the traffic that will exit out of the school onto Chaparral Road, citing some of the district's other schools that have caused traffic backups on city roads.
"We hope that you guys will really take into consideration some of those concerns," Cooper told Adam Rich, the district's finance director, and two consultants for the district. "It's really important that you will look past just the building construction and consider the safety of drivers."
Rich said discussions were currently ongoing with the county to push through a renovation and possible redesign of Chaparral to address the expected traffic congestion from the school, but no hard plans or timelines are in place for improvements.
Rich said the planned school's total capacity is 3,000 students and is scheduled to open in fall 2022.
Commissioner Leo Gukeisen said he was concerned about the drainage on the site, which could affect nearby homes when the school is built.
"It's 67 acres of open land, but now we're taking it and making a flat top," he said. "So where does the water go?"
City planner Tony McIlwain said the district would be required to address drainage when it submits its final plat for the site at a later date.
Earlier this year, the Killeen City Council briefly flirted with the idea of a $30 million bond election that would have paid for the expansion of Chaparral to accommodate new residential and school growth, alongside a package of nearby road projects.
The council reached a consensus not to pursue that bond as it sought a mutual funding arrangement between the city, county and school district in the future.
With the commission's recommendation for approval, the district's request will go up council consideration at a later date.
Larry Mitchell, Texas Realtor
Broker Associate, ABR, CRS, GRI, VLB
LMSells@aol.com
254 681 5115 Cell