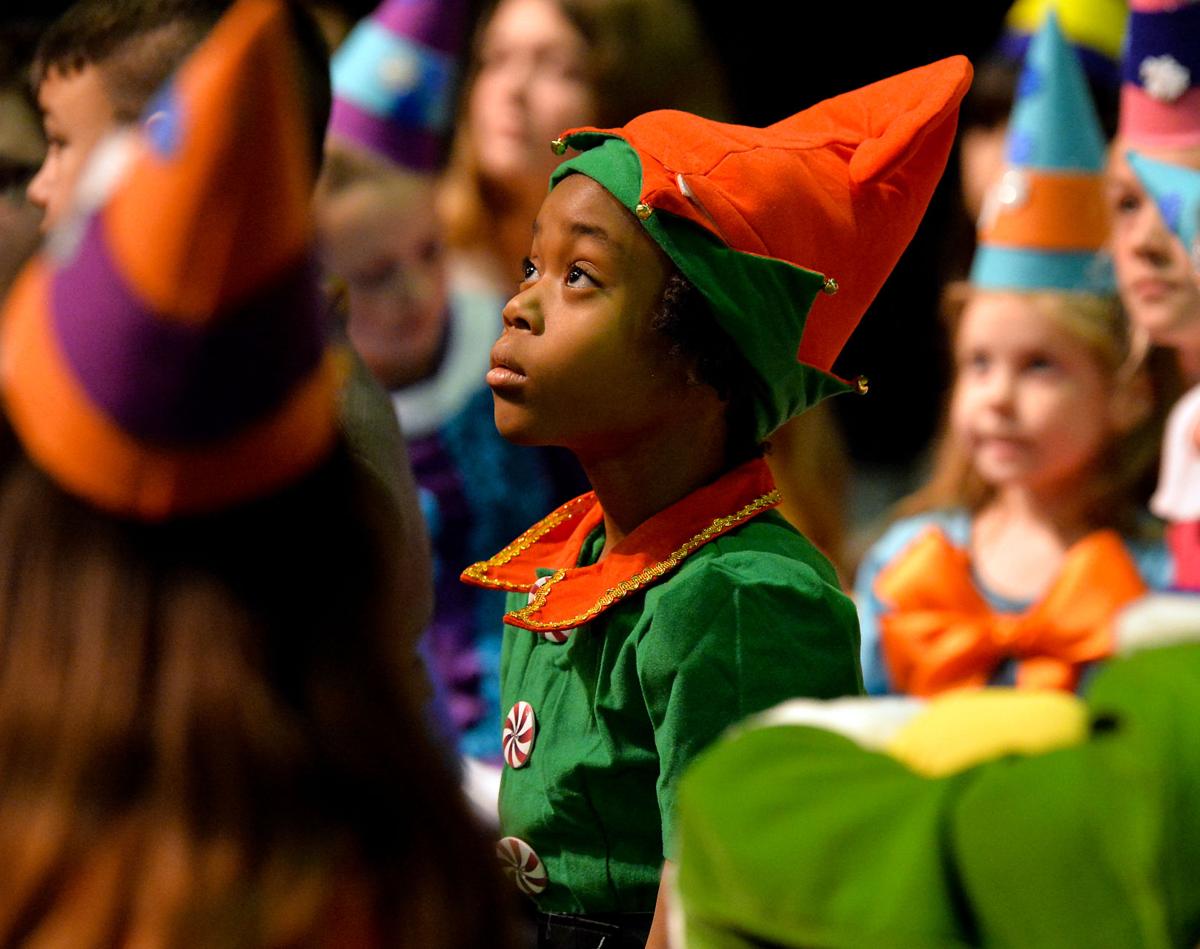 Dress rehearsals have been in full swing all week at the Vive Les Arts Theater in Killeen, in preparation for the upcoming production of "Elf, Jr." The play is set to open 7 p.m. Friday.
The play, with a cast of children, is directed by Amy Seaman, aided by 14-year-old assistant director Alyssa Allen.
"Buddy the elf discovers that he's actually human and decides to travel to New York to find his father," Seaman said. "And (it's also about) his escapades and experiences in discovering himself … it's about the spirit of Christmas, the spirit of community."
"Elf, Jr." is based on the 2003 movie "Elf."
"It is the junior version, so it runs about half the time of the movie," Seaman said.
There are other differences between the play and movie, too, such as different characters and the removal of any adult content. The biggest difference, however, is in the cast, which in Seaman's production is comprised of all children, 42 of them, ranging in age from 7 to 17. With rehearsals for the play taking place three times a week over the past two months, plus two Saturdays. This required a lot of dedication from the youthful cast. Seaman said that wasn't a problem; everyone showed up ready and eager to work.
Luke Thomas, 17, of Belton, who is playing the main character, Buddy the elf, went above and beyond everyone's expectations, said the director.
"He works hard," Seaman said. "He knew all his lines within two weeks."
Thomas said rehearsals could be challenging, but only because the timing coincided with his school schedule, making getting there a bit "hectic," but he made it, every time.
Of his character, Thomas said, "He has a lot of energy, always looking for the best in everybody, always happy, looking to spread it to everybody … I'm grateful for the opportunity to portray Buddy as well as I can."
Daniel Sonier, 12, of Killeen plays Mr. Macy's Manager. He said what he likes most about his character is, "The suits, and I pretty much get to tell everyone what to do, and shout out the news." Of the rehearsals, he said, "I looked forward to it. It was fun to practice, it made me happy."
Seaman said she enjoyed the role of director.
"It has been such an amazing experience working with such an amazing group of young people," she said. "This was such a privilege to be able to work with these children and to give the gift of theater to the community."
"Elf, Jr." will run this weekend, Nov. 30 – Dec. 2, and next weekend, Dec. 7 – Dec. 9. Showtimes are Friday and Saturday at 7 p.m. and Sunday at 2 p.m. Tickets can be purchased online at http://www.vlakilleen.org/. Tickets can also be reserved at Vive Les Arts, 3401 S. W.S. Young Drive, by calling 254-526-9090, or purchased at the box office at the time of the event.
VLA will also be bringing back its popular Christmas cabaret revue, "The Most Wonderful Show of the Year," for three nights only, Dec. 14-16. The variety show will feature dancing and singing of holiday favorites, just in time for the holidays.
Larry Mitchell, Texas Realtor
Broker Associate, ABR, CRS, GRI, VLB
LMSells@aol.com
254 681 5115 Cell