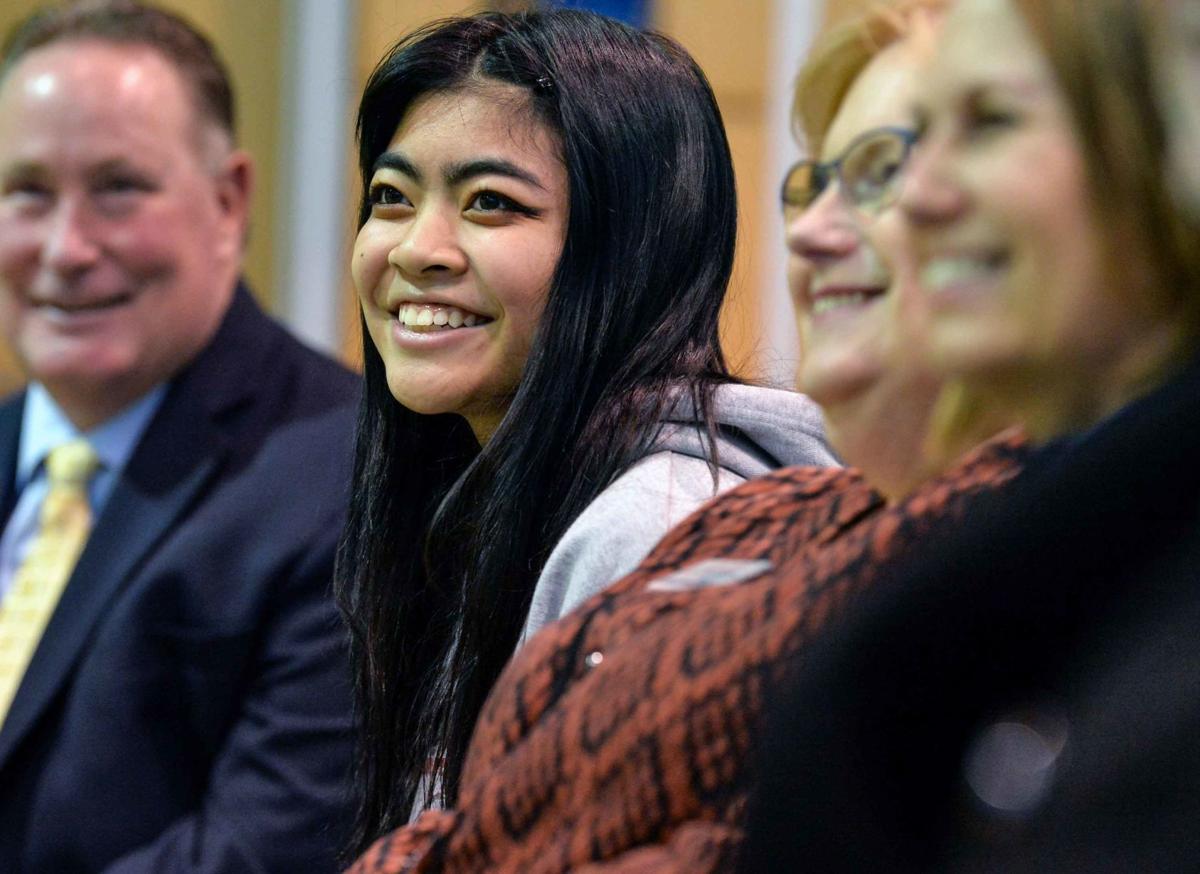 Texas A&M University Central Texas hosted a ceremony Monday afternoon for a student with an associate degree in organismal biology, one in chemistry, and a near-perfect grade point average while pursuing a bachelor's degree in biology, a list of accomplishments that would be impressive for any college student.
Oh, and this one is 17 years old.
Hannah Baratang, the youngest biology student at Texas A&M University Central Texas, was recognized Monday by State Representative Scott Cosper.
Close to 35 people attended the ceremony at the university's campus, including faculty members of the biology departments of both Central Texas College and Texas A&M Central Texas.
"We are so very proud of you, and we are excited to see what all you accomplish," Cosper said to Baratang, as he presented her with a folded flag.
The flag was flown above the state capitol on Oct. 11 in honor of Baratang's dedication and achievements. Flags are flown above the capitol daily at the approval of state senators and representatives.
Cosper, inspired by a July Herald story about the young student, reached out to CTC and A&M Central Texas, saying he wished to honor Baratang by flying a flag in her name.
Flags that were also flown above the capitol were also presented to the biology departments of both schools to signify their part in shaping the success of students such as Baratang, who enrolled at CTC when she was 12 and earned two associates degrees before transferring to A&M Central Texas as a junior at 16.
Her first degree was in organismal biology, which is the study of structure, function, ecology and evolution at the level of the organism. Her second was in "regular chemistry," as she calls it.
Although there was a bit of light-hearted debate between the schools as to which held more responsibility for Baratang's success, Chancellor Jim Yeonopolus of CTC and Marc Nigliazzo, president of A&M Central Texas, shook hands and repeatedly expressed their appreciation for the partnership between the schools.
"A lot of colleges wouldn't know what to do with someone as young as Hannah, but CTC put her in the biology program, and we are so grateful for what the staff there did to help her," Nigliazzo said.
Yeonopolus said he could not be more proud of Baratang and all she has accomplished, including the assistance she is already providing to the students of the Early College High School program.
Baratang said she plans on offering tutoring for students once she has a less hectic semester.
"It's kind of crazy," Baratang said of being honored Monday. "Texas is so big that to be recognized by the state like this is really amazing. Texas is my home, and I know Mr. Cosper is from Killeen as well, so it means even more."
Cosper was not the only fan of Baratang in attendance Monday, as faculty members from both schools spoke highly of the student.
"Hannah is the kind of student you dream about getting," Dr. Laura Weiser-Erlandson said. "She's such a go-getter, but she's also so sweet. It's amazing when you have a student that is so willing to help others, but at the same time is not afraid to ask for help or admit when she doesn't understand something. I really admire that about her."
Baratang recently purchased her first lab coat, and is on track to earn her bachelor's degree before her 18th birthday.
Larry Mitchell, Texas Realtor
Broker Associate, ABR, CRS, GRI, VLB
LMSells@aol.com
254 681 5115 Cell