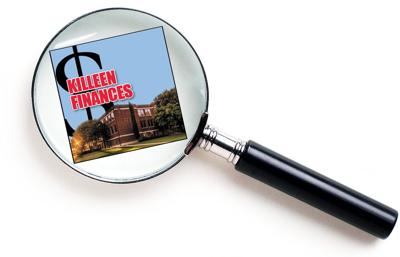 A week after the Killeen City Council moved to draft a $1.6 million street maintenance fee targeting the city's crumbling roads, council members are drawing battle lines as a final vote on the initiative inches closer.
Following the council's 4-2 consensus vote Nov. 14, representatives have gone to the public to make their cases for and against the fee — including the unusual step of two council members debating each other in a town hall forum Tuesday.
The fee, which would be gathered on water bills, is designed to charge residents and businesses for their proportionate impact on city streets.
The fee as currently constructed would charge a single-family home $1.71 per month. By contrast, a 20,000-square-foot supermarket would be charged $166.90 per month.
Killeen City Manager Ron Olson called the fee the only solution for road repairs in which "everyone is paying their fair share."
With weeks to go before the council votes on an ordinance to legalize the fee, residents' reaction could be a deciding factor in the contentious debate.
Last week, some council members outlined their stances on the fee, as well as what level of review and transparency they are seeking if the fee is eventually approved.
In the Nov. 14 consensus, Mayor Pro Tem Jim Kilpatrick and council members Shirley Fleming, Juan Rivera and Hugh "Butch" Menking voted in support of the fee. Council members Debbie Nash-King and Steve Harris voted against it. Councilman Gregory Johnson was absent and said he was out of town on business. He later said he is against the fee.
Rivera and Fleming could not be reached for comment last week.
Nash-King declined to answer the Herald's questions in an email Monday. She did not respond to a follow-up email reiterating the questions.
Harris said many of the residents he has spoken to oppose the fee and see it as another attempt to "pass on" the city's financial distress to residents.
"The majority of the feedback I have received has been in opposition to the fee," Harris said. "My concern is that once (the fee) is established, it may be used as another method of collecting monies from citizens through periodic increases while using tax dollars to continue with, at times, irresponsible fiscal endeavors."
Current street repairs are funded through the city's general fund, which is primarily supported by property tax revenues. According to a 2013 outside study, the city was given a target annual repair budget of around $1.9 million.
In fiscal 2019, the council budgeted just $300,000 for the repairs.
Harris said if the fee is passed, it should be treated as a short-term fix until a more stable source is found.
"In my opinion, for the city to view this fee as a permanent one or, even one that may be desired to last more than two years is, in my opinion, irresponsible in itself."
Menking told the Herald in an email Wednesday he had received mixed reviews from residents on the fee — but believed most were willing to support it after a clear picture of the city's needs were explained.
"For citizens who seem really opposed, I try to educate them on how street maintenance is just one of many priorities the city must address," Menking said. "Once they see the tremendous pressure on the general fund to try to cover these, most seem to agree."
Street repairs currently compete with public safety departments and other city functions in a general fund that has grown increasingly strained in recent years. The 100 percent disabled veteran property tax exemption passed by state law in 2009 is scheduled to strip around $3.5 million from the budget this fiscal year alone.
Menking said he viewed the fee as the only equitable way to pay for the problem, which has been building for more than a decade.
"For me, the street maintenance fee decision was arrived at during the budget development of (fiscal 2019)," he said in the email. "It is very clear to me that the underfunding over the last 10 years by previous leadership has allowed deterioration of our streets to critical levels. The patchwork way of underfunding street maintenance contributed to the problem and had to be changed … quickly."
On Tuesday, Councilmen Johnson and Kilpatrick pleaded their cases in front of residents at the Village United — revealing the lingering split among council members on the fee.
Johnson has been outspoken in his opposition to the fee and said continued "unnecessary spending" by the city has led to continued underfunding of road repairs.
"I just get fired up when I look at the unnecessary spending," Johnson said Tuesday. "I don't believe in going back to the people and saying we need more money."
Like Harris, Johnson said the fee would be a short-term fix, and he said he would give it a year before the city asks for more money.
Johnson called for a long-term solution to the road problem, including more economic development and relief from state-funded mandates, like the 100 percent disabled veteran property tax exemption.
Fighting that exemption and bringing in more tax revenue is out of the hands of the council, however. The 100 percent exemption was passed in 2009 by the Texas Legislature and would require action at the state level for relief.
If the Legislature does not approve relief in the 86th Legislature starting in January, it could be at least three years before any aid comes back to Killeen.
On the opposite side, Kilpatrick said the city has been continuously underfunding streets because there simply haven't been available funds in the general fund to perform more repairs.
"When you keep the money in the general budget, it competes with every other thing in the general budget," Kilpatrick said. "The lowest cherry on the tree is street maintenance, and that's where they take it from. We are at a time where something has to be done. We have to fix our streets."
Kilpatrick said the important thing was to draft an ordinance limited enough in scope to dedicate the fee revenue solely to repairs and avoid a "mission creep" to fund other needs.
"We need to be able to prove to you that ($1.71) of the ($1.71) you pay for this fee is going to the streets, but if you keep it in the general fund, no one will be able to guarantee that's where it will go," he said.
With a city full of roads to repair, how will the city prioritize which ones come first?
Last week, City Manager Ron Olson said the city drafted a "priority list" for the repairs based on a "worst-first" basis.
But on Tuesday, the city said it had not yet drafted that list and relied on inspections performed in 2013 as part of a road inventory survey performed by Columbus-based TransMap.
On the map, the city outlines a series of inspections it has performed on city streets dating back to 2004, with the last reported inspections completed in 2011. The city utilizes an "excellent/good/fair/poor" ranking system to determine the street's condition with intermediate levels in between.
According to the TransMap study, Killeen maintained 495 miles of paved roadways at a network value of $643.5 million. As of August 2017, the city maintained 2,191 "lane miles" of road — or the centerline length for every lane of road in the city.
Director of Public Works David Olson said in 2017 the city also performs "windshield inspections" of roads to update their condition.
The GIS database the city maintains does not reflect those informal inspections.
The street fee would not apply to roads such as Rancier Avenue and Watercrest Road, which have already been designated in a master plan as capital improvement projects in need of major repair. The fee would also not apply for roads like Fort Hood Street, Stan Schlueter Loop or Clear Creek Road, which are all state thoroughfares.
A capital improvement project, as opposed to routine maintenance, is a one-time expense with a cost greater than $100,000 that is paid through capital reserves or bond money.
Council members have begun treating the road priority as a political issue, particularly Harris, who said Wednesday the council should be involved in the process of ordering repairs if a fee is approved.
"Let citizens help determine what they are willing to wait on and want done sooner," Harris said in an email. "If the city decides upon a need to prioritize any of the dollars differently, they will hold a public hearing for direct citizen input; especially, for those citizens who live in (areas) that will be experiencing a delay in their planned repairs."
The repair of north Killeen's roads — typically older and in worse shape — has been a hot-button political issue for council members that have watched the city rapidly growing to the south.
However, the city has said it's aware of the condition of the northern roads.
"What I can say is that, in general, the areas in need of the most attention are those areas located in older parts of the city," David Olson said in August 2017.
kyleb@kdhnews.com | 254-501-7567
Larry Mitchell, Texas Realtor
Broker Associate, ABR, CRS, GRI, VLB
LMSells@aol.com
254 681 5115 Cell