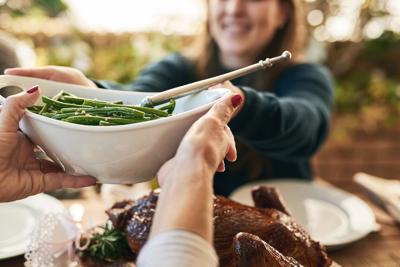 With the holidays officially in full gear, the temptation to indulge in holiday treats and big meals are likely to increase in the days and weeks ahead.
But it's important to think about what's on the menu and how you approach some of those meals in order to remain somewhat healthy during the holidays, local health experts said.
"Being mindful of what you're eating during the holidays can help you avoid overindulging," said Cedilia Silva, family nurse practitioner for the Metroplex Clinic Physicians in Killeen. "Taking a little time to plan ahead before going to a holiday gathering can go a long way in avoiding the impulse to overeat."
"Remember that the holidays are about spending time with family and friends," said Silva "try to keep the focus away from food whenever possible."
Metroplex offered the following tips on healthy eating during the holidays:
Don't arrive on an empty stomach: Try not to show up to a holiday meal or party with an empty stomach. Skipping meals typically leads to eating more than if you had eaten something earlier in the day.
Check out your options: You're more likely to eat less when you look over all your options first. So, scout out the buffet table before loading up your plate.
Hang out with someone who eats slowly: Find someone who you know takes longer to finish his/her meals and follow his/her pace. Eating slowly makes it easier to eat less and still feel satisfied.
Move away from the food: If you linger around the buffet or dinner table, chances are you'll continue to nibble. Aim to be more than an arm's length away from the food whenever you aren't eating.
It's OK to enjoy your favorite holiday treat: Better yet, share the holiday spirit by splitting your favorite treat with someone else.
Larry Mitchell, Texas Realtor
Broker Associate
ABR, CRS, GRI, VLB
LMSells@aol.com
254 681 5115 Cell