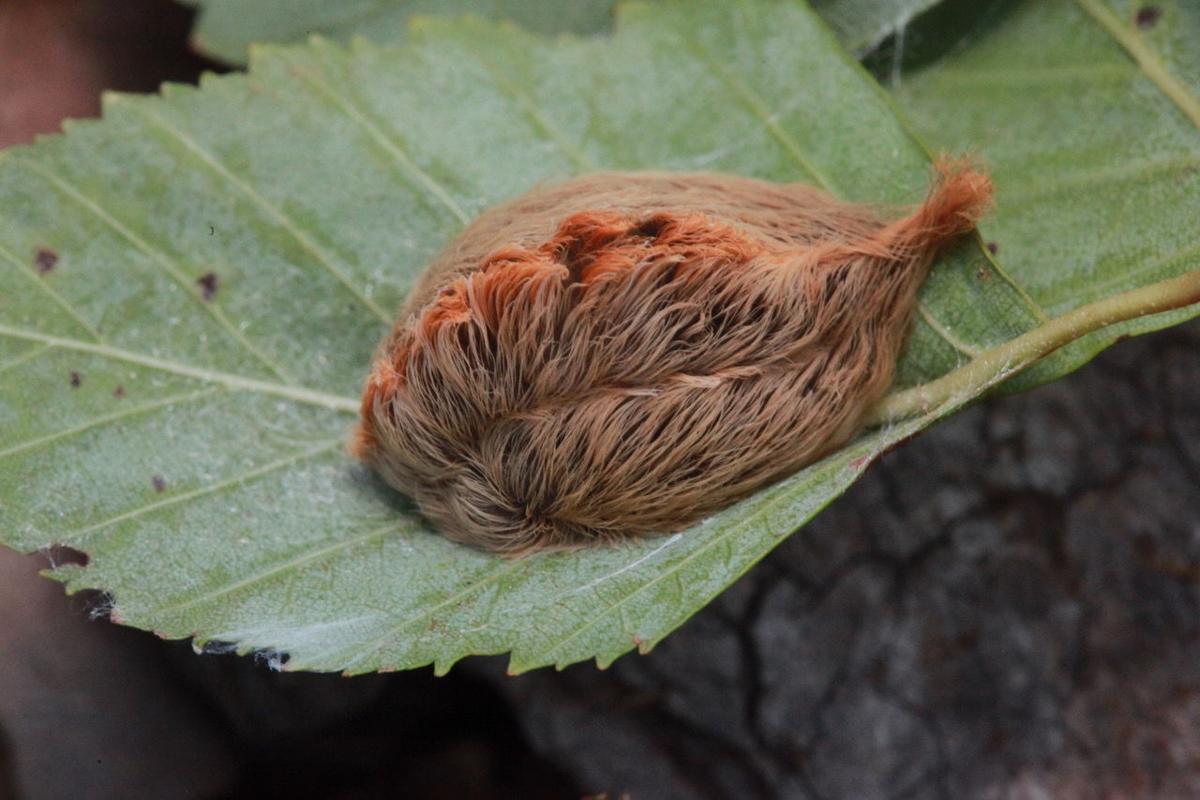 They are fuzzy, they are cute, and they are extremely toxic. It is hard to imagine that the flannel moth caterpillar can cause any harm, but appearances are deceiving.
A local family found out the hard way how painful it can be to get in touch with the insect.
Eunice Myers lives with her husband and daughters Isla, 4, and Celina, 3, in Killeen and has found multiple flannel moth caterpillars in their backyard.
"In July last year, I found a gray one on the girls' sandbox and it was fuzzy and cute so I was about to pet it, but my instinct told me to look it up first," she said.
What she found out was that the insect, also known as puss moth caterpillar, has long hairs on the top and the sides of its body that hide venomous spines. When being touched, the spine breaks off and releases the venom into the skin, causing a very painful sting and intense, throbbing pain immediately or within five minutes of contact.
"I decided to kill it instead because I didn't want the girls to play with it," Myers said. "I had a talk with them about fuzzy caterpillars that day."
While her daughters listened to her mother, 4-year-old Isla fell while playing in the backyard and accidentally touched one of the caterpillars.
"She ran in the house saying … she fell onto something poky and I instantly knew what it was," Myers said. "I ran outside to confirm what it was and sure enough … I saw the big orange puss moth caterpillar."
Isla experienced extreme pain at the sting site so Myers decided to take her to the emergency room at Seton Medical Center in Harker Heights.
"She was screaming and crying from the pain," Myers said. "The site of the sting was red and raised with red dots that appeared after a while and by the time we got to the ER, she said her shoulder was numb from the extreme pain that had spread up to her shoulder."
Isla was treated with a steroid anti-inflammatory medication and antihistamines. She was released to go home after a short observation time.
Michael Merchant, professor and extension urban entomologist at Texas AgriLife Extension Service, gets a lot of questions about the insects from people who don't know exactly what they had gotten in contact with.
"They are just caterpillars, they just don't look very caterpillar-like," Merchant said.
The insects are teardrop-shaped and about 1 to 1.5 inches long. Adult caterpillars also have blunt wings covered with long, wavy hair. The spines underneath the hair produce a painful rash or sting when being touched or brushed against the skin.
Symptoms can include blood-colored spots at the site of the sting as well as headaches, nausea, vomiting, lymphadenitis and sometimes shock or respiratory stress.
"The worst thing that can happen is you are having an allergic reaction," Merchant said. "If you have difficulty breathing or hives all over the body, you need to seek medical attention."
Depending on the part of the body being touched and the thickness of the skin where the sting occurred, the pain should subside within an hour and spots disappear within a day.
"We have been hearing a lot of complaints about them, especially from schools all over the place," he said. "They are not a very common caterpillar so a lot of people are seeing them for the first time."
The caterpillars live in a variety of scrubs and trees and feed on the plants they live in. Encounters with the insect get more frequently in the fall, when it moves to the ground in order to prepare for winter.
"At this time of year, they are finishing up their life cycle," Merchant said. "Most of them are full grown and crawl down out of the trees to look for a spot to change into a pupa."
While the caterpillars are easily killable with insecticide sprays, it is hard to reach all the places the insects can live.
"Treating the trees can be expensive and there is no guarantee that some of the caterpillars just drop off the tree and don't respond to the spray," Merchant said. "And then you have even more on the ground that the kids can pick up."