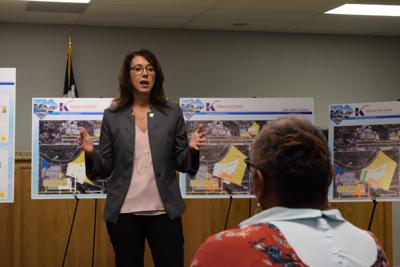 COPPERAS COVE — More than a dozen Copperas Cove-area residents offered input and quizzed representatives with the Killeen-Fort Hood Regional Airport at the Copperas Cove Council Chambers on Wednesday.
The representatives inside the Technology Center at 508 S. Secnd St. spoke about the airport's Master Plan, a 20-year development plan for the facility. The meeting was among three scheduled in Cove, Killeen and Harker Heights.
Funded through a Federal Aviation Administration grant, the master plan will provide a guide for airport development over the next 20 years detailing short-, mid- and long-range goals and financial plans to achieve them, according to the city.
In total, the goals are projected at a cost of about $446.9 million, with short-term goals totalling $26.2 million, mid-term totalling $61.5 million and long-term totalling $359.1 million.
Among short-term goals that could be fulfilled as soon as 2020 is acquiring land adjacent to the airport in Fort Hood, which could then be utilized as wide, multipurpose land for corporate entities interested in establishing distribution centers around the airport.
Aviation Planning Leader Suzanne Peyton said the plans aren't time-sensitive. Plans will be undertaken once a need presents itself.
"Some development won't be needed until it's triggered," Peyton said.
Airport Operations Manager Mike Wilson said non-aviation planning drives revenue for the airport, calling land acquisition a major focus for the future of the Central Texas airport.
Among attendees was Copperas Cove Councilman Marc Payne, who asked whether consideration of a joint military and civilian rail/cargo transfer facility on behalf of the Department of Defense, Coryell County and the Copperas Cove Economic Development Corporation would affect plans to acquire land currently owned by the Department of Defense on Fort Hood.
Airport staff said the potential cargo facility would not affect the land swap.
Competition with Austin contributing to a recent decline in local passenger activity was mentioned. Several residents noted airplane fares in Killeen tend to be higher-than-average when compared to Austin.
Wilson said the airport has been working with airlines operating out of the airport to competitively lower prices.
Although prices were sometimes as much as $200 higher than flights out of Austin, the operations manager urged customers to check current rates compared to past years.
"We're not where we used to be, and thank God," Wilson said. "It's a hard road to hoe."
Another hearing will be held from 6 to 8 p.m. today in the Killeen Utility Collections Conference Room, 210 W. Avenue C.
Go to http://killeenfthood.airportstudy.com for details on the Master Plan, and to leave comments regarding the plan.
Larry Mitchell, Texas Realtor
LMSells@aol.com
254 681 5115 Cell
254 226 3362 Office Direct Line
Jim Wright Company
3800 S. W. S. Young Drive Suite 103
Killeen, Texas  76542