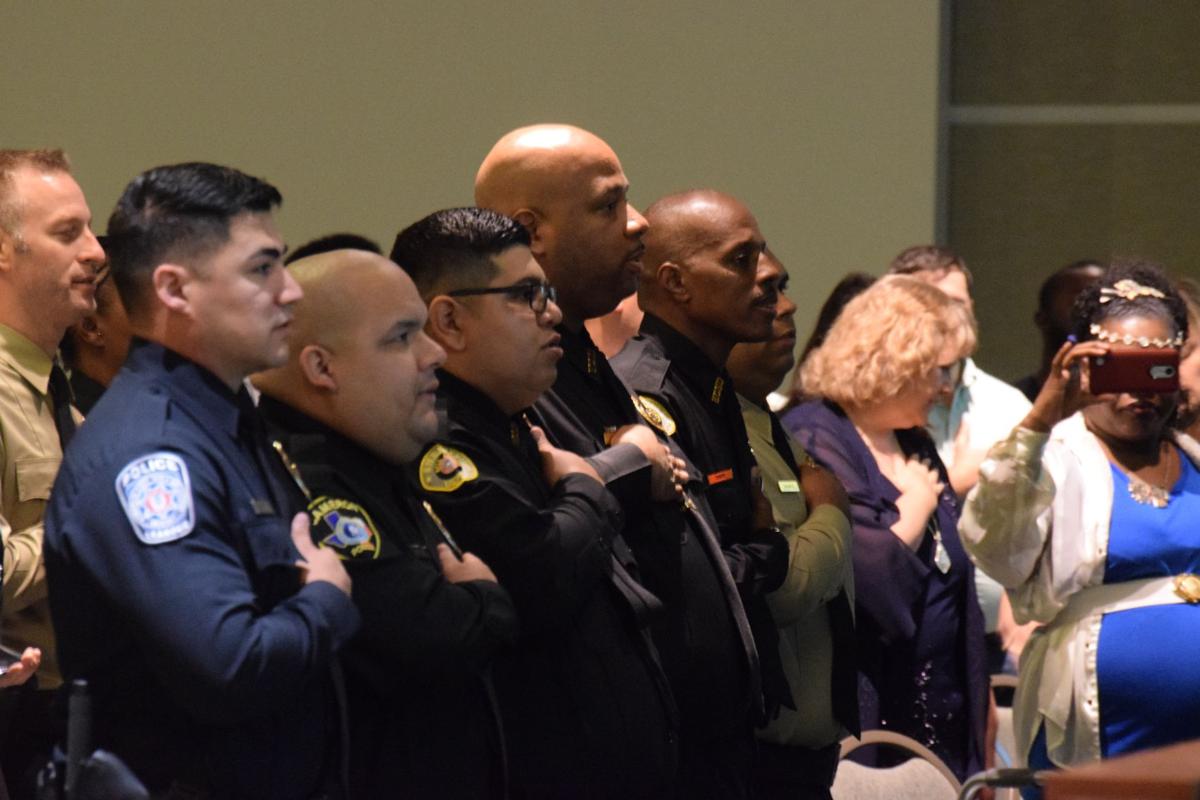 Agent Shawn Miller with the Texas Alcoholic Beverage Commission said he tore up the speech he prepared prior to the graduation ceremony Saturday at Central Texas College for 17 cadets who completed the school's police academy.
Miller, the guest speaker at the ceremony, saw it proper to speak straight from the heart to the officers-to-be.
"That badge does not belong to you," Miller said. "It belongs to the people you serve."
The Central Texas College Police Academy held a graduation ceremony recognizing the 17 cadets who completed the Extended Basic Peace Officer course.
Prior to graduation, all cadets passed the state licensing exam with an average score of 87 percent. Each cadet is now eligible to become peace officers in Texas. The class average for the entire course was 93 percent.
During the 10-month, 720-hour course, cadets were subjected to numerous written exams on which the class of cadets earned an overall academic class average of 93.53 percent.
The Anderson Campus Center was filled to the brim with hundreds who celebrated the 17 set to serve in law enforcement.
Miller urged them to fight urges when they feel their job is just a job, and to rely on those close to them.
"You'll get good calls, funny calls and very, very sad calls. Rely on friends and family members. Don't keep it bottled up inside," Miller said on coping with the demands of law enforcement. "If you need to cry, cry. Some of the strongest men I've known have cried."
Honored during the graduation ceremony was Julian Valdez of the Leander Police Department, who was named class president. Landis Watson earned the "Top Gear" award for best driving performance of a police vehicle. Richard Heubach received the Chuck Dinwiddie "Top Gun" award for best firearms proficiency.
The Best Instructor award, as voted on by the cadets, was presented to Sgt. Steven O'Neal of the Copperas Cove Police Department.
Valdez thanked those who helped him and his colleagues.
"This journey isn't one easily taken alone," Valdez said. "Everybody held a full-time job during this. Some were full-time dads. Thank you to every person in this room."
Graduates of the CTC Police Academy BPOC 2018-Alpha class:
Marcelo Aguillon, Cameron Police Department
Mark G. Alcozer, Bell County Sheriff's Department
Michael M. Craft, Bell County Sheriff's Department
Troy Davis, Bell County Sheriff's Department
Joe J. Gomez, Bell County Sheriff's Department
Ryan G. Greger
Rojelio Guana, Williamson County Sheriff's Office
Adan A. Guerrero, Marble Falls Police Department
Richard L. Heubach, Bell County Sheriff's Department
Adam S. Hobbs, Williamson County Sheriff's Office
April J. Johnson, Bell County Sheriff's Department
Pacer J. Korn, Williamson County Sheriff's Office
Carlos J. Martinez
Adrian D. Nira, Williamson County Sheriff's Office
Justin D. Penrose
Kartazz Samuels
Julian R. Valdez, Leander Police Department
Landis M. Watson
Larry Mitchell, Texas Realtor
LMSells@aol.com
254 681 5115 Cell
254 226 3362 Office Direct Line