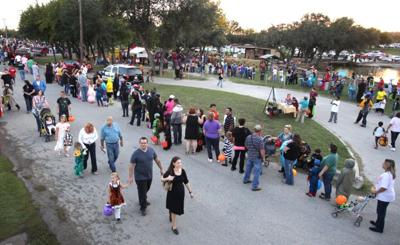 Like a ghost in the night, Halloween fast approaches Wednesday, and area cities want residents to be amply prepared.
The cities of Killeen, Copperas Cove and Harker Heights all recommend trick-or-treating door-to-door between the hours of 6 and 8 p.m.
"Children should always be accompanied by an adult," a Killeen press release reads. "Households that wish to distribute candy should turn the front porch lights on to indicate they welcome trick-or-treating. Trick-or-treaters should only approach houses that have porch lights on and should never enter a home or a car for a treat."
The city also urges adults to inspect candy before children enjoy it.
When planning Halloween costumes, parents are reminded that children's costumes should not impair vision, hearing or movement, according to the release. Flame resistance and should be bright or reflective.
The Copperas Cove Fire Department issued several tips to ensure children stay safe:
1. Children are naturally drawn to glowing jack-o'-lanterns and other flickering lights. Instead of flames, use battery-powered candles or flashlights to decorate. Lit candle flames can burn children. If children come too close to the flame, their clothing can catch on fire. Battery- powered candles are the safer choice.
2. Make sure that all decorations are kept away from flames and other types of heat.
3. Keep all matches and lighters locked up. They should be in a high place out of your child's reach. Teach young children that they must not touch or play with these tools, ever. If they find matches or lighters, they should tell an adult where they are.
4. Choose a costume with fire safety in mind. Fabric can catch fire if children walk close to flames. Avoid loose fabric and features that dangle or drag behind the child. Keep costume sleeves tight. Look for a fabric label that reads "flame-resistant" or "flame-retardant." Keep a close eye on your child. Even flame-resistant fabric can burn.
5. Never let children play with or carry lit candles. Give each child a flashlight to carry while trick-or-treating. Check porches for lit candles, torches and other flames before letting children approach the door.
6. The last tip is the most important: Young children need adult supervision at all times. Stay alert. Watch children closely at parties and as they go door to door. Be sure to check all candies and treats before they are consumed.
Larry Mitchell, Texas Realtor
LMSells@aol.com
254 681 5115 Cell
254 226 3362 Direct Line