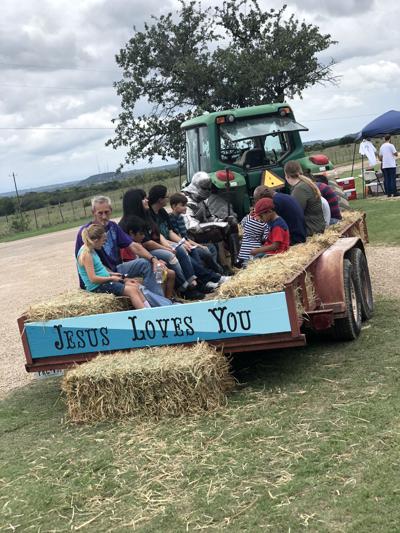 The local area will celebrate the fall season with a variety of festivals for family fun and craft needs.
Each festival serves a different area and has something to appeal to every member of the family.
The Killeen First United Methodist Church's pumpkin patch, 3501 E. Elms Road, will remain open until Oct. 31. Hayrides, bounce houses, and more will be available at the patch every Monday-Friday from 1 to 7 p.m., Saturdays from 10 a.m. to 7 p.m., and Sundays from 1 to 7 p.m.
Grace Lutheran Church Trunk-or-Treat
Grace Lutheran Church and School of Killeen will hold its annual Trunk or Treat from 6 to 7:30 p.m. Oct. 31 in the church parking lot.
The event gives children a safe alternative to trick or treating. Participants will collect candy from the trunks of cars. There will be games, prizes, food and fun.
The church is at 1007 Bacon Ranch Road.
Killeen church of Nazarene will host a winter fest market from 9 a.m. to 4 p.m. Nov. 3 at 950 Stagecoach Road, Killeen.
The church is currently seeking people who have crafts to sell at the event. For more information, call 254-423-1017.
Second Annual Literary Festival
The Killeen Alumnae Chapter Delta Sigma Theta Sorority Incorporation is hosting the second Annual Literary Festival "Fallin for the Arts" Nov. 3. We cordially invite the public to come out to meet local authors. The event time 11 a.m. to 2 p.m. at the Fort Hood Area Association of Realtors, 306 W. Mary Jane Drive. The cost to attend the festival is $10.00. To purchase tickets online go to http://bit.ly/LITFEST_TIX. For more information contact Ms. Dikila Jones 254-340-0932 or kacdst.historian@gmail.com.
The City of Harker Heights and Vintage Church will host a Trunk-or-Treat event for the community from 5 to 8 p.m. Oct. 27 at the Harker Heights Community Park, 1501 E. Farm-to-Market 2410.
The City of Killeen is hosting a free Fall Festival from 4 to 8 p.m. Oct. 27 at the Killeen Special Events Center, 3301 S. W.S. Young Drive, and will feature bounce houses, vendors, food trucks, haunted hayride, and more.
The Killeen Memorial Park and Funeral Home, 425 E. Central Texas Expressway in Harker Heights, will host its third annual community pumpkin patch from 10 a.m. to noon Oct. 27. Visitors can enjoy bobbing for apples, refreshments, decorating pumpkins, and the first 250 people will receive a free pumpkin.
Farmer's Market Fall Festival
The Harker Heights Ladies of Charity will have a Holiday Bazaar on Nov. 3 and 4 at St. Paul's Parish Center 2412 Stillhouse Road in Harker Heights. Hours will be from 9 a.m. to 7:30 p.m. on Nov. 3 and from 8 a.m. to 11 a.m. on Nov. 4. There will be a variety of items for sale to include handmade crafts, baked goods, books, jewelry, plants, fabric, Christmas and religious gifts, and many other items, along with a big holiday raffle. All proceeds go to help those living in poverty and supports numerous charities. For more information contact Jane Barr at 254-690-8255.
First Street Church of Christ Fall Festival
The First Street Church of Christ in Lampasas is once again hosting their Fall Festival from 6 to 8 p.m. on Sunday, Oct. 28.
Admission is free, and Dakota Thornton, First Street's Youth & Family minister, invites everyone to attend the family oriented event. "We'll have lots of booths on the northwest parking lot with games, kettle corn, and prizes," stated Mr. Thornton. Other activities include a cake walk and free hot dogs.
First Street Church of Christ is located at 201 W. First Street in Lampasas. For more information contact Dakota Thornton at the church office, 512-556-3716.
The fifth annual Pumpkin Patch Season at the Robinson Family Farm, 3780 White Owl Lane in Temple, will occur every Saturday and Sunday from 10 a.m. to 6 p.m. until Nov. 4. Daily wristbands are $10 per person and include unlimited activities such as a corn maze, hayrides, outdoor games, a playground, live music entertainment and more.
Larry Mitchell, Texas Realtor
LMSells@aol.com
254 681 5115 Cell
254 226 3362 Office Direct Line