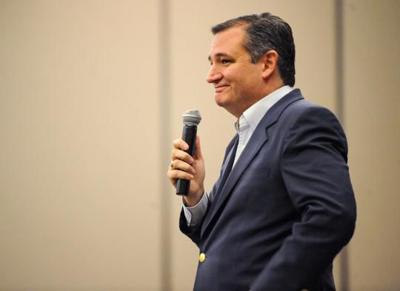 KILLEEN — U.S. Sen. Ted Cruz on Tuesday said his victory on Nov. 6 will be fueled by a "common sense" majority of people that includes moderate Democrats, independents and Libertarians.
"In Texas, for a long time, there have been millions conservative Democrats, millions of moderate Democrats who are looking right now at the national Democratic Party that is going extremely off the deep end," Cruz said, rallying about 300 people at the Killeen Civic and Conference Center. "Back crack crazy — that's the technical, medical definition."
Cruz is betting that more moderate voters will come around to him as some Democrats embrace positions such as impeaching President Donald Trump or abolishing ICE, the U.S. Immigration Customs Enforcement agency.
"Come join us," Cruz said. "We welcome you with open arms."
Sen. John Cornyn was scheduled to appear at Cruz's rally, but he did not.
Cruz slammed his opponent — U.S. Rep. Beto O'Rourke, D-El Paso — for telling CNN that he would support impeaching Trump. As for O'Rourke's position on abolishing ICE, the congressman told the Texas Tribune that there needs to be a better way to enforce immigration laws without fear.
"If that involves doing away with this agency, giving that responsibility to somebody else, changing how this agency performs, I'm open to doing that," O'Rourke said to the Tribune in June.
Cruz continued to hammer O'Rourke, 46, on immigration. As the 47-year-old Republican senator said the divisions between him and his Democratic rival are clear on this issue, the audience of several hundred began to chant, "Build the wall."
"Y'all don't sound on the fence about it. Well, it's interesting because where do you think Beto O'Rourke is?" Cruz said, riffing on O'Rourke's opposition to the proposed wall along the United States-Mexico border and how the congressman has touted the safeness of El Paso, a border city.
Cruz told the Killeen crowd that there is a wall that separates El Paso from Ciudad Juárez, Mexico — a city that once recorded 3,000 murders in 2010.
"Over 3,000 murders in Juárez, a wall (is) protecting the city of El Paso from that crime and those cartels, and what does Beto want to do? Tear down the wall," Cruz said. "As they say in Texas, that boy don't think right."
Continuing to riff on the differences between him and the El Paso Democrat, Cruz brought up his effort to get two conservative justices confirmed to the U.S. Supreme Court and how he authored a bipartisan bill to ensure victims of the Fort Hood shooting in 2009 received Purple Hearts.
Larry Mitchell, Texas Realtor
LMSells@aol.com
254 681 5115 Cell
254 226 3362 Office Direct Line