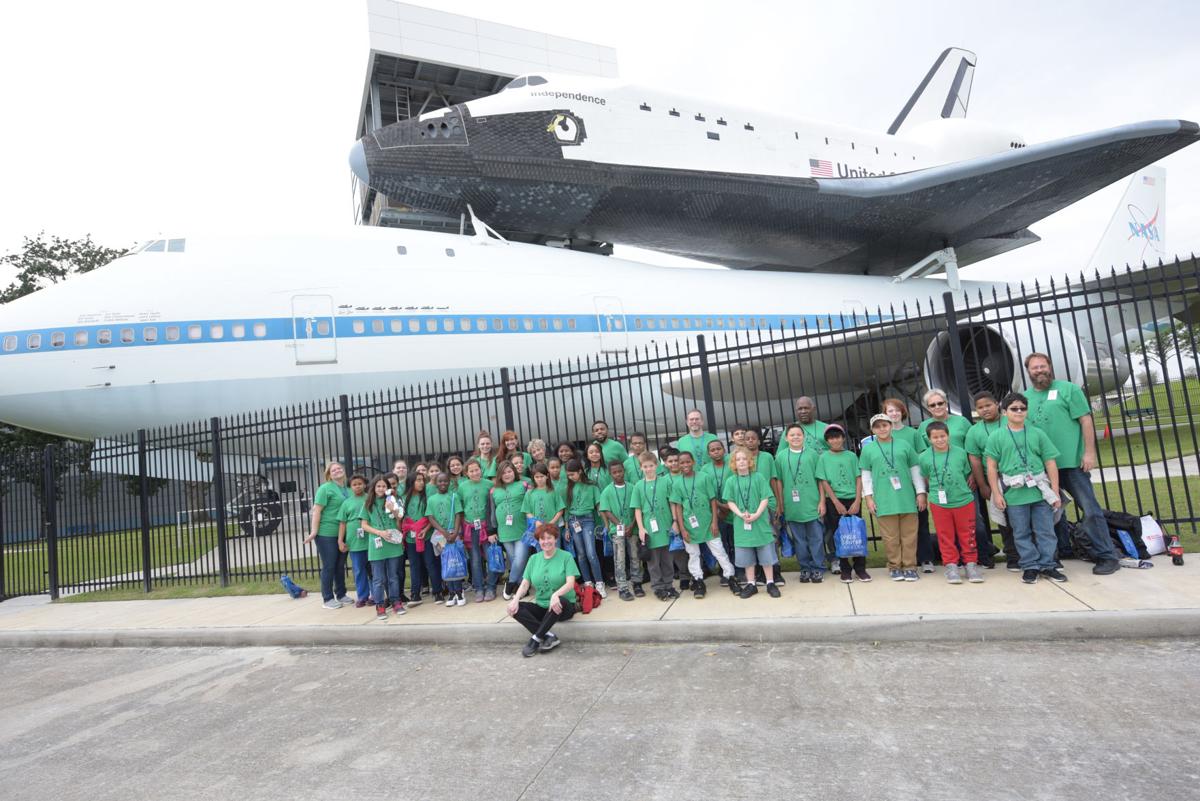 HOUSTON — It's a great, big world out there and beyond it is a vacuous space infinite as imagination.
Whatever West Ward Elementary School fifth-grader Andrew Andrews expected of the school's trip to Space Center Houston on Thursday, the actual experience was a lot more.
"It really surprised me how big it is," said Andrews standing outside the center's gift shop. "I'm surprised how big the rocket engines are. It's actually been really fun, better than I expected."
The fifth-grader said he liked learning about the International Space Station, the Space Shuttle Challengerand about rockets and planets. "I think it's interesting how cold it is in space," he said.
Since 2007, West Ward fifth-graders with their teachers and other school staff members have made the trip to the Johnson Space Center leading up to the school's annual Space Week the fourth week of October.
The long drive on chartered buses makes for a whirlwind trip, but it's all part of the experience. "I think it broadens their horizons," said teacher John Tarver. "They get to see other things beyond their school and their neighborhood. The trip shows them the real world beyond their own space."
The trip itself is geography lived out.
Leaving downtown Killeen streets before dawn, buses cruise east past blackland prairie, cotton fields, irrigation implements, a rain-swollen Brazos River to the edge of pine forests into the largest urban center in the state.
There's also the science.
"We want to give them the true NASA experience," said fifth-grade teacher Alison Easlick. "We want to build an interest in STEM and science and allow them to see that science is more than their classroom. There are jobs in science they can do. We want to push that idea."
The main floor of the popular interactive museum gives visitors tactile experience that addresses the science of a proposed mission to Mars.
Students dropped onto a cushioned seat sending a soft rocket through a clear tube. They spun in a capsule mimicking astronaut training and wound cranks to build air pressure to launch items among other activities addressing planet exploration.
The 43 West Ward fifth-graders rode a tram through the complex of buildings listening to an audio history of America's space program before entering a long warehouse to see firsthand evidence of space exploration.
They walked through the long building that houses the 363-foot-long Saturn V rocket sectioned out to observe the separate stages.
The rocket was scheduled for launch, but scrapped in 1973.
"It was very epic," said fifth-grader Joel Hernandez of the space center tour. "I liked seeing all the shuttles and playing the games. The tour was great."
The fifth-grader said he liked studying science and found conductors and insulators and electricity interesting. He also said he is looking forward to this week's Space Week. Fifth-graders take a leadership role in the yearly emphasis on space science.
Fifth-grade classes will work with community mentors to design air-propelled rockets and test them on Thursday.
Also, a retired NASA astronaut and a representative of SpaceX are scheduled to visit the school, along with numerous other guests.