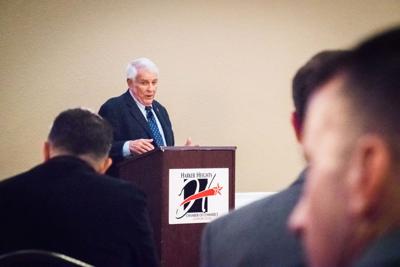 HARKER HEIGHTS—U.S. Rep. John Carter stood before about 50 Friday who attended a luncheon in which the congressman touched upon national debt, impact aid, healthcare and a wide array of other topics.
The Harker Heights Chamber of Commerce hosted Carter, who made remarks before fielding questions on public policy. The luncheon, which cost $15 per person, was from 11:30 a.m. to 1 p.m. at the Central Texas Home Builders Association, 445 East Central Texas Expressway.
Carter's appearance attracted a wide array of attendees, including Killeen Independent School District Superintendent John Craft, Texas House District 54 candidate Dr. Brad Buckley, R-Salado and Copperas Cove Councilman Dan Yancey.
"It's hard to fathom billions. It's even harder to imagine trillions," Carter said when speaking on the national debt amount in dollars. "The real world of fixing our debt is to address tight ends."
One solution of this, Carter said, is to completely overhaul the American healthcare system. He said that starts with an eventual repeal of the Affordable Care Act, a piece of defining legislation for President Barack Obama, and a product of Democrat ideology devoid of any Republican values.
"We need to completely redo healthcare," Carter said. "I feel like we can do that with a system that honors the doctor-patient relationship, with a private industry system."
Among topics broached in questions was the significance of federal Impact Aid for area schools serving students on Fort Hood.
Impact Aid assists school districts that have lost property tax revenue from the presence of tax-exempt federal property, such as Fort Hood, and may also be given for increased expenditures from the enrollment of federally connected children. This number can fluctuate from year to year.
The congressman expressed confidence in retaining the federal funds in years to come, calling it "something you have to have" when building a budget.
"The threat of (losing) impact aid scares school districts every year," Carter said. "We've been able to protect it every time. I will always be there for our schools. The only issue, I would say, is that different groups can sometimes muddy the waters, but I think Impact Aid is going to stay."
For Texas midterm elections, early voting begins Monday, and Election Day is Nov. 6.
Larry Mitchell, Texas Realtor
LMSells@aol.com
254 681 5115 Cell
254 226 3362 Office Direct Line