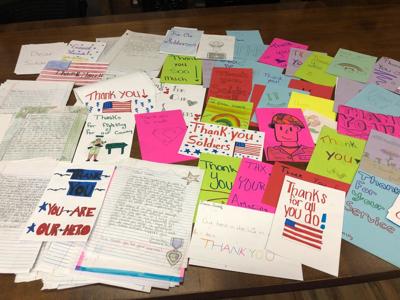 HARKER HEIGHTS — With help from area businesses and schools, the Harker Heights Chamber of Commerce mailed off 200 letters and cards Monday to Fort Hood soldiers with the 3rd Cavalry Regiment deployed to Iraq.
It was part of the chamber's "Operation Thank-you," which will be an ongoing effort to spread appreciation to service members, officials said.
"We've done this for different units as well," said Gina Pence, president and CEO of the chamber.
Last year, Pence said the chamber collected and sent cards to deployed 1st Cavalry Division soldiers.
"Every time they've gone overseas, we try to initiate Operation-Thank You," Pence said.
The first batch of school letters, which Pence sent off late Monday, came from Killeen and Harker Heights middle schools.
"Some classes integrated the project into their daily work," Pence said.
Individuals, organizations and businesses are welcome to drop off cards and letters to the visitor center at 552 Farm-to-Market Road 2410 in Harker Heights. Postage is paid for by the chamber. Pence sends a letter stating the purpose of the package with each batch.
Businesses and organizations can schedule bulk pickup with Pence at 254-699-4999 and gina@hhchamber.com.
Larry Mitchell, Texas Realtor
LMSells@aol.com 
254 681 5115 Cell
254 226 3362 Office Direct