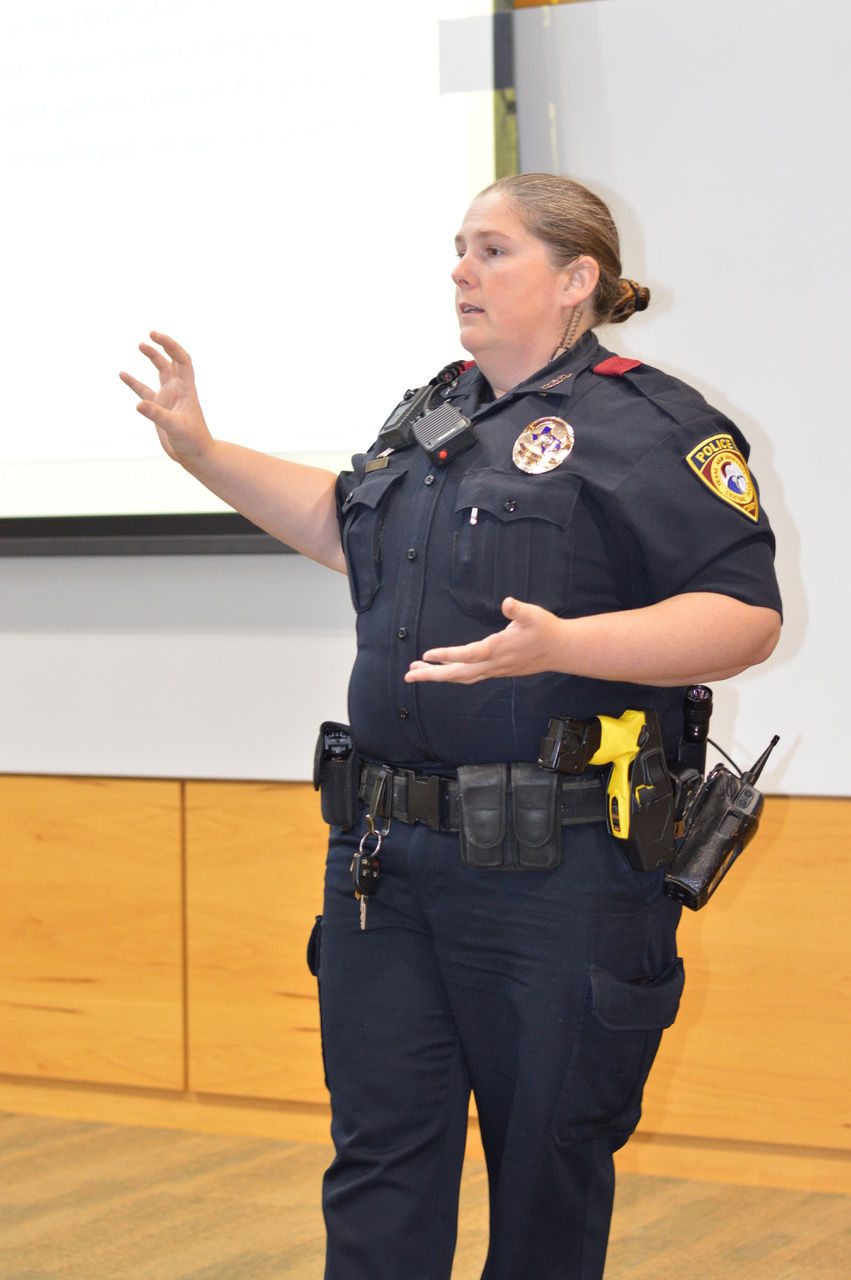 The Public Safety Department of Texas A&M University-Central Texas conducted a sexual assault and domestic violence awareness and prevention training class Monday afternoon at the campus in Killeen.
"We try to make sure people understand basic statistics … barriers of reporting, common misconceptions and effective ways of preventative behaviors," said Officer Keisha Murray, Title IX liaison and special investigator for the Public Safety Department.
According to the National Coalition Against Domestic Violence, one in three women and one in four men have been physically abused by their intimate partner. One in five women and one in six men have experienced sexual assault in their lifetime.
Although domestic violence and sexual assault cases are very common, the report rate remains low.
"Sexual assaults are very difficult to prosecute," Murray said. "They usually happen behind closed doors and without witnesses … That is one of the biggest reasons people are not going to report it."
While it is hard to find proof beyond reasonable doubt against the offender, the public often tends to blame the victim for not taking reasonable precaution.
"They victim-blame because it is more comfortable than acknowledging that there is no way to 100 percent effectively protect yourself," Murray said.
While safety measurements can lower the risk of assault, they can't guarantee to stay completely safe.
"When you are out, be conscious about how
much you consume and that you are with people you trust … but in reality, 80 to 90 percent of sexual assault cases are committed by someone you know," said Murray.
She said victims should seek medical help immediately, even if they might not be ready to take further action.
"Reach out to the rape center or the domestic violence center to get an advocate to help you guide through the process," she said. "You can get a sexual assault kit done and have it stored until up to two years without ever notifying law enforcement. You have this two-year window to wait until you are ready."
Murray also pointed out that domestic violence does not have to be physical, but usually starts with controlling, manipulative and isolating behavior.
"Before the violence ever starts, you are very isolated and dependent on that person," she said.
While the best time to seek help is immediately after the abuse, delayed reporting is the norm.
First-semester student Alison Hutson attended the training to learn more about sexual assault.