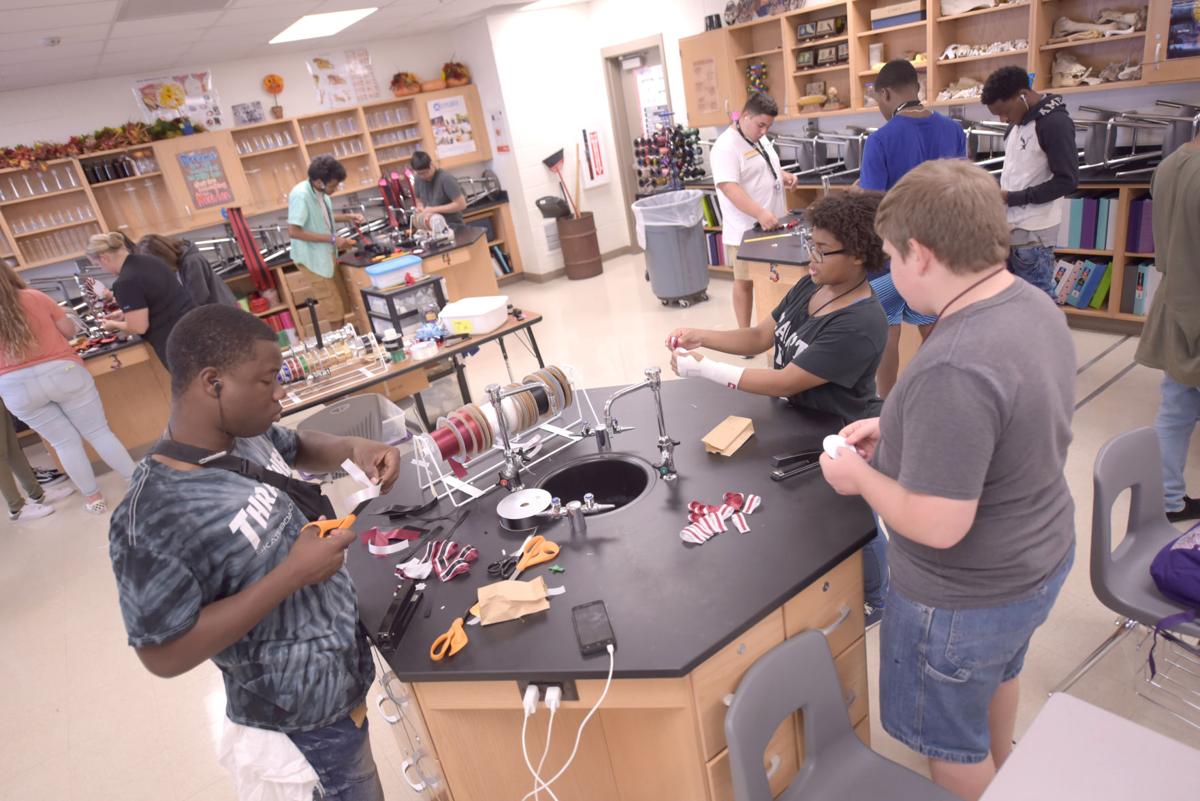 The tradition of homecoming is where Texas high school football meets alumni pride.
"Homecoming is big in Texas," said KISD Career Center teacher Sarah Crawford.
She teaches agriculture and floral design at the career-focused high school that draws students from all four comprehensive KISD high schools.
For two weeks, her 85 or so floral design students are measuring and braiding ribbon and choosing accessories to decorate homecoming mums in each of the four high school color schemes.
Many of the students will purchase their own creations at a discounted price, while some will sell their projects to peers for $15 for a miniature, $20 for a garter or $30 for a full 30-inch mum.
With deadlines approaching, the floral design classroom is divided into mum-making stations with tables designated for each school with corresponding ribbon colors matching Killeen, Ellison, Harker Heights and Shoemaker school colors.
Harker Heights High School had its homecoming Friday.
Killeen High School homecoming is Friday, Shoemaker High School homecoming is Oct. 5 and Ellison High School homecoming is Oct. 12.
"We have students from all the campuses, so this is a fun way to start the year," Crawford said of the class's first major project of the school year. "It's also a good introduction to design and color balance and how to make a project presentable."
For second-year practicum students, part of the project is selling the mums to students at the Career Center, adding marketing to design.
Katherine Shotwell, a senior and first-year floral design student, labored to space out green, white and black ribbon on her Ellison High School miniature mum.
"This is a good beginning project," she said. "It deals with decoration and organization skills before we get into floral design."
"This also provides a sense of school pride," said Shotwell. "It gets people excited about homecoming and the football games."
Floral design practicum senior Eriyana McDonald is designing her own mum and helping first-year students learn the craft. "It's a good skill to have even if you don't want to go into floral design," she said.
"We have fun. We talk about our experiences and about how to do this. We are helping and doing our own work," she said of the three experienced practicum students.
Making a great mum, McDonald said, starts with a plan. She said students should visualize what they want to make and then measure out their ribbon lengths and make their streamers.
Later in the semester, students will make wreaths and then floral arrangements.
The experienced senior said she's more comfortable using her hands to make a product than to explain it, but she appreciated the challenge and appeared to be an effective instructor. "The teaching part is fun. I like helping someone else."