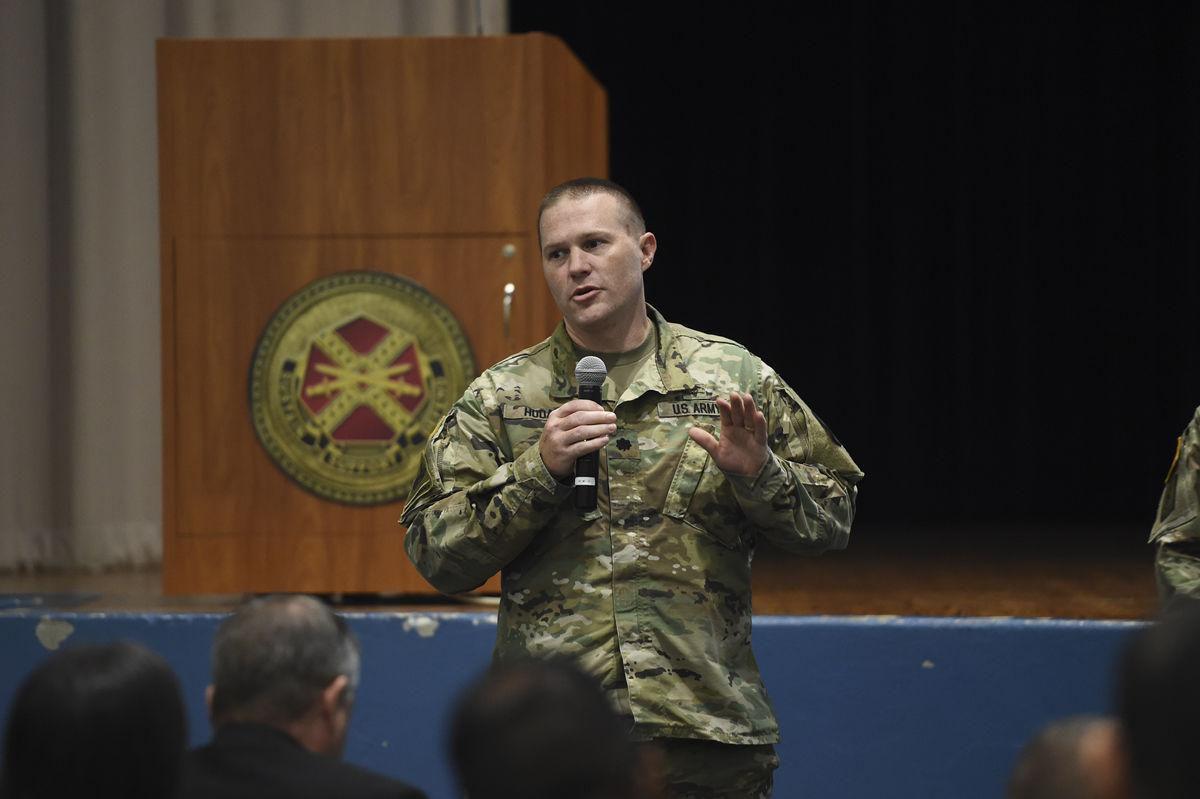 Fort Hood held a pair of mandatory town hall meetings this week to discuss the hazards of lead paint — and what the post is doing about — in response to a scathing report by Reuters in August that detailed problems with how the Army has mishandled testing and abatement measures for the old paint at other posts.
At the local meetings Tuesday, Fort Hood leaders said they are testing children for lead paint exposure, and regularly test military housing built before 1978 — the year lead-based paint was banned in the U.S.
According to post officials, 70 percent of Fort Hood housing units were built prior to 1978.
Fort Hood Garrison Commander Col. Hank Perry led the town hall at Fort Hood's Howze Auditorium, according to a published report from Fort Hood.
"I think it's fair to have concern, but it's my job as the garrison commander to make sure I provide the reassurance and confidence to our residents on the installation. The purpose of these is to educate and to ensure that people are aware of hazards that are out there," Perry said in the report about the town hall, which was attended by about two dozen residents.
"We know 70 percent of our homes are pre-1978, which means we have a concern with lead-based paint … and we're doing our part to ensure we're transparent. We're doing our part to ensure our residents are informed."
Fort Hood has more than 5,900 family quarters on post in 12 separate housing areas.
Officials from Fort Hood's Carl R. Darnall Army Medical Center also spoke at the meetings, saying the hospital has conducted 11,181 blood tests since 2011 on children, and 15 of those tests came back with elevated lead results.
Typically, children at Fort Hood are tested for lead when a concern arises following standard risk assessment.
"So, we conduct a risk assessment with each of those children and their families. Whenever we have a concern, then the protocol is to test. We're actually testing everyone between 12 and 18 months (of age), which is, in essence, greater than what the defined protocol is," said Col. David Gibson, commander of Darnall.
The important point to make is that having those register, we immediately conduct a follow-up test for confirmation, we engage the patient and we follow them through until we have an acceptable clinical condition for each one of those patients as beneficiaries. Of these 15 individuals, only three lived in post housing," Gibson said.
The Reuters article, published in August, told the story of an Army colonel's 10-month-old son who developed lead poisoning, stunting his brain growth, after living in an 80-year-old house at Fort Benning, Georgia.
After the article was published, the Army "drafted a plan to test for toxic lead hazards in 40,000 homes on its bases, military documents show., in a sweeping response to a Reuters report that found children at risk of lead poisoning in military housing," according to a follow-up article by Reuters. The original article, published Aug. 16, documented at least 1,050 small children who tested high for lead at base clinics in recent years. Their results often weren't being reported to state health authorities as required, Reuters found.
"The lead inspections would cost up to $386 million and target pre-1978 homes to identify deteriorating lead-based paint and leaded dust, water or soil, according to the military documents," the Reuters report said.
Fort Hood officials said if residents see chipping or peeling paint in their quarters, or have concerns about lead-based paint, they should contact their housing community manager or call a hotline established for this issue at 254- 285-2230.
Perry said the education effort of on-post housing residents begins even before they occupy their quarters.
"When you sign for a home that's pre-1978, which I did, I received a pamphlet which stated what types of hazards are in the home and I acknowledged by signing the EPA (Environmental Protection Agency) document that I'm going to be aware that if I have any cracking, if I have any peeling paint, or if I have any concerns in general, I know who to call and I know that I'm going to say something," he said.
The Reuters article drew a quick response from lawmakers, with eight U.S. senators demanding action to protect military families living in base housing, according to Reuters.
"Old lead-based paint becomes a poisoning hazard when it deteriorates, and poor maintenance of military base homes can leave legions at risk. About 30 percent of service families — including some 100,000 small children — live in U.S. military housing owned and operated by private companies in business with the military," according to Reuters. "There are nearly 100,000 homes on U.S. Army bases, and the lead inspections are expected to focus on the approximately 40,000 built before a 1978 U.S. ban on the sale of lead paint."
There are "no pre-1978 (child care centers) on our installation," Perry said. "The schools have been tested. Killeen Independent School District has done a great job with continuing sampling throughout the years. And as we turn over our homes, we always do an inspection, and we typically paint as part of that, and that's with latex-based paint … not lead-based paint."
All that painting of on-post residences through the years encapsulates any lead-based paint present in homes built before 1978, officials said, which is why reporting any peeling or chipping paint in older homes is important.
Long-term exposure to lead, a naturally occurring metal used in everything from construction materials to batteries, can cause serious health problems, particularly in young kids, according to kidshealth.org.
Symptoms of lead poisoning in children include: irritability or behavioral problems, difficulty concentrating, headaches, loss of appetite, weight loss, sluggishness or fatigue, abdominal pain, nausea, metallic taste in mouth and seizures.
Larry Mitchell, Texas Realtor
254 681 5115 Cell
254 226 3362 Office