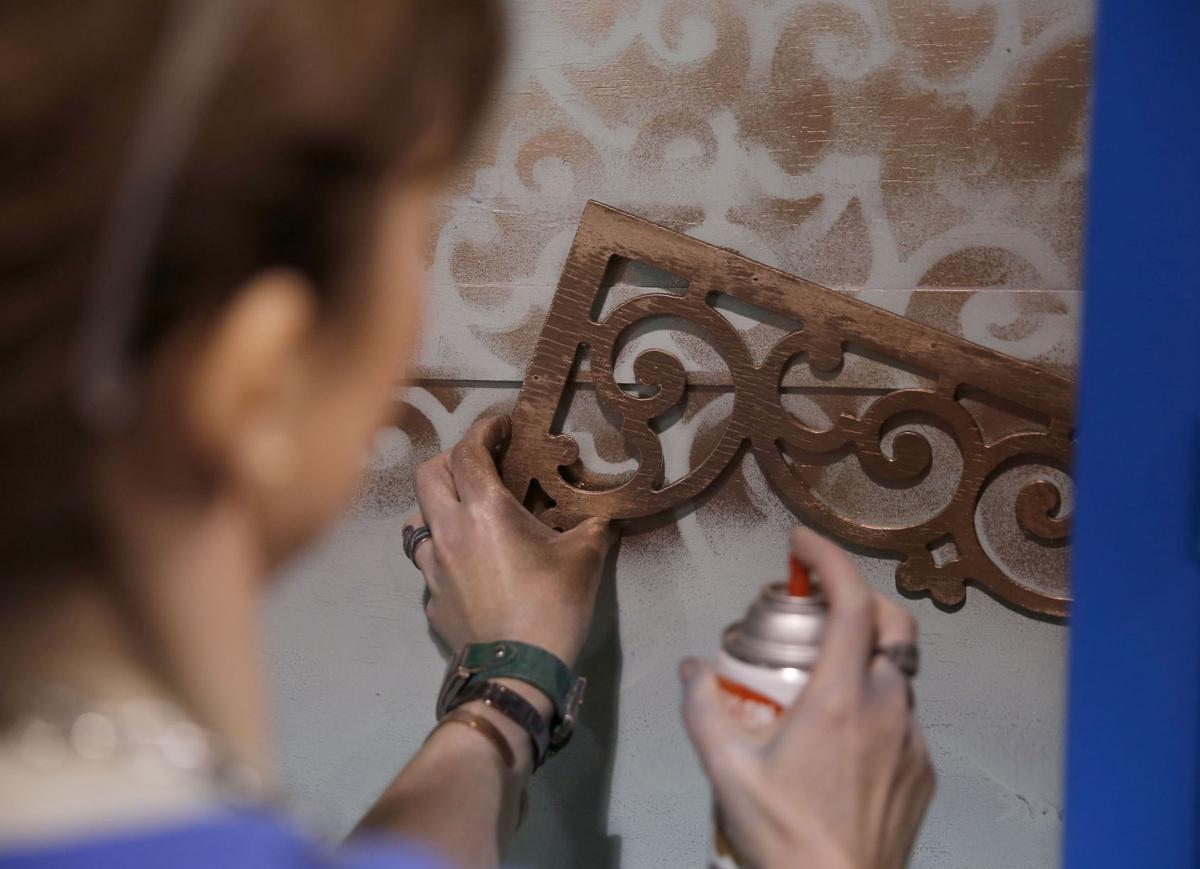 PHILADELPHIA — In the showroom of the Habitat for Humanity ReStore, the warehouse-size furniture thrift store, there is lots and lots of brown — huge beige couches, vintage wooden dressers, tables and chairs in hues ranging from beige to ochre to umber.
But when Theresa Clements — the Ambler TV personality, designer, DIY expert, and blogger at My Fix It Up Life — walks through, she sees past the drab, old and worn.
To her, there are potential showstoppers waiting to be revealed, with a few simple — or radical — tweaks and some bold color choices.
That unassuming, boxy little nightstand could be flipped on its side, with a drawer removed, and topped with pallet wood to make a modern coffee table. Take two office chairs, face them toward each other, saw off the arms and add a new seat: You have a stylish bench with high, curved arms.
Clements always loved making things as a kid, then she studied architecture and design and began working as a contractor with her husband and collaborator, Mark. But she noticed a scarcity of women on job sites (people often took her for a bookkeeper), and she found many of her friends were afraid to pick up a circular saw.
"A lot of people do a lot of Pinterest, but not a lot of projects."
She's on a mission to change that. She got involved with Habitat for Humanity ReStore three years ago, running DIY workshops. Recently, she became a national brand ambassador for the chain.
"It's amazing: I get to help inspire people to make stuff, and then it helps people have a place to live," she said. (The Philadelphia branch raises about $1 million a year, enough to build two houses and fund seven renovations last year, according to Corinne O'Connell, Habitat Philadelphia associate executive director.)
Clements walked us through how she would tackle a do-it-in-one-day thrift-store-find transformation.
1. Find a piece with good bones: something sturdy that's made of solid wood that won't fall apart if you tinker with it. Clements selected a mission-style china cabinet (ReStore's price: $35) that was missing the glass on its door and all its shelves and had a door that was permanently locked. But it had sweet simple lines. "A lot of people would walk by that and shrug, but it's well-built," she said. Her vision: With a few adjustments and a lot of paint, it could be a stylish bookshelf.
2. Gather the supplies you'll need. For this project, Clements used a drill/screwdriver, a saw (she likes a portable saw called the BladeRunner that costs about $100, but a miter saw also would work), painter's tape, fine-grit sandpaper, pallet wood, stain, a drop cloth, cardboard, a tape measure, a level and screws. She uses spray paint and spray primer, the keys to making a DIY project like this doable in six to eight hours.
3. Clements lightly sanded the cabinet, going with the grain, making it just rough enough to catch the paint. Then she wiped it with a cloth to remove the dust. She spray-painted the entire cabinet with primer. (The key is using quick strokes to lightly dust the surface with paint.) She waited a few minutes and applied a second coat. If she got too close and paint started to pool or drip, she blotted the excess away with a clean cloth.
4. She lined the back edges of the cabinet with painter's tape to protect them from paint. Then she used scrap cardboard to shield the interior of the cabinet and gave the exterior a coat of cobalt blue. Again, she spray-painted in quick, light coats. Be sure to read the label on the spray paint to know how long you have to wait before applying a second coat. "If you didn't use the whole bottle, turn it upside down and spray until it's clean, and that clears the nozzle. Then, when you go back to it a year later, you can use it again."
5. While the paint dried, she made shelves out of planks liberated with a saw from old wooden pallets. First, she measured the interior of the cabinet so she could make the planks just a bit shorter and narrower. "Measure in a couple places, because with old pieces of furniture, things can move. It's always better to go big than small, since you can't make the material grow." She cut small scraps of wood into cleats that would hold three planks together and used screws to attach them, turning them into a single shelf. Disposable wood-finishing wipes, newly available at hardware stores, allow you to apply stain quickly and neatly.
6. She spray-painted the interior of the cabinet, too, in a contrasting pale green. Because a piece of decorative scrolled wood from the missing glass cabinet front was lying inside the cabinet, Clements used it to make a quick stencil, creating a wallpaper effect in the back of the cabinet with contrasting spray paint in metallic rose gold.
7. Finally, she cut small blocks of wood to serve as brackets supporting the shelves. She put two screws in each, then attached them to the sides of the interior of the cabinet, using a tape measure to place the shelves equidistant, then a level to make sure they were straight.
8. She styled the bookshelf with finds from the ReStore, all transformed with a few quick coats of spray paint. She used metallic rose-gold paint to transform a couple of baskets, and used a newer product called seaglass spray paint to upgrade a few glass pieces. "It turns something cheap — this is a 50-cent vase here — into something really cool."
Larry Mitchell, Texas Realtor, ABR, CRS, GRI, VLB
LMSells@aol.com
254 681 5115 Cell
254 226 3362 Office Direct