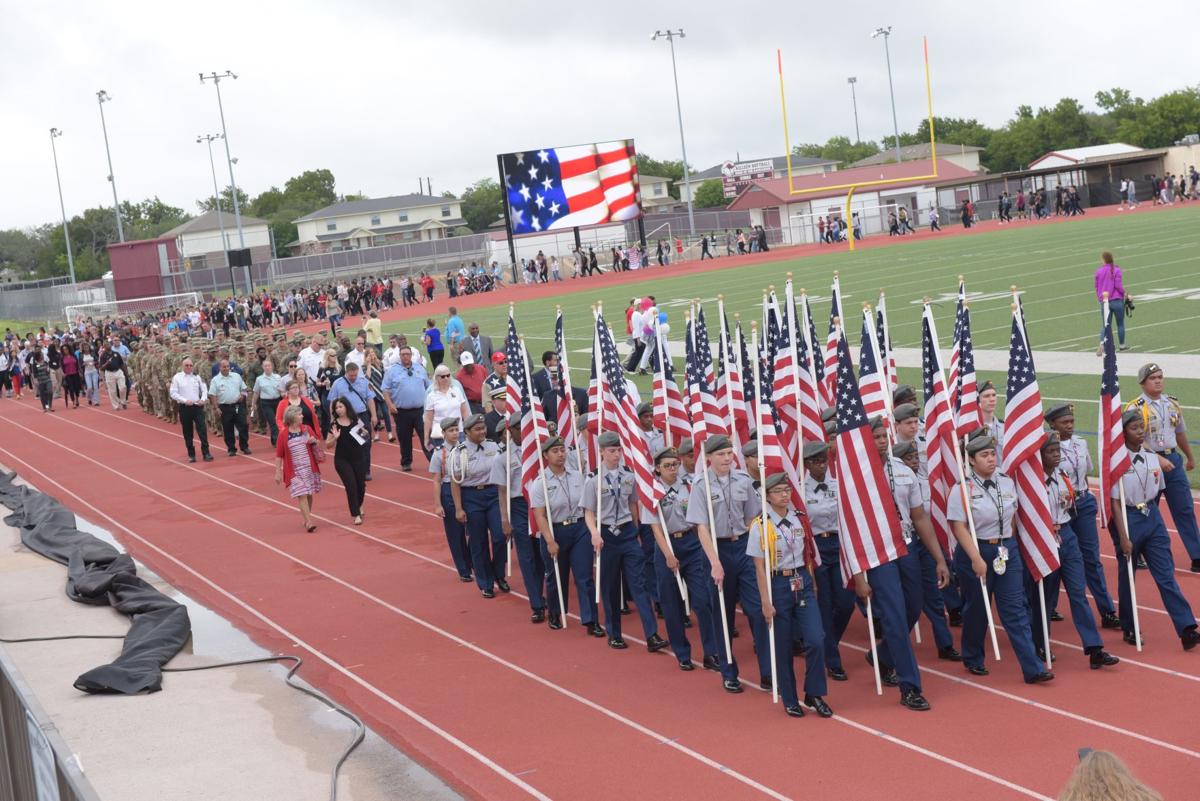 Through a thick shroud of gray clouds, the light of day trickled through as a community gathered together to remember and high school students led the way.
On Tuesday, the 17th anniversary of the terrorist attacks on America known as 9/11, the Killeen Independent School District hosted for the 13th year a gathering to honor those lost that horrific day and to thank the heroes who continue to stand guard in protection of freedom.
During a formal ceremony in the Killeen High School auditorium, students, guests, soldiers and first responders remembered that day in 2001 through a powerful video that KISD-TV produced mixing familiar scenes from news footage of burning buildings with local leaders' testimony.
Following the video, KISD Chief Communications Officer Terry Abbott recalled the day from his experience serving as Chief of Staff of U.S. Department of Education Secretary Rod Paige.
The video testimony of local leaders and Abbott's reflections from that day painted a picture of a regular day turned disastrous that eventually drew a nation to lean on its collective strength and stand stronger than before.
Today's students, Abbott pointed out, have no personal memories of planes crashing into towers and smoke billowing from World Trade Center windows. "Take time to talk to your kids and grandkids," he said, urging those who remember that day so powerfully to pass along their memory, to make a personal connection to a new generation.
Abbott recalled that then-President George W. Bush was deeply focused as he moved from reading to elementary school students in Florida to addressing the nation in a critically important address that the whole world, including the terrorists would hear.
Overloaded communications networks made it difficult, even for those in the highest echelons of government to stay in touch. Even the president, who wanted to fly straight to Washington, D.C., was grounded temporarily, taking cover at Offutt Air Force Base to ensure security.
Meanwhile, those in Killeen, including Mike Gentry, former Harker Heights police chief and Charles Patterson, former KISD superintendent, recalled watching closely the horrible drama of one tower, then another hit, followed by the Pentagon and the downed airplane in Pennsylvania.
Abbott, Patterson, Gentry and others gave thanks to the first responders who acted so heroically that day and do so everyday. The former superintendent praised Fort Hood leaders for keeping the community informed even as they prepared to strike at a new threat.
Following the formal program, the crowd members filed out of the auditorium, walked through the Killeen High School student parking lot and into the stadium to walk a lap. They filed past local law enforcement officers and many gave grateful greeting.
The event ended with a balloon release and 11 bell tolls in honor of Gold Star Families. Killeen, Harker Heights, Nolanville, Fort Hood and KISD police departments participated, as well as students from all KISD high schools.
Representatives of Ellison, Killeen, Harker Heights and Shoemaker high schools carried a banner that bore the words "Freedom Walk, America Supports You, The Walk to Remember 9/11". They walked into the stadium with the Shoemaker drum line providing the beat.
"We owe it to the people who lost their lives that day," said Ellison High School junior Alannah McAdoo. "It's important so we don't forget, so we don't just set it aside."
Shoemaker High School senior Carlon Rivera, also carrying the banner, said that tragedy tends to bring people together and to drive them to help others. He said his mother began working at a food bank to give back to the community following 9/11.
"It's so we can recognize all who serve," said Ellison senior Brianna Vela. "It's important to recognize our history and to hear other peoples' views."
"It affected so many who were there that day, including those who ran into the burning buildings to help," said Harker Heights High School senior Sydney Unger. "I think it showed the world that America doesn't back down."
"It's important to honor and to remember all who lost their lives and all who sacrificed to make the situation better," said Killeen High School senior Luke Noon. "We have to remember why we're still in the fight and that freedom isn't free."
Retired KISD educator Sandra Forsythe was principal of Smith Middle School on Fort Hood in 2001. Through video testimony she recalled that day when her 20-minute commute stretched to four hours. More poignantly, she pointed out changes that came in the days, months and years that followed.
Educators, she said, became surrogate parents for students whose parents were called to battle following the terrorist attacks on America. Some high school students, she said, had to take care of themselves and siblings as parents served.
"All this area, we didn't just watch it," Gentry said through video. "We lived it. Our citizens were called to war. Families had to deal with it and we had to help them with it."