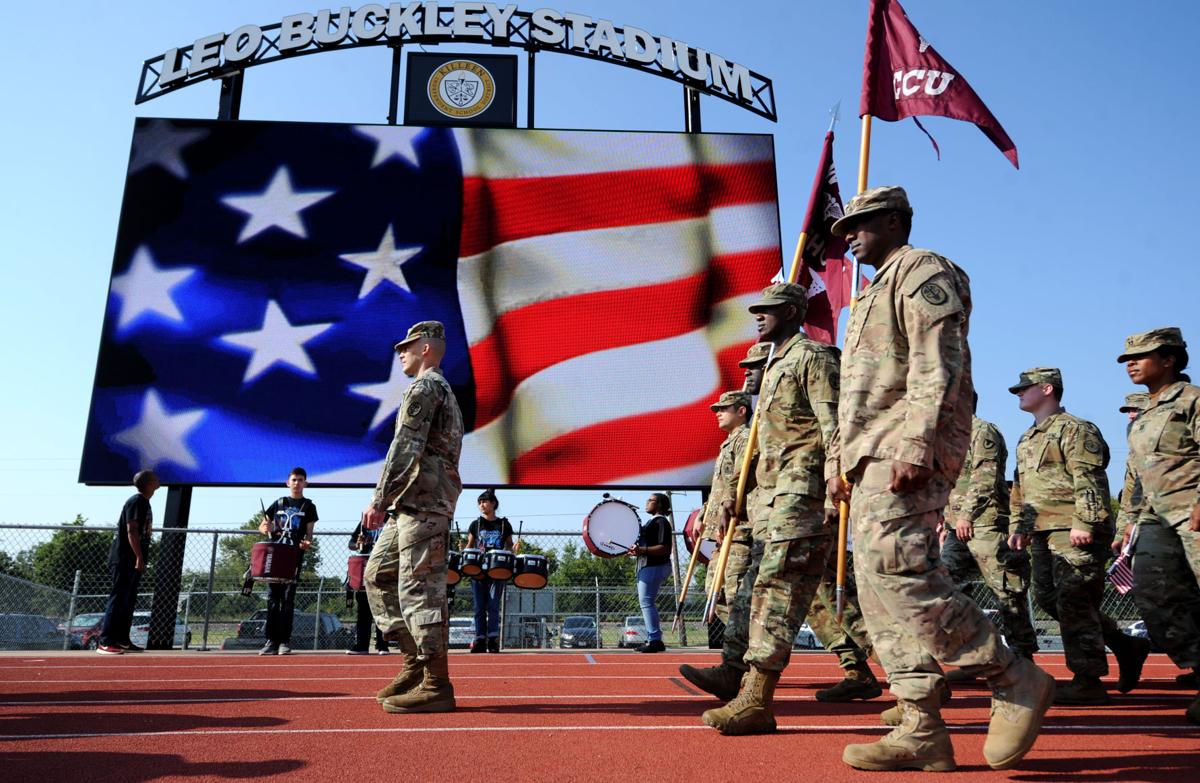 Once again honoring the guardians of freedom, the Killeen community will gather in tribute to emergency first responders and to military service members to walk together and to remember.
Tuesday, Sept. 11, marks the 17th anniversary of the attack on America known as 9/11. For the 13th year, Killeen ISD will host a community wide remembrance with local students, law enforcement and soldiers leading the way.
The community freedom walk begins at 9:30 a.m. Tuesday in the Killeen High School auditorium.
Following formal tributes and an address from keynote speaker KISD Communications Chief Terry Abbott, those in attendance will reconvene at adjoining Leo Buckley Stadium for a walk around the track.
The annual remembrance serves as a gathering of community heroes. Police units from Killeen, Harker Heights, Nolanville, Fort Hood and KISD are set to participate, along with student representatives of the school district's four high schools.
Participants will walk past a "line of blue," to thank first responders and then make a lap around the track in memory of those lost in the attacks on the World Trade Center and the Pentagon as well as those on the airplane that crashed in Pennsylvania. The event ends with the tolling of a bell.
In conjunction with the remembrance, schools throughout KISD are scheduled to host walks and assemblies to remember the events of 9/11 and to honor America, its military and first responders.
The KISD chief communications officer was chief of staff for the U.S. Department of Education in 2001. He was traveling with President George W. Bush and Secretary of Education Rod Paige in Florida when the attacks occurred.
At an elementary school to promote education reform, the president and his team found out with the rest of America the shocking truth of a major terrorist attack on the United States. Abbott will share some of his memories of that day.
Killeen ISD Director of Community Relations Angenet Wilkerson said this year's event focuses on the strength of a community. A video will include testimony from local leaders from 2001.
"There is unity in the community," said Wilkerson. "We have strength when we come together. We don't ever want to forget so we take the time to pay tribute and to say thank you."
Archived school district newsletters show that KISD students and staff quickly felt the need to band together in support of America in the days that followed Sept. 11, 2001.
Three days after the attack, fourth- and fifth-graders at Willow Springs Elementary School cut chain linksof red, white and blue paper and wrote on the strips messages of hope before spreading out the chains in a show of unity.
At Cedar Valley Elementary School, one week after 9/11, students and staff members marched around the school waving flags and carrying patriotic banners while chanting U-S-A.
Patriotic songs, balloon releases and fund-raisers for groups like the American Red Cross sprung up across the community.
Copperas Cove
In Copperas Cove at 9 a.m. Tuesday, nearly 1,000 students and school staff will walk with first-responders, elected officials and more at Williams/Ledger Elementary School's Freedom Walk.
At 8 a.m. the same day, Hettie Halstead Elementary in Cove is inviting first-responders for breakfastcourtesy of the Copperas Cove ISD Child Nutrition Department. Students will also perform patriotic songs throughout the meal.
Larry Mitchell, Realtor, ABR, CRS, GRI, VLB
254 681 5115 Cell
254 226 3363 Office