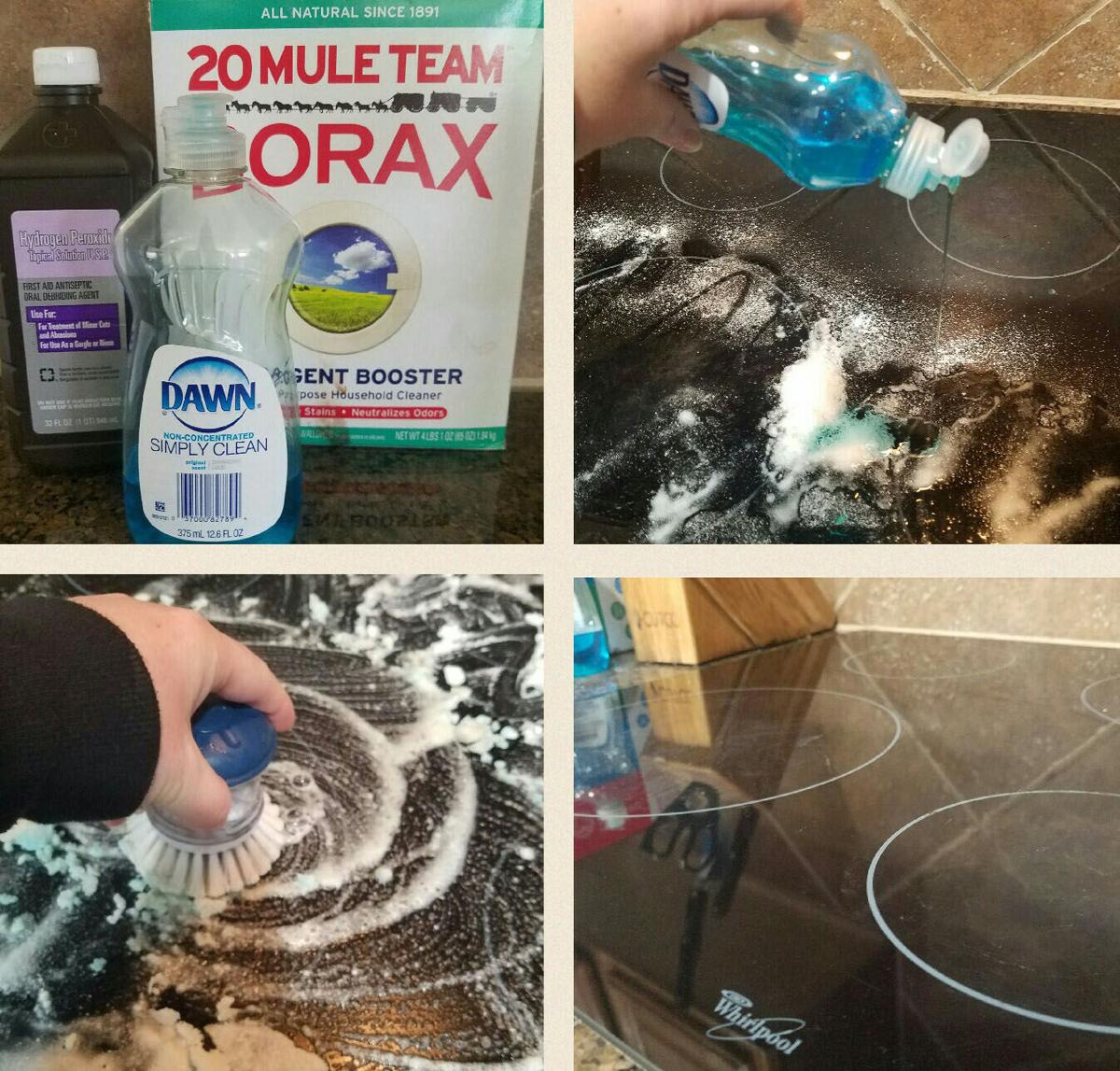 Throughout the winter I enjoy cooking on our glass-top stove. However, when something spills on the cooktop, cleaning it can be a challenge. By the time the stove cools down, oftentimes the spill has become stuck on the cooktop. While in the cleaning mood, I discovered a recipe to remove these stubborn, cooked-on stains:
First make sure the cooktop is cool to the touch. Spray or drizzle peroxide on the burned spots. Then drizzle Dawn dish soap over the peroxide. I used my fingers to smear the soap and peroxide over the spots.
Next sprinkle borax over the peroxide and Dawn soap. It may form a hard crust once you sprinkle it. I noticed the crust spots actually pull the stains up better.
Let this sit for at least five minutes for moderate stains. I allowed the mixture to sit for 30 minutes. After the allotted time, use a scrub brush to scrub the burners. Finally wipe the burner clean. If needed, repeat the procedure. That's all there is to it.
Borax has other uses, too. The next recipe I want to share with you is for cleaning slime. It works well for hard-to-clean spots like the awkward cracks in your car that collect dust. Cleaning slime works because stuff sticks to it, but it doesn't leave any residue behind. The slime reminds me of Gak that I played with as a child. Making this recipe was definitely a hit with my boys. They, of course, thought it was great to form into balls and throw at each other. This was not quite the vision I had in mind, but we still had fun making it.
2 tablespoons Elmer's glue
5 tablespoons water, divided
First mix one tablespoon of water with two tablespoons of Elmer's glue in a small bowl. You can add drops of food coloring if you want colored slime. In another bowl, mix the borax with four tablespoons of water. Try to make sure all of the borax clumps are dissolved. Mix the contents of both bowls together.
At one point, it became easier for me to pick the slime up and mix it by hand. Knead it until the gritty feeling goes away. As an alternative, you can put it under running water for a few seconds to dissolve the borax grittiness.
Play with it until most of the moisture is gone. Do not try to dry it with a towel because it will stick. Once the water is out, the slime is readyto use. Store it slime in a bag or it will dry out. Cleaning slime can also be used for air vents and window sills. Just make sure it's a hard surface. Until next time, happy spring cleaning.