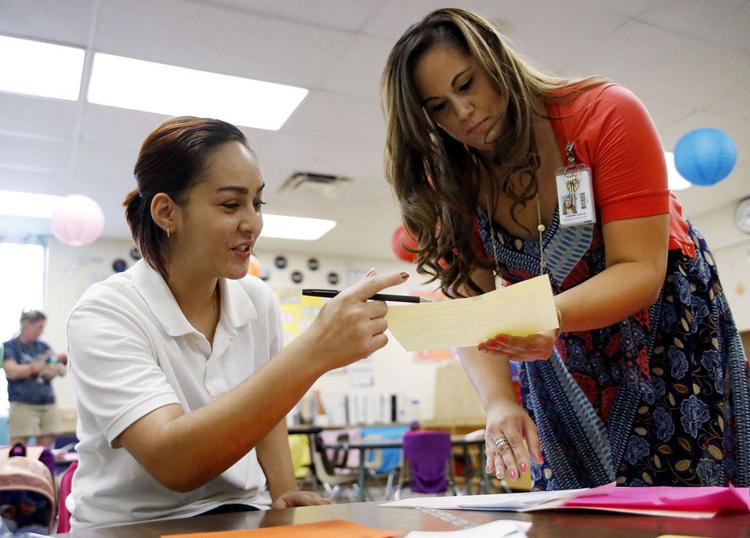 Despite this uptick in hires, the district still faces a deficit heading into the academic year due to resignations.
"We've had to accept over 20 resignations, primarily because of teachers leaving the area due to family relocation, either military transfer or spouse new job opportunities," said Steve Cook, chief human resources officer for the Killeen Independent School District, in an emailed response to questions.
As millions of students head back into classrooms across the nation, school districts throughout the country may be facing a deficit of educators, particularly in communities with a lot of mobility, like Killeen.
Cook said it seems to him, fewer people are entering the field of public education.
An August study released by the American Association of Colleges for Teacher Education, backs that up. It said there is a steady enrollment decline in colleges of education that has been consistent for at least three decades. Fewer than 100,000 undergraduate education degrees are recently awarded annually, compared with 200,000 in the early 1970s according to the report.
In a separate 2015 study, the U.S. Department of Education reported that nationwide enrollment in teacher education programs has seen a steady decline in recent years, falling from 719,081 students in the 2008-09 academic year to 465,536 in the 2013-14 school year.
Holly Eaton, director of professional development and advocacy for the Texas State Teacher's Association, said fewer potential teachers are choosing to pursue education careers because they anticipate low pay in those professions.
"There (are) fewer college students enrolling in teacher preparation programs," Eaton said. "When they look at the teacher salary, they do not see room for potential growth."
According to the Bureau of Labor statistics, the nationwide average annual salary for a school teacher in 2017 was $58,780, with Texas registering close to the mid-point with an average teacher salary of $57,830.
Killeen's average starting salary for teachers in 2017 was $46,500, according to district documents.
KISD officials approved a 2 percent pay raise that will go into effect this school year, raising the starting salary of a KISD teacher to $47,000. KISD teachers had sought a 4 percent raise.
"The shortages boil down to issues with salary and working conditions," Eaton said. "It's documented that education preparation program enrollment is dropping, but it's more nuanced than that. Not enough people are pursuing math, science, special education and bilingual education. Those shortages have been consistent for years."
Shortages in certain subjects
The U.S. Department of Education defines a teacher shortage as an area of specific grade, subject matter or discipline classification, or geographic area in which there is an inadequate supply of elementary or secondary school teachers.
The 2018 American Association of Colleges for Teacher Education confirmed that schools are experiencing particular difficulty filling certain subject fields, noting the largest educator shortages in fields such as math, science and special education.
"Special education has been the most difficult to fill this year," Cook said of the Killeen school district.
KISD has hired 58 new special education teachers, but still has 12 vacancies heading into the 2018-19 school year, Cook said.
The Texas Education Agency has received approval from the federal government to allow districts to offer 2018-19 educators in impacted subject areas loan forgiveness for debts accrued while obtaining their credentials.
These subjects include: special education, secondary level mathematics and career/technical education.
According to the TEA, the approved shortage areas give administrators the ability to recruit and retain qualified teachers by rewarding them with loan forgiveness.
Eaton said incentives like these may not be enough to counteract teacher shortages, particularly in rural areas.
"In remote locations, there are fewer opportunities in terms of resources to provide," she said. "There is overall deficits, but they vary from region to region and district to district."
The presence of a deficit seems to vary from district to district, across the Central Texas corridor with most administrators saying they are not short of staff heading in to the 2018-19 school year, although most agree that there does seem to be an overall deficit.
"I believe there is a statewide problem that it is becoming more and more difficult to find certified, qualified, or experienced teachers," said Superintendent Paul Michalewicz of Florence ISD, which has a projected enrollment of 1,060 students this school year.
Michalewicz said districts are finding more innovative ways to fill those "hard-to-fill" positions.
Lampasas ISD Superintendent Chane Rascoe said he has noticed a decline in applicants for certain positions.
"Last year, we had a high school principal position available with 38 applicants, whereas a high school football coach gets 115 applicants," Rascoe said of LISD, which has an estimated enrollment of around 3,500 students.
Officials in other districts, like Gatesville ISD, which has a population of around 3,000 students, attribute ease of staffing to smaller district size, despite a narrowing pool of applicants.
"We hired a few new people," said Barrett Pollard, assistant superintendent of academics. "There were not a whole lot of applicants, I can sense the applicant pool itself is getting smaller."
Pollard said the district is now fully staffed, but he can see how a larger district would have trouble with a shortage.
"We definitely felt some of the pains of (a) job market where there's kind of a shortage of teachers, but not to the extent that a larger district would feel," Pollard said.
Elizabeth Cox, Belton school district's executive director of communications and community engagement, said BISD administrators had not noticed a difference in the number of interested teachers.
Cox said the fast-growing district, which boasts close to 12,000 students, has hired 125 new teachers for the upcoming school year, 23 of whom were in positions that had just been created.
For its district with 45,000 students, KISD has hired 465 teachers and 112 other professionals for the 2018-19 school year, making for a total of 580 new professional employees so far, according to Cook.
He said that comparing data for the start of school shows that KISD is not far off from last year's hiring numbers and that the district does try to attract more teachers.
"We post teacher opportunities at virtually every university in the nation and we physically conduct recruiting trips to many Texas universities, some multiple times per year," Cook said. "We also travel to many other states to recruit."
The district also sponsors a math exchange teacher from another country and contracts special education teacher services through a collaborative initiative with the KISD Special Education Department, according to Cook.
Cook said he thinks other teacher incentives, like the 2 percent pay raise and a decrease in health insurance premiums recently approved by the school board, have also helped attract more teachers to the district.
KISD will also be providing educators with $100 each for classroom supplies and a $50 warehouse gift certificate for new teachers this school year, according to Chief Communications Officer Terry Abbott.
Incentives in adjacent districts seem to be creating notable results in staffing.
"We have filled all of our positions," said Salado ISD Superintendent Michael Novotny of the district which has an estimated enrollment of 1,904 students and starts school Monday. "I did just post two more for kindergarten and second grade because our enrollment looks like it may go over 22 to 1. Outside of that, we didn't experience any kind of difficulty."
Novotny said SISD has worked hard to increase teacher compensation.
"We are actually getting more teachers to stay in Salado," he said. "The quality of our district is attractive to many teachers."
With this first day of classes on Monday, Killeen ISD officials said the district will continue to look for teachers.