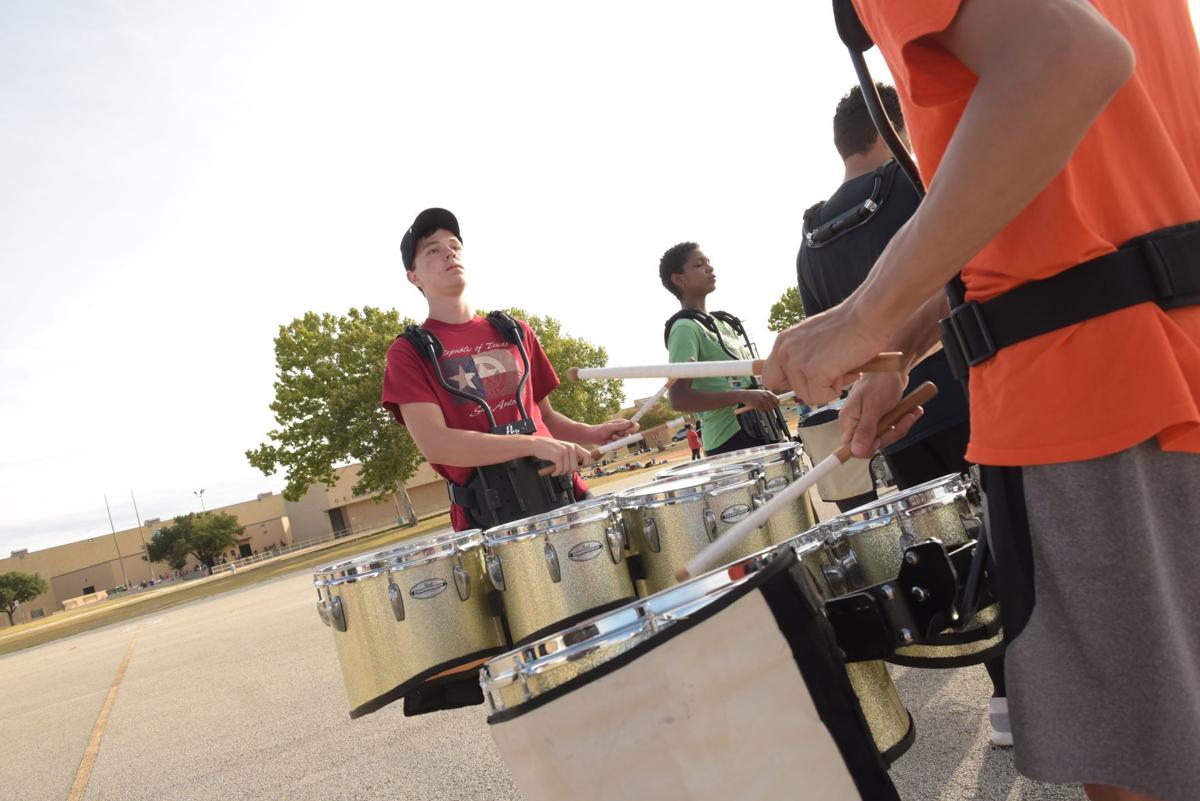 Listen closely and you'll hear it — a low rumble still distant but getting closer, gathering strength in expectant anticipation.
Around Ellison High School, there is an excitement brewing with the start of a new school year, the 40th at Killeen Independent School District's second-oldest high school and as fall sports get cranked up and teachers are prepping, it is the Screaming Eagles Band and Emeralds dance team keeping a steady beat.
Even two weeks before the start of school, band and dance team members were deep into preparation for a busy year of shows and competitions, including the 38th annual Spirit Spectacular.
Both Ellison Band Director Jeff Smith and Emeralds Director Jenny Zehr, as well as their student leaders agreed that students are working as hard as ever and they are ahead of the curve on preparing music and drill.
This year's version of Spirit Spectacular is set for Aug. 25 with an 8 p.m. start at Leo Buckley Stadium. The traditional Ellison band booster fundraiser features all four KISD high school bands, color guards and dance teams and this year includes something special.
For the first time in many years, the exhibition will end with a grand finale featuring all four high school bands and dance teams on the field at the same time. It's going to be big and loud. Tickets for Spirit Spectacular are $6 at the gate.
The Ellison Emeralds and band are focused on unity this year as they prepare a musically rich show based on a famous symphony called "A Brave New World."
"It's going really well. We have a good team," said Ellison senior Leah Zehr, this year's Emeralds colonel. "We're focused on being a team."
Dance team members are running a mile every morning at the start of practice, which provides a chance to encourage one another.
The band is also working on unity. Drum majors initiated "Freshman Fridays" to provide special encouragement and focus on the newest members of the 156-member marching band.
Senior Drum Major Joshua Smothers said this year's group includes a large and hardworking freshman class and also a lot of young rank leaders. He and his drum major partners juniors Elliot Bolden and Kennedi Crayton have taken extra steps to bring out the fun, dancing and playing music during breaks and organizing special dress days.
The strategy seems to be paying off as band and dance team members stay ahead of the curve memorizing music and movement. "We face a lot of obstacles," said Crayton. "We work together and we're closer as friends. We joke around, but we get the work done."
The band director agrees. He said the music in this year's show is especially expressive with multiple changes from soft to loud and students are working to be ready.
"Spirit is a goal we shoot for," he said of the traditional start-of-school exhibition. "It helps motivate them to have a target. It's also a chance for the community to get a sneak peek and to celebrate what these students are doing."
"Spirit Spectacular is a huge fundraiser that helps us be successful and it showcases what we've done all summer," Zehr said. "It's the best feeling getting out there and having all four schools down there showing what we've done."
The school's three drum majors pointed out that Spirit is a rare opportunity for all four high schools to perform in one venue and to put on their own show outside of competition or an athletic event.
It's also an opportunity for a community to cheer hard-working, talented students two days before the start of a new school year.
"These kids are busy constantly," Smith said. "Football is weekly, but every month they have something big to get ready to do. These are hard-working students facing really high expectations."
In fact, this year, the Ellison band and dance team have a pep rally, a freshman orientation performance and Spirit Spectacular, all before the first day of school.
In the spotlight like never before, seniors Zehr and Smothers acknowledged separately that it's a ton of work, but they wouldn't trade the experience and they aren't ready to consider this year's Spirit Spectacular is their last. "I've learned a lot of responsibility," Zehr said. "Being an Emerald is getting me ready for the next step after high school."
Larry Mitchell, Texas Realtor,
Killeen, Texas  76542
254 681 5115 Cell
LMSells@aol.com