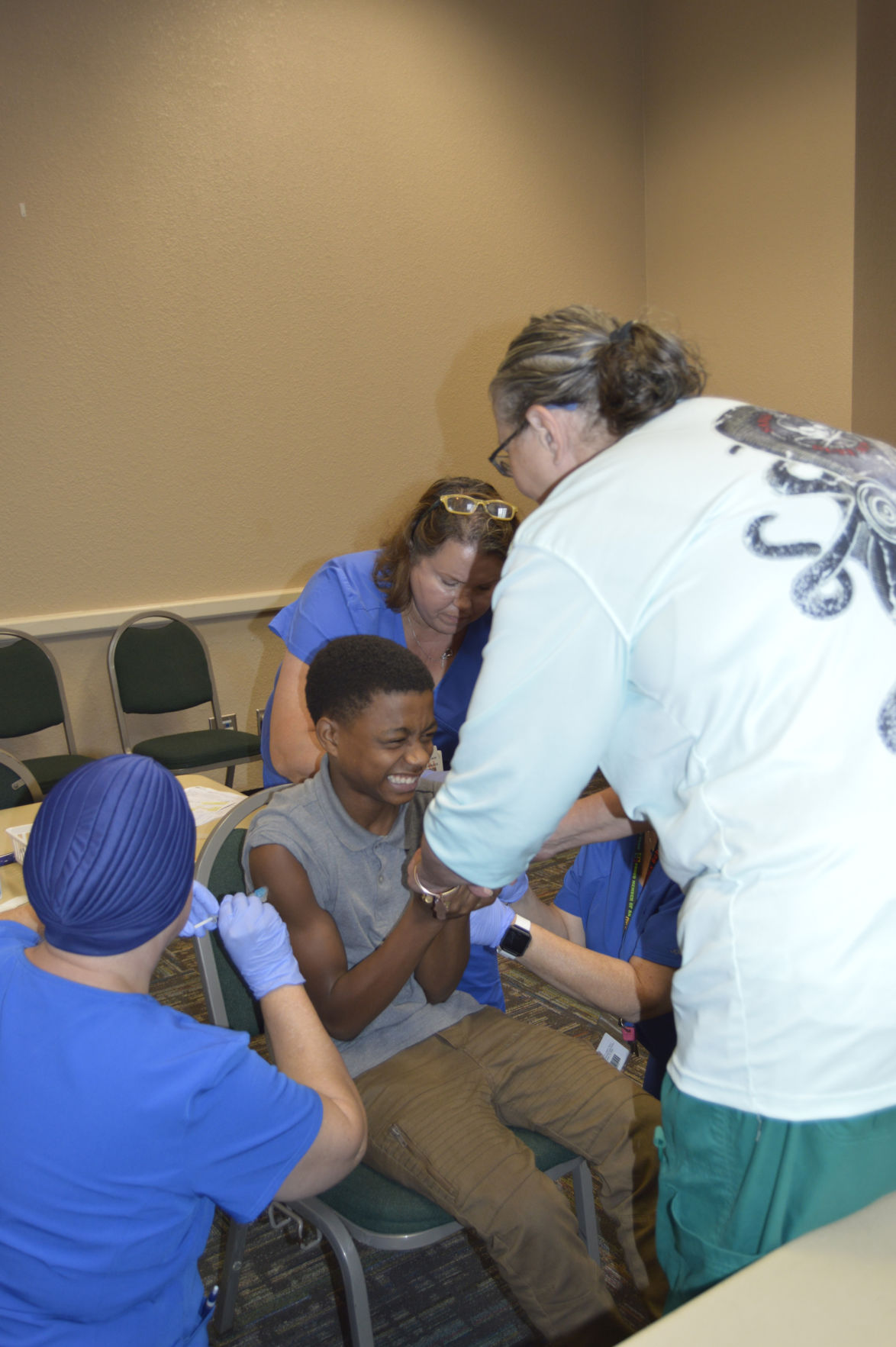 "This is our 30th annual KidFest event, and we have 200 vaccinations we can give out today," said Robin Bodkin, director of marketing for Metroplex. "The clinic is for people who are uninsured or underinsured and need to get their children vaccinated before school starts."
School starts Aug. 27 in Killeen and close to 100 people were already lined up outside the building by the time the event began at 12:30 p.m. All parents were required to bring a copy of their child's shot records.
"I hadn't heard of this event before, but when my friend told me about it I thought we definitely needed to be here for it," said Jalisa Maddox, who was waiting for her son, Jerrod, 13, to be called back to get his vaccinations. "He is going into the seventh grade. He
has three shots he has to get today."
Jerrod Maddox said he was mostly ready to head back to school, though he was looking forward to a last-minute trip to Florida.
Jalisa Maddox laughed and said she was "definitely ready" for him to go back to school, too.
Jalisa Maddox's friend who told her about the event was also in attendance, getting her son ready for his first year of school.
"I saw posts for this event on Facebook and at the day care the kids go to," Brittney White said. White was at KidFest with her son, Derrick White III, 4. "He is just getting ready to go into (prekindergarten), so this is his first year."
After the children received their shots, the Killeen Civic and Conference Center was filled with vendors and activities for children to take part in. There were bounce houses, and many of the vendors had small games for children to play.
One vendor, the Healthy Kids Running Series, was new to the event and hoping to recruit new children to the program.
"Healthy Kids Running Series is a nonprofit, five-week running series for kids ages 2 to 14," Tanya Taylor said. "At the end of the five weeks, every child that participated will receive a medal, and the more competitive kids can race for trophies. It is mostly for fun and fitness."
Metroplex volunteers say they typically see at least 500 people at the event during any given year.
Larry Mitchell, Realtor
Killeen, Texas  76542
254 681 5115 Cell
LMSells@aol.com