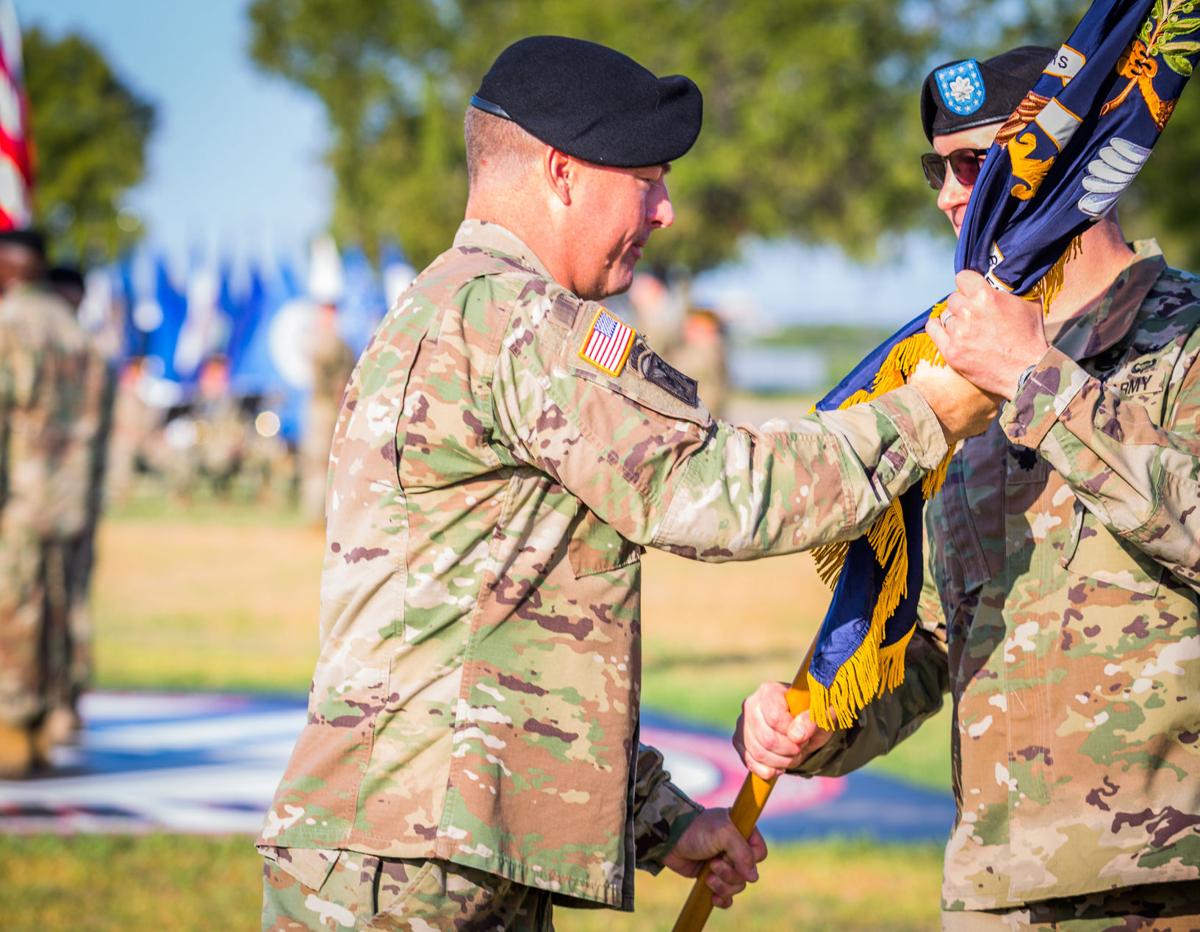 FORT HOOD — The 166th Aviation Brigade "Archangels" was activated during a ceremony on Fort Hood's Cameron Field near First Army Division West headquarters Friday.
The newly activated brigade will provide pre-mobilization and post-mobilization training and certification for National Guard and Reserve Component aviation units, which currently consist of 48 percent of all U.S. Army aviation assets. In preparation for deployment.
The unit was officially activated on June 1 and will be comprised of 175 soldiers, led by Col. Ronald Ells.
Ells said there are 10 National Guard and Reserve aviation brigades on a five-year training cycle with two brigades each year in the window for possible deployment. The brigade will be responsible for training those units that are in that deployment window.
"Over the past six months the 'Archangels' have mobilized two battalion-sized task forces, one theater sustainment aviation group and an entire combat aviation brigade," Ells said.
Maj. Gen. Erik C. Peterson, the First Army Division West commanding general, said the nation and the Army's leadership was placing increased emphasis on military readiness and the reliance on National Guard and Reserve forces.
"The simple fact is the Army cannot accomplish its increased complex global mission without our Reserve component teammates." Peterson said. "This new normal places an increased demand on First Army and our vital mission of building Reserve component readiness and deploying Reserve component units."
Peterson said four years ago the budget and Army were shrinking which caused U.S. Forces Command and First Army to implement "Operation Bold Shift" which reduced First Army force structure by nearly half.
"Under 'Operation Bold Shift' the 166th Aviation Brigade was inactivated on 1 June 2015 and its mission was consolidated under a single aviation training support battalion," Peterson said.
Peterson said following this operation the congressionally chartered National Commission on the Future of the Army's own internal aviation study recognized the substantial contribution of Army National Guard and Reserve component aviation and the risk of not having a First Army partner in support of their aviation training.
"Both reports recommended the reactivation of the 166th Aviation Brigade," Peterson said. "The 166th Aviation Brigade with its two aviation training battalions and the Royal Netherland air force's 302nd Squadron, is purposely built to provide (U.S. Forces Command) an enhanced aviation training capability that increases aviation mobilization throughput and reduces risk to the aviation mobilization mission."
The brigade was first constituted on Sept. 16, 1988, in the Army Reserve as the Headquarters, 166th Aviation Group. It was activated on Sept. 16, 1990 in Germany and inactivated on June 15, 1997. The brigade was activated into the active duty component on Oct. 2, 1997, as the 166th Aviation Brigade at Fort Riley, Kansas. On July 15, 2009, the brigade relocated to Fort Hood until it inactivated in 2015 before coming back to Army service this year.
Larry Mitchell, Realtor
254 681 5115 Cell
LMSells@aol.com
LMSells@aol.com