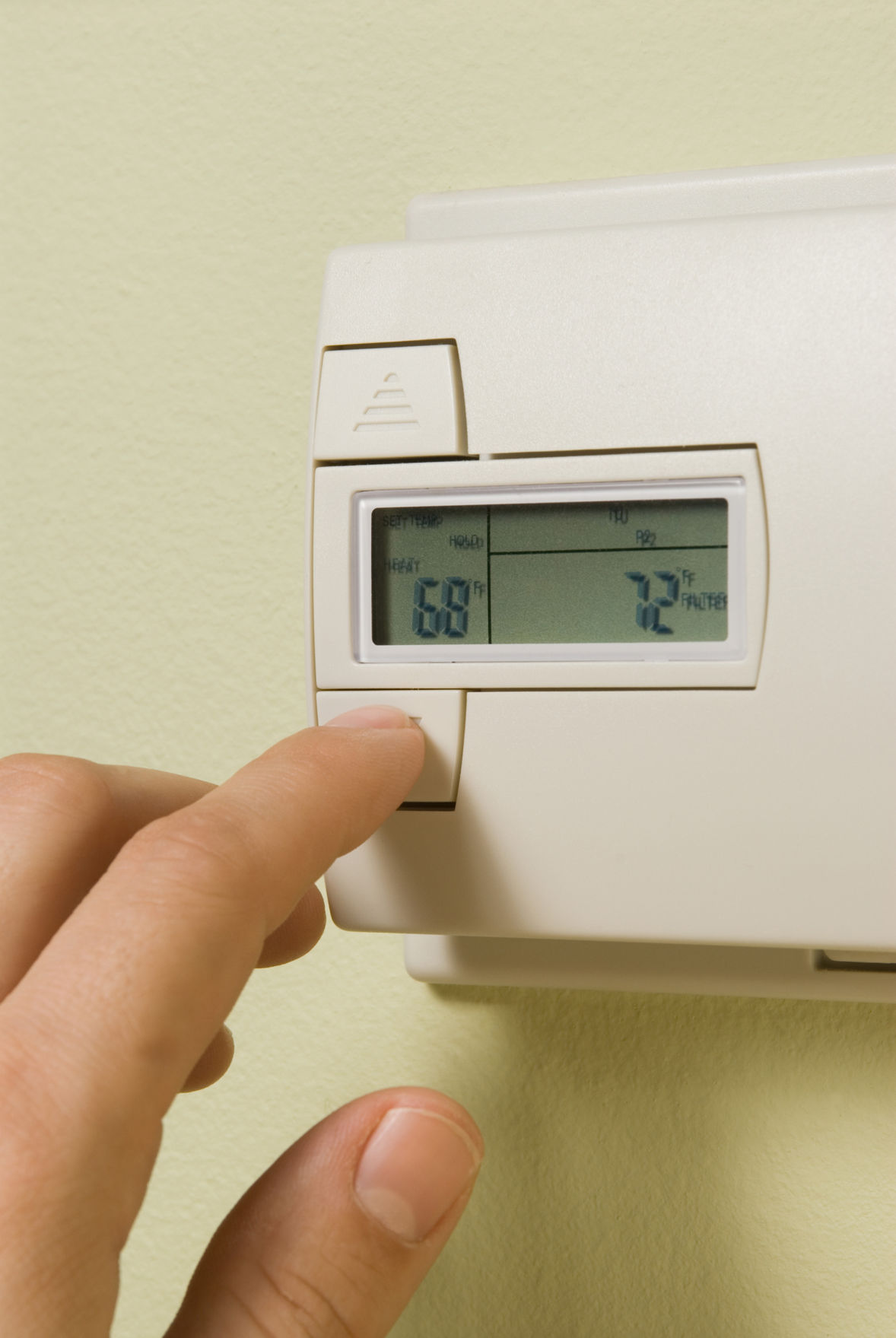 Some like it hot; others prefer to chill.
If those polar opposites reside under the same roof, discussions around the thermostat can get tense.
"It's an ongoing battle to keep everybody comfortable," said Steve Wilken, a hardware store manager. "You just try to find a happy medium."
Maintaining that Goldilocks zone — not too hot, not too cold — is about more than personal comfort: Space heating and cooling account for almost half of a home's energy use.
Arguments about temperature often come down to the cost of that extra heat or cooling.
"Obviously, HVAC is a big energy expense," said Jennifer Franz, a Lennox energy efficiency expert. "Programmable thermostats became very common as an energy saver. But what they found is the first time the programmed perimeters didn't fit their lifestyle or preferences, people just over-rode it and didn't program it back."
Sweet spot
What's the perfect temperature? And how do you keep it that way? New technology — as well as some old-school solutions — can help find and maintain that sweet spot.
Traditionally, 72 degrees is considered an optimum "comfortable" indoor temperature, according to ASHRAE (the American Society of Heating, Refrigerating and Air-Conditioning Engineers). But the society's research found that the "preferred temperature for comfort" ranged from 68 to 76 degrees, depending on time of year and clothing worn.
"We found that 72, 74, 76 degrees are the most typical preferences," Franz said. "People set their thermostats a little higher in summer, lower in winter, to save more energy."
Cooler nighttime temperatures can aid sleep. A National Institute of Health study found that the best sleep — for most people (wearing pajamas and covered by one sheet) — comes with temperatures between 60 and 66 degrees in winter.
Smart savings
Small adjustments can add up in savings. For every degree you lower your thermostat in winter, you'll save 1 to 3 percent on your heating bill, according to industry estimates. Likewise, you'll save a similar percentage on air conditioning in summer by tolerating warmer temperature settings.
"Smart" thermostats make programming and maintaining ideal temperatures easier. They also can save an estimated $125 to $180 a year in energy costs.
"For most people, temperature is something extra they don't want to think about," Franz said. "They just want to be comfortable. If they can save energy, that's great, too."
For example, the Lennox iComfort S30 uses a smartphone app to determine if anyone is home and makes adjustments accordingly. Priced at about $500, this Wi-Fi-enabled device also maintains energy-efficiency reports and can be remotely controlled.
"It can work with multiple phones," Franz explained. "Imagine a circle around your home. (Via your phone's GPS), the system detects when you cross that circle. When no one is home, it switches to an 'away' mode, and adjusts the thermostat to energy savings. When you come back in the circle, it turns the thermostat back up. It sets the temperature without you thinking about it."
Wilken uses a Nest Learning Thermostat at his home. Priced at about $250, the Nest system "learns" from homeowner preferences and, after the first week, makes its own adjustments.
"I can testify to those energy savings; it really does work well," Franz said.
Other innovations include HVAC systems that use multiple thermostats to cool or heat different parts of a house by zone.
"Zoning is a great option for people with different comfort likes," Franz said. "If one person likes it hot and another likes it cold, you can do that. Also it takes into account that your house may have cold and hot areas; not all rooms are the same."
Traditional thermostats only measure the temperature at their immediate location, she noted. Poor air flow around the thermostat can affect their efficiency and accuracy.
"You really don't want to put your thermostat in a closet — unless that closet is the perfect temperature," she said.
Personal preference
There's only so much a thermostat can do; comfort is personal. In an informal poll of readers, the range of "perfect" thermostat settings ranged from 61 to 76 degrees in winter and 75 to 90 degrees in summer. Those settings had to do as much with money as physical well-being.
"I usually set mine at 68 in the winter and 90 in the summer," said Linda Meeks of Rancho Cordova. "Up until a year ago, I never even used my central heat and air, relying on ceiling fans and window air conditioners in the summer, and turning on a space heater if it got very cold. My system was old and very inefficient, and so I never wanted to use it."
Last year, Meeks replaced her old HVAC with a new efficient system, but still sticks with her same settings.
"Since it's just me and my dogs in the house, there is no conflict with other family members unless they're visiting," she said. "I then tell them to just put on a sweater in the winter or stand by a ceiling fan in the summer!"
During winter, Samira Al-Qazzaz of Carmichael turns the thermostat to "0" most of the night and all morning before switching on the heat in the afternoon; first to 61 degrees at 1 p.m., then 68 from 4 to 9 p.m. During summer, the thermostat stays above 80 degrees.
"(In winter), we use blankets at night and dress up warm and comfortable during the day," Al-Qazzaz said. "We sleep outdoors in a screened patio on hot summer nights."
There can be a gap between "perfect" and reality.
"My perfect temperature in winter in my house is 76," said Jeanne Snyder. "My actual temperature in my house is as low as 55 in the morning. When I turn the heat on, I only allow it to go to 66. I only turn the heat on twice a day and only until it reaches 66 and then I turn it off. I definitely do this to save money.
"In the summer, I don't turn the air on until it reaches 100 outside," she added. "I then set my thermostat at 86. I can deal with the heat in the summer. In the winter, I'll go to a movie to get out of the cold house."
Humidity issue
It's not just temperature that affects comfort level but humidity, Wilken said. "Adding humidity into the air in winter can be a big benefit. Ideally, 45 percent relative humidity is good in winter. When the humidity drops, you feel cooler."
That may mean adding a humidifier to rooms filled with dry air.
"You want the opposite in summer," he added. "Then, you want to keep humidity low, at 25 to 30 percent. That's when you may want a dehumidifier."
Eliminating drafts and air leaks go a long way to maintaining your home's comfort level, Wilken said. "Cracks and crevices are the biggest culprits. Weather-stripping and caulk can go a long ways."
Smartphone apps that help detect such air leaks make this task easier, he noted.
Small adjustments
Fans and space heaters can help make small adjustments and meet personal preferences.
"In summer, you definitely want more air movement; it makes you feel cooler," Wilken said. "In winter, personal heaters are good options because they only heat a small area. If you feel chilly, it takes care of your personal space."
Overall, HVAC systems are becoming more efficient and easier to program, Franz said. "Even if your system is only 10 years old, it's relatively inefficient compared to what's available today."
Newer systems offer multiple stages that allow heating or air conditioning to be applied by variable percentages instead of just "on" or "off."
"Most older systems are 'single stage'; they're either off or on 100 percent," she explained. "Even my hair dryer does more than that."
Still, family members may feel the need to make their own adjustments as they search for their comfort zone.
"You can get a lock box for the thermostat, too," Wilken added with a chuckle. "That can settle the debate."
Larry Mitchell, Realtor
Killeen, Texas  76542
254 681 5115 Cell
LMSells@aol.com