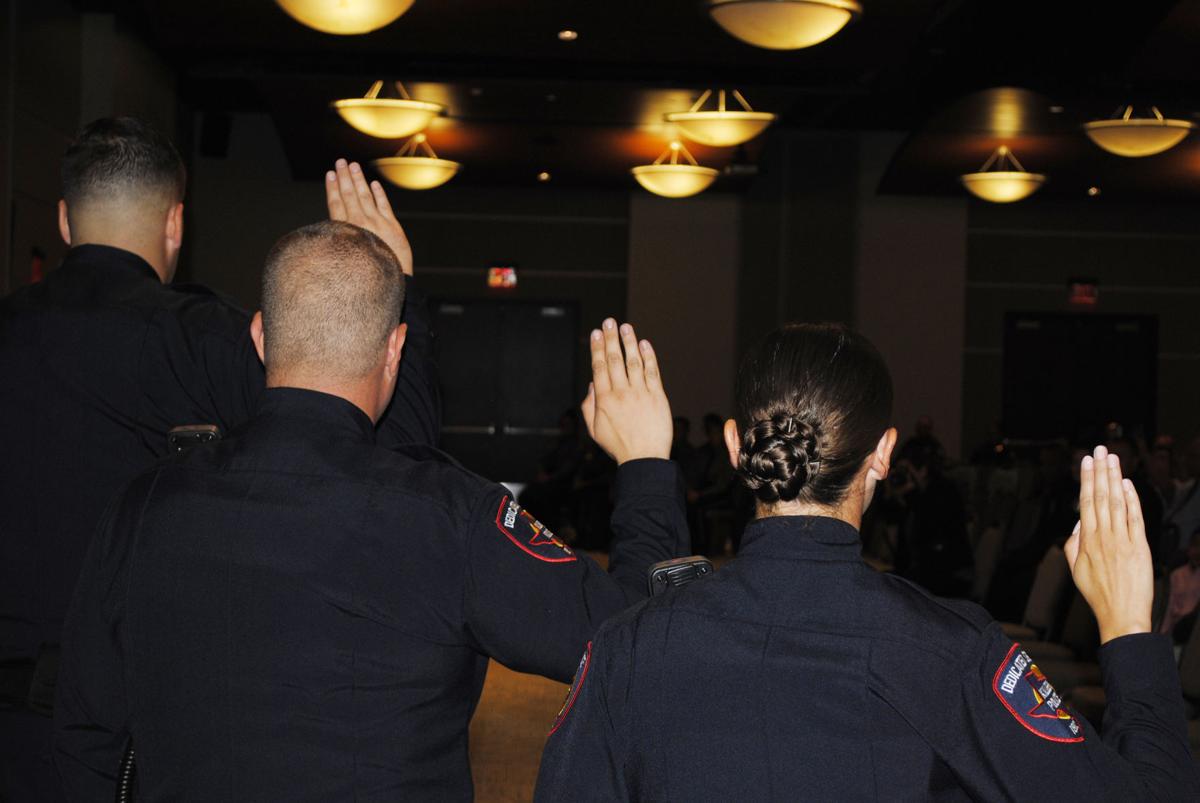 For some, those are values to strive for. For Killeen's six newest police officers, they're just part of the job.
The Killeen Police Department welcomed six new officers at a graduation and swearing-in ceremony for the department's Basic Peace Officer Course Class No. 28 on Saturday at Central Texas College.
The six graduates were joined by two honorary members — police Chief Charles "Chuck" Kimble and officer Jennifer Amezquita, who recently completed their Texas Commission on Law Enforcement certifications to police in the state.
Kimble, the guest speaker at the ceremony, welcomed Edgar Diaz-Casillas, Isaiah Doucet, Yvan Galbeau, Timothy Hackett, David Hoffman and Kaitlyn Veith to the force with some words of encouragement — and a challenge.
"We expect 100 percent in everything you do, whether its paperwork or running a 5K," Kimble said. "You will always persevere."
Killeen City Councilman Gregory Johnson was on hand to congratulate the officers and said he was excited to see them work for a safer Killeen.
"With crime being the top concern of Killeen citizens, I'm elated to have new officers join the ranks of the Killeen Police Department," he said. "I'm grateful that these fine men and women chose Killeen to protect and serve, as cities all over the United States are in need of good officers to serve."
Diaz-Casillas, chosen as class president by his peers, thanked his trainers for their support and touted the bond between his classmates.
"We all came is as cadets and are leaving here as family," he said.
For the first time, the six officers all graduated on their first attempt at the program, which has been certifying officers since 2012. According to Lt. Tony Lourence, the course graduates around 10 officers per cycle and requires 680 hours of training on basic policing.
A new course beginning in October is expected to have 12 trainees, Lourence said.
The course is paid for through the city of Killeen, and officers are not required to sign a contract with the department upon graduation. All of the graduating officers matriculate into the force and are expected to start immediately, Kimble said.
Larry Mitchell, Realtor
254 681 5115 Cell
254 226 3362 Office Direct Line
LMSells@aol.com