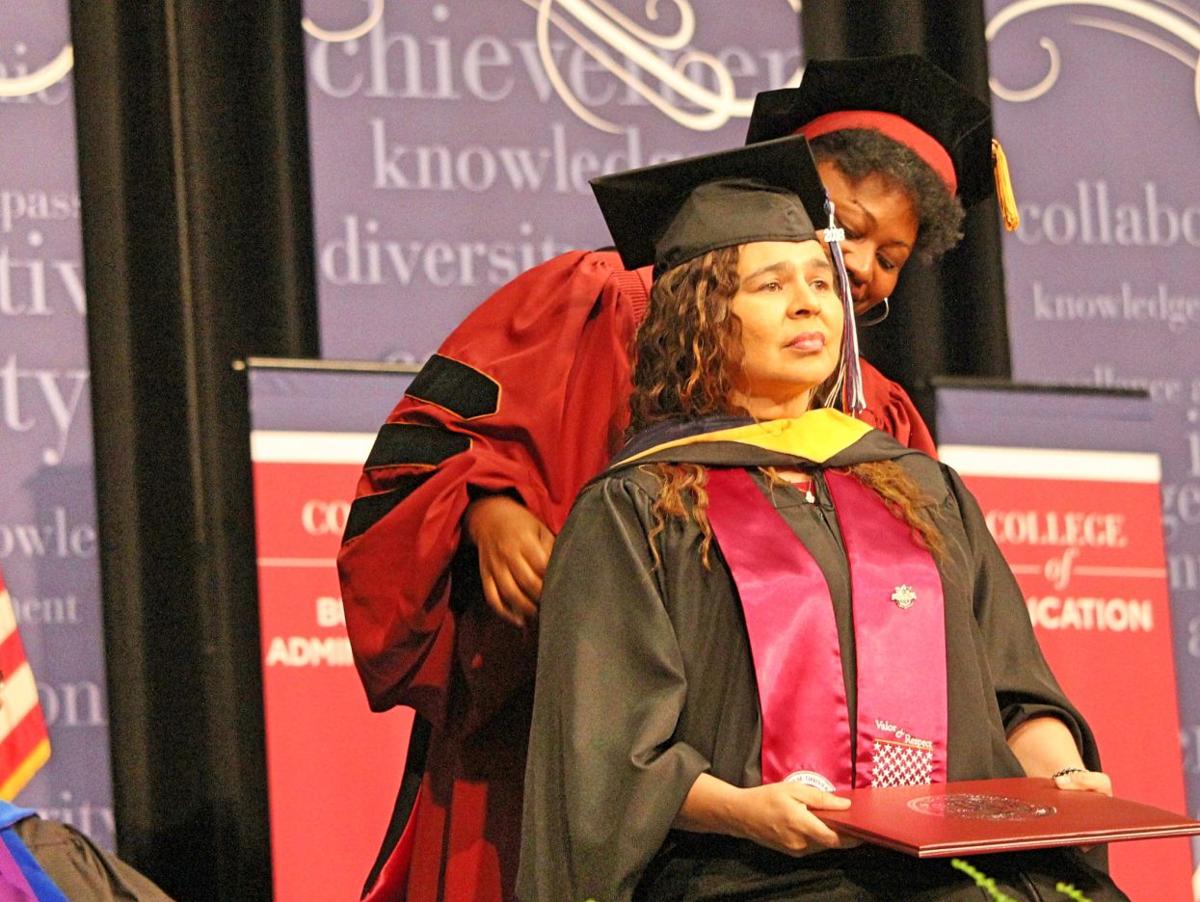 BELTON — Texas A&M University-Central Texas held its summer graduation Saturday at the Belton Expo Center, where 139 college students received diplomas.
Three graduating Purple Heart recipients and 28 honor grads were also recognized in the ceremony.
In attendance were the 1st Cavalry Division Band from Fort Hood, Texas A&M students and faculty, loved ones and special guest Charles W. Schwartz, chairman of the Board of Regents of The Texas A&M University System.
"This position gives me an opportunity to meet people all over the state — accomplished and excellent people. It's very satisfying," Schwartz said, when asked what was the best part of being chairman of a university system made up of 11 universities and 165,000 students. Schwartz travels throughout Texas every week in support of Texas A&M operations. Twenty other graduations in the university system are scheduled in August.
A&M-Central Texas students felt excited to finally graduate and expressed a feeling of accomplishment.
"It's been stressful. Graduating just took the weight of my back," said Andrew Flores, who received his master's in criminal justice.
"We pushed each other to accomplish this," said graduate Erick Estrada, who earned his bachelor's in criminal justice.
Flores and Estrada serve as officers in Texas A&M's University Police Department where they decided to pursue degrees with the support and encouragement of the department. Both worked as officers while completing their studies and supporting their families.
"I want to stay in Killeen and take care of the military families here," said graduate Elsa Chamberlain when asked what her plan after graduating. After serving in the Army for 20 years, where she served as a drill sergeant and deployed to Iraq, Chamberlain earned her master's in marriage and family counseling.
Chamberlain expressed great appreciation for her education at A&M-Central Texas.
"I'm extremely proud of her," said Chamberlain's mother, Mary Hurst, who also faced challenges while earning a nursing degree. Hurst halted her education for personal and financial reasons and started her academic journey the same day that Chamberlain started kindergarten.
"It's the closure of a chapter, but the beginning of a new one," Chamberlain said.
Since A&M-Central Texas was established in 2009, the Killeen-based university has now had 6,430 graduates.
Larry Mitchell, Realtor
Killeen, Texas  76542
254 681 5115 Cell
LMSells@aol.com