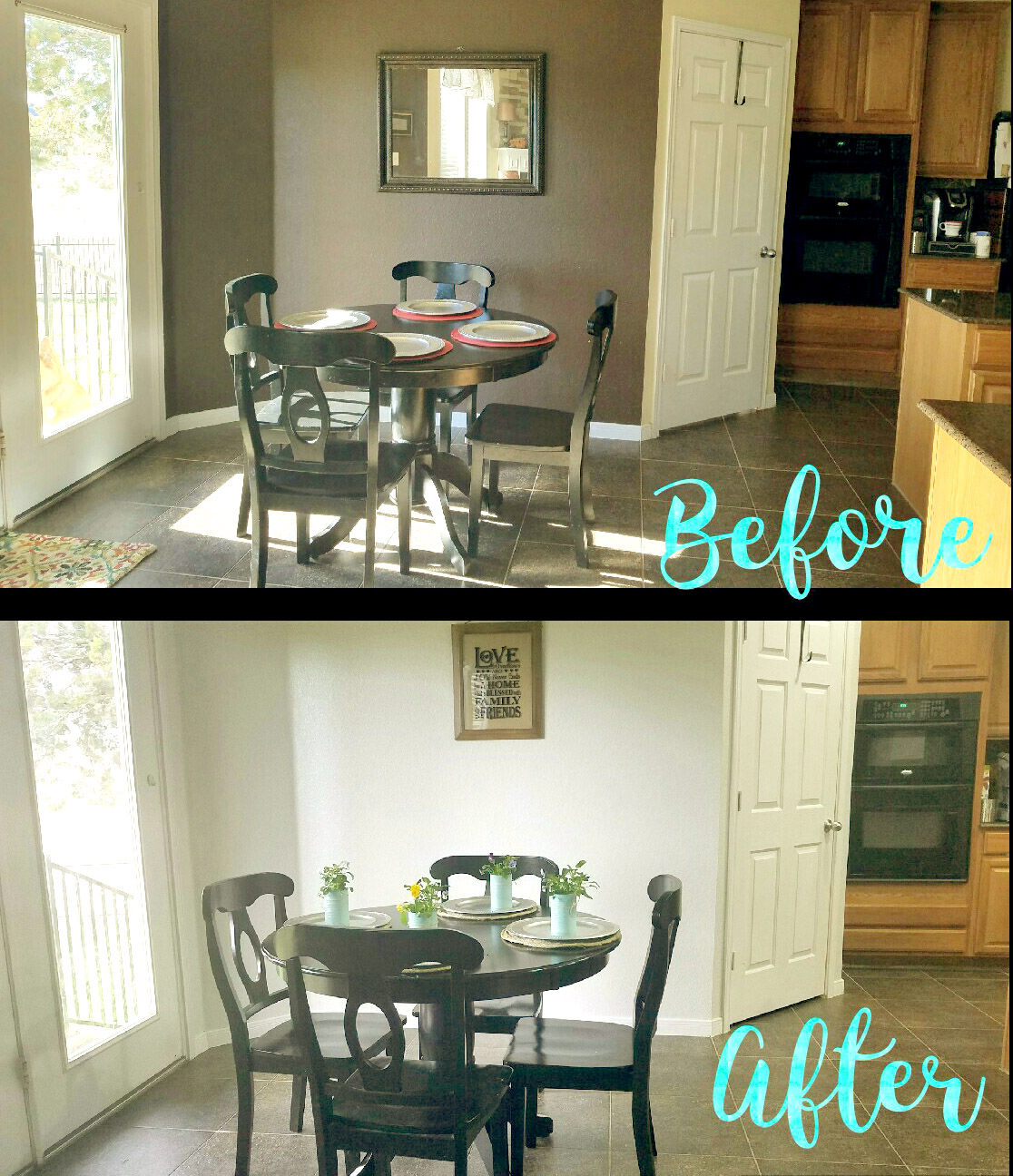 We found a color we liked, marked down from its original $30 to $9. We decided right there to repaint our kitchen. We have disliked the dark brown paint in our home since we bought it in 2015. For some reason, repainting has never been a priority. But now that we have finished, I wish we had done it sooner.
I want to share a few tips I learned from paint professionals and my experience.
First you have to pick the right paint. All paint is not made equal. Some are best for certain areas and some are watery, which means poorer quality and more coats of paint.
My favorite finishes for walls are eggshell and semi-gloss. Eggshell finish is soft. Others describe it as having a velvet appearance. Semi-gloss has a sheen to it. It's perfect for my family of five because of its durability and ease of cleaning.
Never use flat paint on the walls. It's a nightmare to clean and the paint will wipe right off. Flat paint is for ceilings only.
As for picking a brand, Valspar is a good one from Lowe's and Behr is good from Home Depot. They both tend to run about $30 per gallon. The cheaper the paint, the more watery it tends to be.
I like the paint and primer in one, because I find I get better coverage. I also buy the zero VOC and low-odor paint. Volatile organic compounds are toxic compounds released into the air from paint during and after painting. They continue to be released for years, so I try to avoid them.
Before we painted our kitchen, we used a wet rag and wiped spots off the walls and dusted the baseboards. Then we taped around all of the edges. This is my least favorite part of painting. I have tried to paint without taping, but I am not skilled enough to not make a mess.
After everything is taped, use a good quality paint brush and paint around all the edges. I pour a little paint in a Styrofoam cup to do this. It saves the hassle of hauling the gallon can around. Then use a roller to finish painting the main parts of the wall. I generally allow 30 to 40 minutes of drying time, then I apply a second coat, if it's needed. The key to having clean paint lines is to remove the tape before the paint dries. Once dry, the tape sometimes peels some of the paint off.
My final tip is to put your roller brush and paint brush in a plastic bag if you need to take a break and don't want them to dry out. I have left them in a bag for several days and they are still ready to resume painting.
With the right paint and the right tools, you can transform a room in just a few hours. I hope you are inspired to have a new look. Until next time, happy painting.
254 681 5115 Cell
LMSells@aol.com