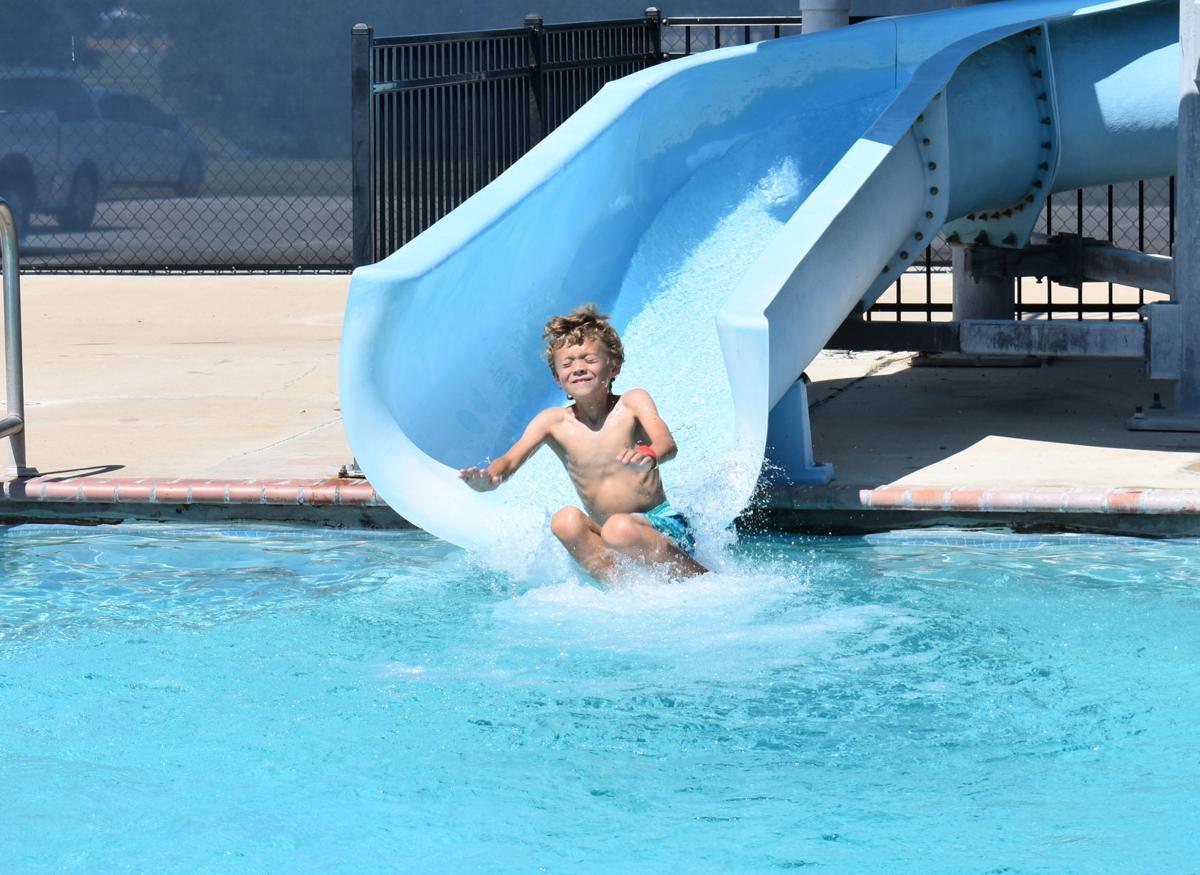 Saturday morning, some families were so eager to cool off, they were lined up outside the Family Aquatic Center at Lions Club Park well before the gates opened at 10 a.m.
Raul Canto waited with six youngsters, all ready to jump in the water.
"It's something to do for the weekend," Canto said.
"I'm looking forward to going down the slides," said Aubrey Hinton, 9, one of the group.
Laquona Lee brought her daughters Nylah, 4, and Noelle, 2, to play in the water. She applied sunblock to both girls' arms, legs and faces before they began splashing around the pool.
The Family Aquatic Center features fountains, slides of various sizes, a splash pad, and sprayers. There is also a regular pool where more traditional swimming takes place.
City Park pool in Copperas Cove also opened on Saturday.
Tammy Barrett brought her daughters, Leslie, 4, and Jaimie, 7, and her sister, Madison Macumber, 10, to swim.
"I'm so excited for the pool," Leslie said.
Tammy chuckled, "She's been driving me bonkers waiting for this."
Carl Levin Park pool in Harker Heights was open over Memorial Day weekend, as well.
Hours for the Family Aquatics Center are 11 a.m. to 6:30 p.m. Tuesday to Friday, 10 a.m. to 6:30 p.m. on Saturday, and 1 p.m. to 6 :30 p.m. on Sundays.
In Copperas Cove, City Park and South Park pools will open June 2 for the summer.
City Park pool hours are 11 a.m. to 6 p.m. Tuesday to Sunday, closed Mondays.
South Park pool hours are 10:30 a.m. to 5 p.m. Wednesday to Monday, closed Tuesdays.
More information can be found on the Parks and Recreation website: www.ccpard.com.
Carl Levin Park pool will open June 5, with hours being 1:30 to 7 p.m. Tuesday through Friday, and 11 a.m. to 7 p.m. on Saturday and Sunday.
Additional information on Harker Heights aquatics is available at: www.ci.harker-heights.tx.us/index.php/programs-a-events/aquatics.
LMSells@aol.com
254 681 5115 Cell