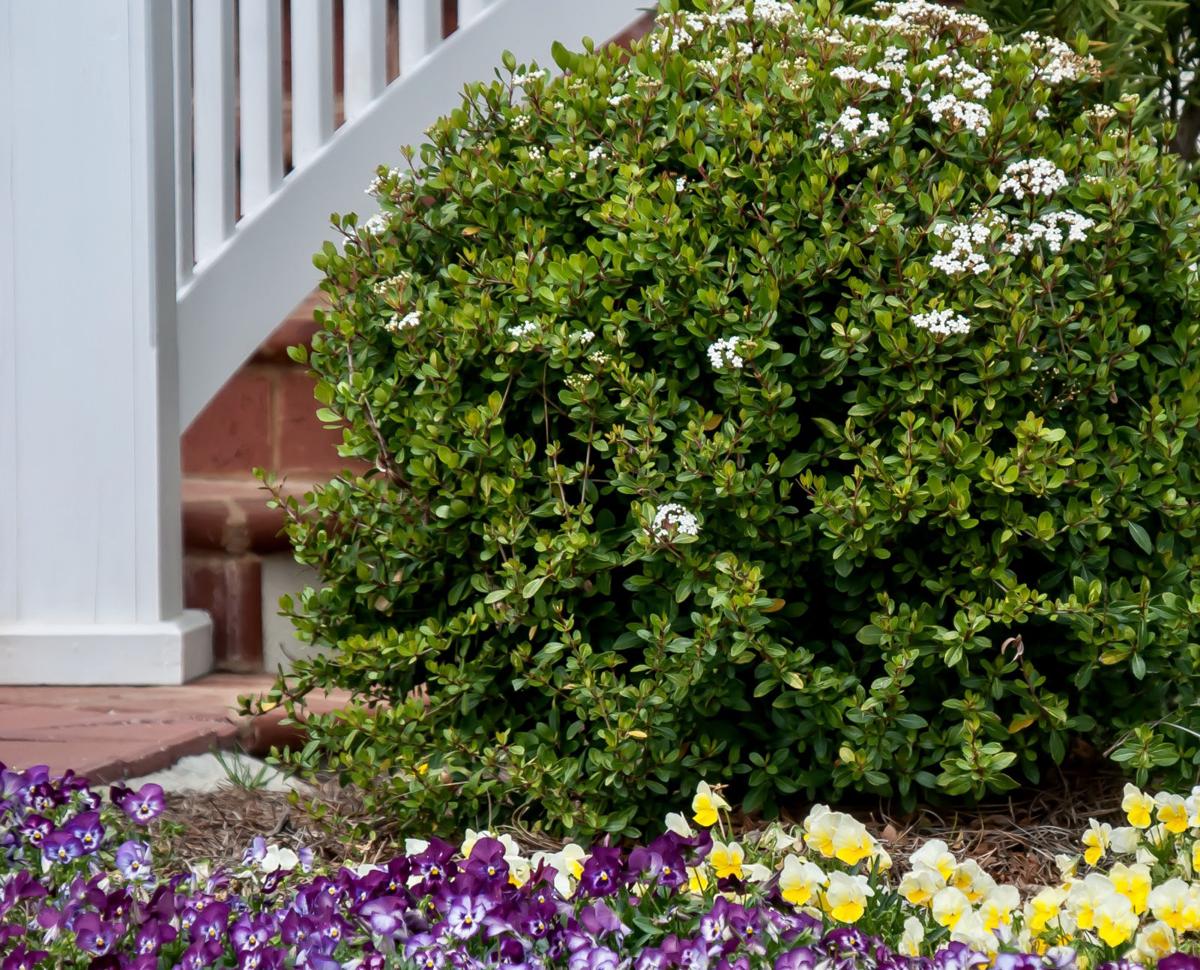 It's really been amusing watching visitors get out of their cars, and start taking photos of shrubs around the parking lot. Sometimes we even laughingly call these tough-as-nails plants "parking lot shrub." The plant I am referring to is Mrs. Schiller's Delight, a selection of the native Walter's viburnum. At the gardens, we have viburnums from China, India, and others from Japan but this small compact native is the one that has to be the ideal bones and structure plant of any garden.
Botanically speaking this little workhorse is Viburnum obovatum. It is native in four Southeast states, Alabama, Georgia, Florida, and South Carolina. Though it is native to the South it is cold hardy through zone 6. In the wild, the species may look like a tall shrub or small tree reaching 12 to 15 feet in height. But Mrs. Schiller's Delight introduced by nurseryman Steve Reifler in Florida not only made a huge impact to landscape trade but the nursery industry as well.
Mrs. Schiller's Delight reaches about 3 feet tall and slightly wider. Ours are covered with white flowers causing visitors to jump out of the car with the camera blazing. Every week I hear from my son bemoaning issues with boxwoods and I think, wow, you could have had a Mrs. Schiller's Delight. The same goes for me because while we have lost dozens of dwarf yaupon hollies in our formal garden due to various water issues we have only lost Mrs. Schillers Delight viburnums to reckless drivers.
In Savannah, ours are pretty much evergreen but in colder areas, they tend to be semi-evergreen to deciduous. We grow ours in the sweltering hot sun adjacent to the parking lot and our visitor center but they are very tolerant of shadier locations in the landscape. The white flowers will give way to fruit that ages from red to purple to black and is devoured by birds.
As you might guess by the native region they do prefer acidic soils much like the azalea. Though they are found in the wild in moist almost boggy like conditions they will thrive in fertile soil and become quite drought-tolerant once established. Though I have facetiously touted them as the parking lot plant they certainly have a lot of landscape potential. We've clustered them around the taller conical shaped oak-leaf hollies and at the base of palms. We are using them in partnership with podocarpus or Japanese yew and surround them with seasonal color. The Mrs. Schiller's Delight viburnum is a very versatile plant and while the birds may love the fruit you may want to celebrate the fact that the plant itself is not normally on the local deer menu.
Spring planting season is arriving early in much of the country, and when it shows up in your area consider using this little native selection as a foundation plant for your home. You will find it easy to grow, with practically no maintenance and a blanket of welcoming white flowers next year.
Norman Winter is director of the Coastal Georgia Botanical Gardens at the Historic Bamboo Farm, University of Georgia Cooperative Extension, and author of "Tough-as-Nails Flowers for the South" and "Captivating Combinations: Color and Style in the Garden." Follow him on Twitter: @CGBGgardenguru.
Larry Mitchell, Realtor, ABR, CRS, GRI, VLB
Century 21 Randall Morris & Associates
254 681 5115 Cell